Vitra
MedaPal
by Alberto Meda, 2005
— from 366,00 €*
3% advance payment discount:

430,68 €

(Save

13,32 €

)
Versions which are in stock and immediately available (click here)
These items are in stock and are deliverable immediately.
Details
The MedaPal from Vitra is defined by its combination of intelligent technology and can be swiftly and simply set to the individual user's requirements.
Office swivel chair complying with EN 1335 / Seal of ergonomic approval
Synchronising mechanism with personal adjustment of the backrest tension; optional lumbar support can be adjusted to the contour of the user's back
Broad opening angle between backrest and seat; can be set to and locked in an upright sitting position.
Seat-shell, armrests, frame and base in fibreglass-reinforced polyamide; basic-dark; Sectional seat with seat height adjustment as standard.
Seat upholstery made of CFC-free polyurethane foam. Seat cover available as Nova (with seam) or Torso Meda.
Backrest from Netline (Netweave) stretched tight over the frame
With or without armrests (thermoplastic elastomer (TPE) padding in basic dark; height and width adjustable)
Nova: 100% Polyester
Torso Meda: 95% Polyester, 5% Elasthan
Netline: 100% Polyester
*
incl. VAT, excl. shipping
**delivery time 1 working day within Germany (other countries)
Colours & Material MedaPal
Description
MedaPal focuses on the essentials. The office chair has a light appearance, while combining intelligent technology and great comfort, is easy to use, and can be swiftly and simply set to the individual user's requirements.
The backrest consists of a single section and provides both lumbar support and flexibility in the shoulder section. The seat shell and armrest frames are made of polyamide, ensuring MedaPal is light, comfortable and yet stable. The conscious use of specific materials delivers a cost-effective but high-quality chair.
Dimensions MedaPal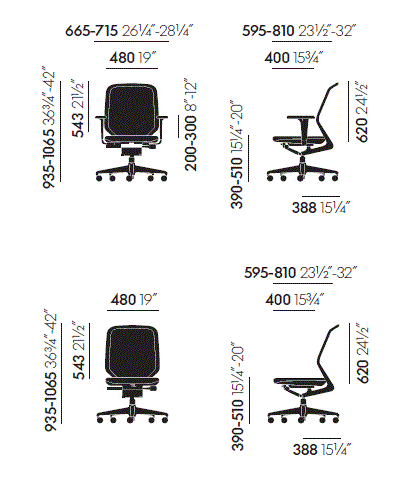 More about 'medapal' in our blog
... It's a different generation of swivel chair but one that is formally compatible with its relatives. And for all in - or near - Germany, until the end of 2013 your local Vitra dealer is offering the chance to win a Physix: simply "test-drive" an example...
... As any one who has celebrated as many birthday's as us knows - there comes a point in every life where you're just not prepared to compromise on quality any more. Be it your car, your choice of airline, your hair cut. Or your office chair. When starting...
... (smow)blog: One of your better known products is the MedaPal chair, what was the background to the chair, where did the idea come from? Alberto Meda: The idea was an evolution of the previous chair designs with a different kinematic system within the ... And so we made first the MedaPro and then the MedaPal. The MedaPal is more economic because the seat does not move, but you still have a lot of comfort and the lumber support is very good and I...
... The judges were praised not only Michael's concept but also the excellent photo re-working and the wonderful little story that rounded the entry. Congratulations Michael and hopefully in January you can donate your torture chair to some museum or chamber ... Places 2 and 3 went to Patrick and Florian #68 and KraenkVisuell #56 who win a €75 and €50 (smow)gift voucher, respectively. In both cases the judges were won over by both the concept and the...
... With the Greenguard Indoor Air Quality Certificate, the MedaPal has been tested for the emissions from the materials and certified as being within safe limits of, for example, aldehyde and volatile organic compound emissions; meaning your chair will not ... The Greeguard Certificate can be found here. In addition the MedaPal is 94% recyclable, and so when it's active life is at an end it will not unnecessarily contribute to the growing waste problem...
'medapal'-posts