3% advance payment discount:

133,86 €

(Save

4,14 €

)
Versions which are in stock and immediately available (click here)
These items are in stock and are deliverable immediately:
*
incl. VAT, excl. shipping
Details
Memo-board from FU (birch plywood)
Available in white, black or red
Cleanable blackboard
Including chalk and sponge
Dimensions: H 78 x W 22 x D 9 cm
More about 'Rechenbeispiel' in our blog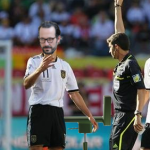 ... As the second half progressed it was clear that Nils Holger Moormann's more authentic, soulful anarchy was stronger than Marcel Wanders' carefully considered, calculated imagination and so it came as no surprise when Nils Holger Moorman drew level with his...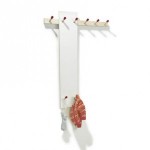 ... Rechenbeispiel from Nils Holger Moormann is a modular clothes hanger system which can be assembled, extended and restructured according to your wishes. The hooks have felt tips, are magnetically fixed to the backboard and can be moved and exchanged as ... The children's hanger, for example, makes Rechenbeispiel perfect for families. Additionally, Rechenbeispiel can be expanded with a key board, a hat rack, a memo board and a mirror. In addition to...
'Rechenbeispiel'-posts
You may also like these articles: