Details
Inspired by the normal day-to-day office life, Norman Foster and Partners of London have designed an exclusive range of high quality, modular desk accessories: The "Helit Foster Series"

Paper Clip Holder
Natural aluminium and satin-anthracite PERDUR
Lid can be slotted into base
H38x L115,5 x D46 mm
Component of the Foster Rail System 1 Writing Mat
More about 'Foster Series' in our blog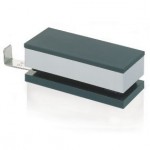 ... Additionally the helit Foster Series contains a mousepad, a hole punch, a stapler, a filing tray and a waste paper bin. All articles can be mixed-and-matched and slide into specially constructed rails on the writing mat. Further information on the...
'Foster Series'-posts
You may also like these articles: