#campustour 2019: Switzerland
Alongside Switzerland's most important contributions to contemporary society – bobsleigh, Dada and muesli – a trio we regularly combine on a Wednesday evening, Switzerland has also contributed much to the (hi)stories of architecture and design: quite aside from creatives such as, and remaining for reasons of brevity in recent history, the likes of Max Bill, Le Corbusier, Susi Berger, Fritz Haller or Sigfried Giedion, organisations such as the Schweizerische Werkbund were every bit as important as their German and Austrian counterparts in disseminating inter-war ideas, similarly the retailer/manufacturer Wohnbedarf, established in Zürich in 1931 was one of the more proactive commercial protagonists in the popularising of interior understandings of the pre/post-War decades, while, and as we learned from the Museum für Gestaltung Zürich's permanent collection exhibition, 'twas in Switzerland that aluminium smelting was developed. A metal which has contributed much to the (hi)story of design and society.
Charged with ensuring that Switzerland remains relevant in coming decades are the country's architecture and design schools, a collection of institutions with a wide range of foci and formats: the logistics of an undertaking such as a #campustour meaning however that we only made it to Basel and Zürich…… Apologies to all others, it wasn't lack of interest which kept us from your doors. Yet although we visited but a fraction of the Swiss design school cheese, it was to two exhibitions that represented different approaches to the design school summer showcase: the graduation show and the review of semester projects…..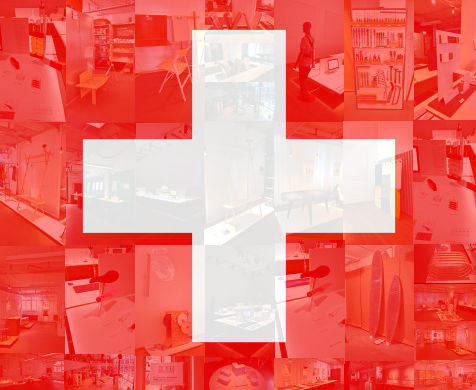 Look Summer 2019, Institut Industrial Design, Hochschule für Gestaltung und Kunst, Basel
The Hochschule für Gestaltung und Kunst Basel's Institut Industrial Design's Look exhibition of semester projects is a biannual affair, we however only visit the summer edition: not that we're adverse to travelling to Basel in January, rather January is trade fair high season, and we're elsewhere. That we were elsewhere in January 2019 and thus weren't in Basel for Look Winter 2019 being, as we learned from Look Summer 2019, deeply irritating. But more on that real soon.
Amongst the presentation of the results of classes such as Mobile Office which explored future office products at the interface between home office and co-working spaces, or Packaging concepts for B.Braun Medical which challenged students to develop, well, packaging concepts for the German medical devices manufacturer B.Braun, specifically for the company's hygiene management products, our interest was particularly caught by the results of the class 3 aus 36, and that not just because of what the students produced.
A regular feature of the Institut Industrial Design's syllabus, 3 aus 36 asks students to realise 3 briefs from a stock of 36, and last year the presentation was a rather cramped and confused affair, arguably on account of the unhelpful space in which it was staged; this year the presentation was much more open and inviting, in an accessible and well illuminated space. And thus an excellent example of just how important the presentation space and format is in helping mediate works.
And whereas last year we couldn't fully enjoy the works presented, far less fully engage with them, this year we could, including, projects such as, and amongst many others, the Tilt filing system by Roger Schmid, nothing more than a couple of slanted pieces of wood on a metal stand, but what more do you need?; Falz by Daniel Mankel, pitched as a shelving system, we're saying room divider, and which very neatly demonstrated how a well thought through concept can reduce waste and help make furniture production more sustainable; with her Molis hall furniture proposal Sofia Lerink presented her take on the integrated hall bench/stand, and a most satisfying take it is/was. Then there was Plima by Florin Stettler: essentially plywood slats formed into a flattish ring and which, so the claim, allows for a resilient seating experience. Yes, with us still obsessing, no honestly still obsessing, over Ron Arad's Bucking Bronco from the Vitra Design Museum Schaudepot's exhibition Ron Arad: Yes to the Uncommon!, and thoughts of Woo by VOMO Mechelen graduate Maurann Lootens as seen at Biennale Interieur Kortrijk 2018 still fresh in our minds, a bouncy ring seat was bound to attract our attention. Not least because it is in the plywood that, as we noted, surrounded Bucking Bronco in the Schaudepot, and to which it owed so much. If it works, and indeed how stable and durable it is, we no know. What we know is that it is certainly an idea well worth pursuing.
3 from 36 was however but 1 from 7 and elsewhere the project On the Beach, aside from giving us a Chris Rea shaped earworm, presented a wide range of proposals for objects intended for a day on the beach, but also applicable the other 361.5 days of the year you're not, and from which we were particularly taken by Icy by Philipp Weber, essentially a bento box system where the intermediate lids are coolpacks thus enabling a very practical and logical cooling of the contents; while Möbel und Objekte aus Graubünden saw students, in context of a competition run by the association mobiglias, develop objects intended to be produced by handcraft companies in the eastern Swiss canton of Graubünden, and which included Fier, a compact, very simple, pocket knife, reminiscent in many regards of a short, chubby cut-throat razor, and by a student whose name we didn't record. Or more accurately put wasn't listed on the project poster. Apologies. But always ensure your name is on your poster. And good luck to all entrants.
As we always note, no design school semester project is ever about the works realised but is always about how the individual student approached the brief, how they developed the project, what they learned and how their position to design evolved in the course of the project, something that was very neatly underscored in Basel through the Model Construction class which tasked students with exploring metal, wood and lacquering: the results clearly being far less important than the experience of the course. That said, Cardboard Surfboard by Sofia Leurink & Joel Friedlin did occupy us for a long time. "Surfboards from cardboard. Can that work? asked Sofia & Joel. "Oh yess, It does…" they replied, the double "s" presumably for emphasisssssss. While not a completely original idea, cardboard core surfboards are known, it was a very nicely developed project and one which very elegantly underscores the function, importance, of such a class within a design school. And yess, Switzerland is still landlocked.
Away from the developing of new projects per se the workshop Thinking Through the Model Archive saw students use the the school's model archive as the basis for more philosophical considerations on industrial design, what it is, can be, should be: and during Look visitors were invited to do the same, to consider questions such as "Does the vast range of available industrial design products make live easier?", "Can you reconcile your choice of materials with your conscience?" or "What does the term "design" mean to you?", a question that was then expanded to what the term "design" means "in this room", "in Switzerland", "in Transylvania", "in Myanmar", and therefore helping focus attention on the inescapable link between objects of daily use and the society and culture in which they exist.
And a workshop presentation which tended to underscore the truth that if you look in any given designer's archive you're going to find one or the other project that shouldn't be there, that should be out in the limelight enjoying well deserved public acclaim. Specifically Marko Peric's 2017 chair Lena/Lana struck us as a very interesting proposal for a low occasional chair, and while there appeared to a bit of confusion over the name, the work itself with its disorientating proportions and unfamiliar construction system, is and was a pleasingly composed, sanguine and self-assured creature. And most comfortable.
In addition we spent a long time with an anonymous folding chair, a work which offered some interesting perspectives on tubular legs, and which was was one of those objects where we are absolutely certain, as in 100%, that we know of something similar, but can't place it or find it. And so it may just be so obvious we think we know it. Sadly there was no name associated with it, but judging by the stamp on the underside of the seat, had we visited the January 2019 Look showcase, we may have been a lot wiser. But we didn't. Because it was trade fair high season. And now we're irritated. Deeply.
Further information on the Institut Industrial Design, Hochschule für Gestaltung und Kunst, Basel can be found at www.fhnw.ch/institut-industrial-design
Diploma 2019, Zürcher Hochschule der Künste, Zürich
Whereas in Basel the summer exhibition is about semester projects, the Zürcher Hochschule der Künste, ZHdK, summer exhibition is all about the final graduation projects realised across the school's numerous Bachelor and Master programmes, including some of those, if not necessarily unique courses then certainly courses very specific to the ZHdK, including the BA in Scientific Visualization and MA in Knowledge Visualization, essentially graphic/communication design, but highly specialised areas within those disciplines, and specialisations that in our contemporary visual, short attention, world are becoming ever more important, for all as "facts" become increasingly weaponised; or the, for us, very, very problematically named, BA/MA Trends & Identity, the former being for us a snake oil industry for which design is misused, and with which design has no active correlation, while linking design to the latter is to deliberately misinterpret design's relation to the ever corkscrewing culture continuum: yet courses which, irritatingly, tend to produce interesting projects. If this year we did feel a lot of the themes being tackled were very well trodden paths, there was very little attempt to break into new territory: but as ever that isn't a complaint, far less a problem, or even important, important is, as always, the way the student approached their project, what they learned and how they developed as designers. Among those projects that did make us stop a little while longer were Chips & Cheats by Master graduate Laura Haensler which (a) perfectly sums up our lives and (b) considers food and gender coding; Semiotics of Security by Alena Hausruckinger which explored the myriad products available to bring a sense of security into our contemporary world, but which Alena contends just add to our feeling of insecurity, even if we would argue that the Hövding airbag cycling helmet is a genuinely positive development in an important area; and the Bachelor project Questioning Efficiency by Manuela Zellweger which, well, questioned efficiency, or perhaps better put, and in a similar vein to Time, Freedom and Control – The Legacy of Johannes Bürk at the Uhrenindustriemuseum Villingen-Schwenningen, questioned the "why" in our fascination, obsession, with becoming ever more efficient, while also being a plea for a bit more inefficiency. Whereby one could argue that in our efforts to become ever more efficient we ultimately only increase our inefficiency.
Amongst the more classic Industrial/Product design projects our attention was particularly caught by Presspoint, a cooperation between ZHdK student Donat Mehr and Arthur Collins from the Eidgenössische Technische Hochschule Zürich, ETHZ, and which proposes a simple PET bottle crusher which allows for the easier transport of empty PET bottles and thus aims to encourage more recycling; Cangoonee, another ZHdK/ETHZ cooperation, this time by David Flagmeier (ZHdK) and Stefan Villiger (ETHZ), and which considered an exoskeleton seat for workers who need to occasionally, but regularly sit, a developing area of research and one to which in its form and function Cangoonee makes an interesting contribution.
Elsewhere, with his Bachelor project Stil Piet van Harskamp developed a modular acoustic room divider based on a very intuitive and simple connection system and which through the modularity, and therefore flexibility and variability, promises, at least according to our understanding, to allow for a more sustainable acoustic system than the rigid systems currently available can offer; while with LEC – Light Source of the future Randy Looser explored applications of the so-called, light-emitting electrochemical cell, LEC, a developing technology which, and simplifying to the point of inaccuracy, allows for the creation of light emitting foils which work at low voltages, and which as Randy neatly demonstrates are applicable as, for example, illuminated bicycle mudguards or road works warning lights: the former while in no sense a replacement for good bike lights certainly looking like being a very sensible addition to any bike, the latter allowing not only for much more, compact, and thus easily stored and transported objects but, we presume, much more reliable, durable objects. Which is exactly what you want a road works warning light to be.
Further information on the Zürcher Hochschule der Künste Zürich can be found at www.zhdk.ch