3% advance payment discount:

849,72 €

(Save

26,28 €

)
The coat rack Coat Tree was designed by Sidse Werner for the Danish furniture manufacturer Fritz Hansen. The history of Fritz Hansen dates back to the late 19th century. Originally established as a craft company, it quickly developed into a major industrial company, and one principally known for its chairs and other seating solutions. Fritz Hansen however does much: In addition to tables and lamps the Coat Tree belongs to the extended repertoire of the manufacturer. Designed in 1971 by Sidse Werner, Coat Tree is one of the most multi-faceted of all coat racks and a design which elegantly fits into any room.
Product type
Coat rack
Dimensions

Weight
Ca. 1,2 kg
Colours



Material
Chrome plated tubular steel
Moulded plastic balls
Care
To clean, a soft, moist cloth is recommended
Warranty
5 year cover against manufacturing defects

Fritz Hansen offers an extended warranty when you register your Coat Tree Coat Rack online at fritzhansen.com/MY-REPUBLIC.
The registration of the product must occur within three (3) months of the date of purchase
Warranty period:

5 years on paint (multi-color, white, grey tones) and moving parts.
10 years on chrome palted partsd

Ordinary, normal wear and tear are excluded from the warranty!
Product datasheet
Bitte klicken Sie auf das Bild, um detaillierte
Informationen zu erhalten (ca. 0,5 MB).

---
In 1872 the Copenhagen based Danish master carpenter Fritz Hansen received a trade authorisation which was to lay the foundation for one of the most successful furniture companies worldwide. Together with his son Fritz Hansen established a furniture manufacturing concern which won the respect and the recognition of not only his countrymen, but also over time an increasing international customer base. An important phase in the company's development came in the 1950s when Fritz Hansen started working on cooperations with designers such as Arne Jacobsen. Since those post-war years Fritz Hansen has continued to expand its product base; an expansion based on cooperations with international designers, including Sidse Werner. After opening her own design studio Sidse Werner created the Coat Tree for Fritz Hansen, a work which has been positively received ever since its original release in 1971. Anything but a boring dust catcher the Fritz Hansen coat rack impresses with its stylish looks and remains an attractive focal point for any contemporary room concept. Comprising 8 upward pointing bent steel tubes the Coat Tree provides, and despite its slender figure, sufficient space for the convenient storage of numerous items. Available in a monochrome or multi-coloured finish the Fritz Hansen Coat Tree is both playful and elegant, yet always decorative, which coupled with its functionality make it a truly indispensable piece of furniture.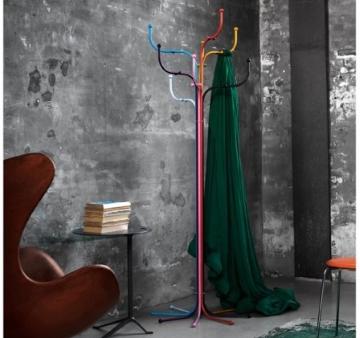 You may also like these articles