3% advance payment discount*:

338,53 €

(Save

10,47 €

)
The design of Vitra Uten.Silo I is very much in the tradition of other organically shaped 1960s plastic designs by, for example, Verner Panton or Eero Arnios. Designed by Dorothee Becker this original and practical wall mounted storage solution features geometrically shaped bowls and is available in a range of colours. In 1970 the Uten.Silo I was joined by the Uten.Silo II - a smaller version for 87 x 67 cm only.
Product type
Storage system
Dimensions


(1) Height: 87 cm
(2) Depth: 67 cm

Material
Body: ABS plastic
Hook: metal nickel plated
Colours

Delivery includes
1 organizer (decoration is not included)
Care
The plastic surfaces should be cleaned with a soft, damp cloth and a mild, non-abrasive detergent.
Warranty
24 months
Product datasheet
Please click on picture for detailed information (ca. 0,2 MB).

?
Should the answers to your questions not be found here, our service team can be contacted Mon-Fri, 8 am to 6 pm via
+49 341 2222 88 22.
Is which colours is Uten.Silo available?
The Uten.Silo is supplied in white, black or red. The Chrome Edition is no longer available.
What is the difference between the Uten.Silo I and the Uten.Silo II?
The Uten.Silo I (dimensions 67 x 87 cm) is the original design from 1969. The smaller version (Uten.Silo II, Dimensions 52 x 68 cm) was created in 1970. With the Uten.Silo II one has slightly less storage space.
Are the necessary screws/wall plugs supplied?
No, the Vitra Uten.Silo is supplied without screws and wall plugs, these should in any case be selected depending on the local conditions, for example, type of wall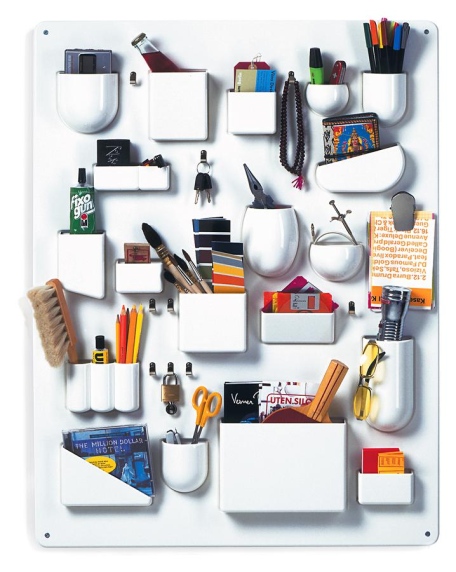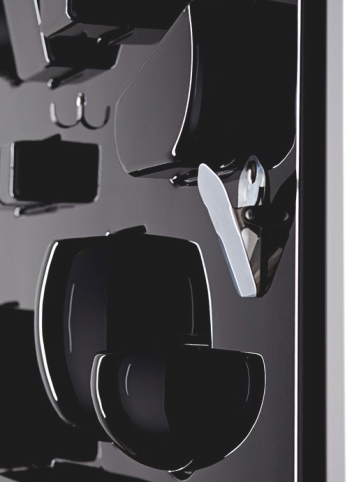 The Design
Inspired by the ideals of the Summer of 68 and the theories and philosophies of Maria Montessori, Dorothee Becker created a wooden toy for her children which required them to insert shapes into the correct holes. Her children were, so history notes, less than impressed. Undeterred Dorothee Becker developed the idea further to create a wall mounted storage system in which objects are stored in moulded plastic bowls and recesses: the principle difference being that the objects didn't have to be an exact fit, the bowls and recesses accommodating most anything. Dorothee Becker's husband Ingo Maurer was more impressed with the plastic storage system than the children had been with the wooden toy and invested 250,000 DMs in an injection mould to allow commercial production of Uten.Silo. An investment that paid of when Vitra took over production of Dorothee Becker's Uten.Silo. In 1974 a second, somewhat smaller, version of the Uten.Silo, the Uten.Silo II, was released by Vitra. Meaning of course Uten.Silo became Uten.Silo I
Production
In contrast to what one could initially suspect Uten.Silo by Dorothee Becker is formed in one injection moulded piece onto which the hooks and clips are subsequently attached. Following the decision by Ingo Maurer to invest in Dorothee Becker's Uten.Silo, the wall mounted storage system was initially produced in ABS plastic by Dynamit Nobel in the Bavarian town of Weissenburg, before production was taken over by Swiss manufacturer Vitra. Following the rise in plastic prices owing to the oil crises of the 1970s Vitra stopped production of the Uten.Silo, resuming it again however in the 1990s and since when both the Uten.Silo I & Uten.Silo II - or Wall-All as they are often called in America - have become established, and much loved, design classics.
Designer
Dorothee Becker was born in 1938 in Aschaffenburg, Germany. Following the completion of her language studies in Frankfurt and Munich, Dorothee Becker travelled to London and Paris before landing in California where she met, and married, the German Industrial Designer Ingo Maurer. In 1966 the pair established Design M in Munich, a design studio whose principle focus was Ingo Maurer's lighting designs, but which also developed the first Uten.Silo storage systems. Despite its global success Uten.Silo is and was Dorothee Becker's only notable contribution to the story of industrial product design.
Historical Context
Created as it was in the 1960s Uten.Silo by Dorothee Becker stands in the tradition of the plastic furniture design of the period, a tradition also exemplified in numerous famous and loved furniture objects by designers such as Verner Panton or Eero Aarnio. The years following the Second World War were characterised by rising prosperity, a prosperity from which all should benefit. With its low cost and ready availability plastic played an important role, not least on account of the ease with which it could be formed and coloured thus allowing goods that embodied the organic design of the period.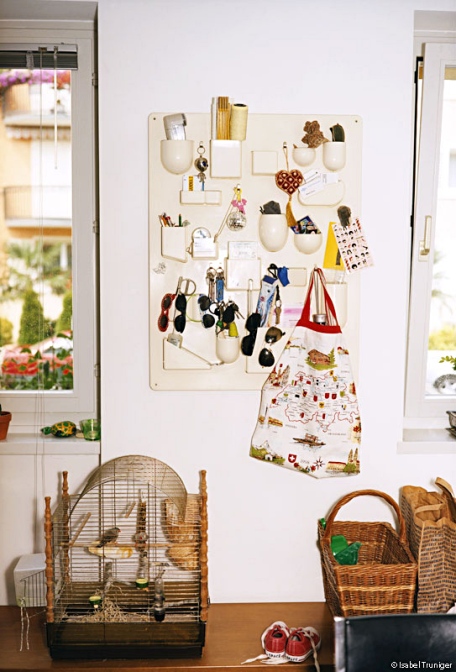 Manufacturer
On a journey to New York in 1953 Willi and Erika Fehlbaum discovered a chair by Charles and Ray Eames and decided to seek permission to produce them in Europe. In 1957 they finally received permission to produce and sell not only furniture by Charles and Ray Eames but also their colleagues George Nelson and Isamu Noguchi. Over the intervening decades this original triumvirate has been joined by the likes of Verner Panton, Maarten van Severen, Alberto Meda, Hella Jongerius, and of course Dorothee Becker. Beyond the production of furniture Vitra have also established a reputation as contemporary architecture curators with an array of buildings at the firm's production base in Weil am Rhein, Germany. The so-called Vitra Campus features buildings by leading international architects, including the VitraHaus by Herzog & de Meuron, the Vitra Design Museum by Frank Gehry and Zaha Hadid's Fire Station.