As a true multi-talent , George Nelson was also successful as a graphic designer. His Zoo Timers - strongly colourful personalities from the animal kingdom - contrast sharply with his sculptural wall clocks from the 1950s thanks to their graphic touch. The Zoo Timers offer children a playful and enjoyable approach to telling the time. Collection Vitra Design Museum.
Vitra children's clock by George Nelson
Multi-coloured
250 x 280 x 35 mm
More about 'Fernando the Fish' in our blog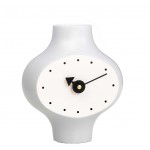 ... Franz Schubert's Symphony No. 8 in B minor. The Trial by Franz Kafka. Madonna and Child with St John and Angels by Michelangelo. Although there are always ethical and stylistic questions concerning the completion of unfinished works, in principle it is...
'Fernando the Fish'-posts
You may also like these articles: