3% advance payment discount:

1.697,50 €

(Save

52,50 €

)
The Vitra MVS Chaise was designed by Maarten Van Severen and connects like no other minimalist chaise lounge design with high comfort. Thanks to the elastically yielding material the simple, rectangular Vitra lounger offers extraordinary levels of comfort. In addition, thanks to the cleverly constructed subframe it can be easily switched between a lying or sitting position.
Product type
Chaise longue
Dimensions


Dimensions in mm
Material
Frame: stainless steel
Shell: polyurethane foam with padding effect
Function & properties
Suitable for outdoor use
Care
To clean, wiping with a damp cloth and a mild detergent is recommended
Certificates
Vitra conform to
ISO 90001: 2008 (Quality management systems)
ISO 14001: 2004 (Environmental management systems)
Warranty
24 months
Product datasheet
Please click on picture for detailed information (ca. 0,2 MB).

---
At first glance one is inclined to view the Vitra MVS Chaise as a minimalist object. And certainly when it comes to reduction it seems to be hard to beat: the sleek, black finish of the rectangular shell is connected to an equally simple frame formed from only one piece of chrome plated tubular steel. However, taking a closer look at the Vitra MVS Chaise one realizes what the Vitra chaise lounge has to offer with all the reduction: comfort. The soft, elastic material adapts to the body shape of the user and thus provides the largest possibly support. In addition, thanks to the cleverly constructed undercarriage you can effortlessly switch between a sitting and lying position simply by shifting your body weight accordingly. Furthermore, the elegant MVS Chaise can also be used outdoors. As a sun lounger. Obviously.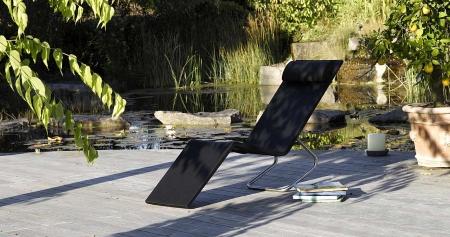 You may also like these articles