All George Nelson's designs reveal his loving attention to detail - as in the execution of this side table. Its downward sloping edges highlight the tabletop's birch veneer. The tables are available in two different sizes and heights and are suitable for a wide variety of uses.
Side table
Laminate top available in black or white
Sloping wood edges
Base formed from tubular steel columns in white or basic dark
Supports and legs in die-cast aluminium
With adjustable nylon glides
More about 'Nelson Table' in our blog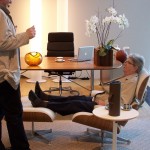 ... On account of the horrendous hotel prices demanded during design week the (smow)blog team camp in Milan. And that despite last years near-drowning episode. This year the decision was a real blessing. Spared the torment of those trapped by Eyjafjallajokull...
'Nelson Table'-posts
You may also like these articles: