3% advance payment discount:

1.639,30 €

(Save

50,70 €

)
With the Vitra LCM Calf's Skin Ray and Charles Eames unify the characteristic seat and backrest of their Plywood Group with a filigree base of tubular steel: thus in contrast to the other models of the Plywood Group the LCM Calf's Skin impresses through a special lightness and the material contrast between shiny metal and curved plywood. Add to this the characteristic thin hide cover - an extravagant detail that provides additional comfort.
Product type
Lounge chair
Dimensions


Dimensions in mm
Colours
Seat and back



Cover




Material
Seat and backrest: Moulded ash plywood
Covers: LCW Calf Hide
Base: Chrome plated steel
Variants
Optionally available with felt pads for hard floors or glides for carpets
Care
The LCW Calf Hides are best maintained through regular brushing with a soft brush in the direction of the fur. For light stains, dabbing with a damp cloth is recommended.

Never use chemical cleaners under any circumstances.
Certificates & Sustainability
Vitra conform to
ISO 90001: 2008 (Quality management systems)
ISO 14001: 2004 (Environmental management systems)
Warranty
24 months
Product family
Eames Plywood Group
Datasheet
Click for more information (ca. 0,5 MB).

---
The LCM Calf's Skin was designed by Ray and Charles Eames and is manufactured today by Vitra. During the course of the 1940s Charles & Ray Eames researched processes for moulding plywood to ergonomically adapt it to the shapes of people: countless experiments which eventually led to the chairs of the Plywood Group, in which the Eames combined the ergonomic seat and backrest made of moulded plywood with various bases and covers. And even seventy years later the Plywood Chairs remain an endearing and ever popular favourite in the Vitra portfolio. In the special case of the LCM Calf's Skin the seat and backrest are set atop a filigree tubular steel frame and in addition are covered with a thin fur layer - an extravagant detail that provides additional comfort. The Vitra lounge chair thus offers a formal lightness and elegance that make it applicable for any contemporary setting. Alternatively the Vitra LCM is available in a wide range of materials and finishes.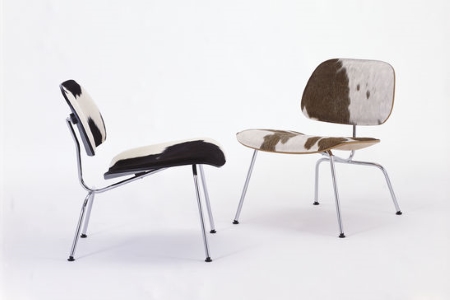 You may also like these articles