3% advance payment discount*:

1.177,58 €

(Save

36,42 €

)
The Risom lounge chair was designed in 1942 by Jens Risom for Knoll and has been made by the American manufacturer ever since. With its simple, harmonious shape and natural materials, the Risom chair is very much of the Danish design tradition and with its balanced aesthetics embodies the typical Scandinavian design style.
Product type
Lounge chair
Dimensions
Height: 77 cm
Width: 51 cm
Depth: 71 cm
Seat height: 41 cm
Material
Frame: maple with clear varnish
Covering: fabric straps (100% natural cotton)
Variants
Available in a range of colours
Colours
Fabric straps




Function & properties
Mortise and tenon construction
Care
In cases of dust or lint vacuuming is sufficient. Fresh stains can be removed with a damp, lint-free sponge. For more difficult stains the use of a soft brush often helps. Depending on the stain the use of a cleaning solvent may be necessary, please however never use such without first consulting a specialist! In no cases should the fabric be harshly rubbed or treated with abrasive materials.
Sustainability
GREENGUARD Indoor Air Quality Certified®
Warranty
24 months
The Risom Lounge Chair is so formally balanced, so simple and so natural that you'd imagine it had originated in Scandinavia - easily fitting as it does into the shapes and materials of the Scandinavian design tradition of the 1930s and 1940s. In fact the Knoll Lounge Chair was designed in the early 1940s in the US. Albeit by a Danish designer - Jens Risom. Searching for a manufacturer for his work Jens Risom had a fateful meeting with Hans Knoll, a German furniture dealer who, largely on account of the war, was looking to produce locally rather than to rely on imported goods. The pair decided to join forces. Given the restrictive war situation Risom's first collection for Knoll, the 600 Series, a series which also includes the Risom chair, features simple, modern objects made from materials that were not war limited. These days Knoll International manufactures the Risom Chair from selected maple wood, covered with 100% natural cotton available in various colours. With its gentle sweep and simple, but very visually pleasing, three-dimensional shape the Risom Chair has become a much loved high-quality design classic respected for both its functionality and its aesthetic self-confidence.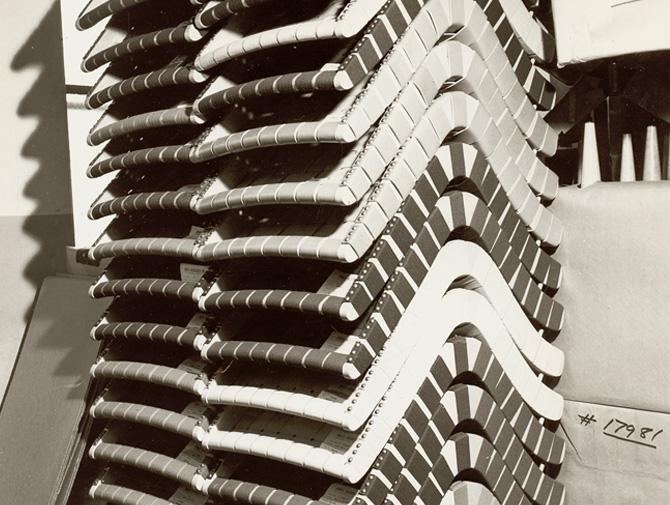 You may also like these articles