A simple profile, clean lines and meticulous attention to detail have made Ludwig Mies van der Rohe's 1930 Brno chair an icon of 20th-century design.
Brno chair from Knoll International
Base from special spring steel in highly polished or chrome-plated finish.
No visible join between seat and frame
Upholstery: internal wood frame, foam cushioning with No-Sag support.
Leather covers in a range of colours and finishes.
With upholstered armrests
Height 79 cm, width 58 cm, depth 59 cm, Seat height: 46 cm
KnollStudio logo and Ludwig Mies van der Rohe's signature are stamped under arm
More about 'Brno' in our blog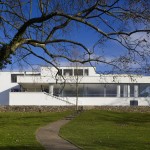 ... As with his Barcelona Pavilion Mies van der Rohe ignored "traditional" construction principles for Villa Tugendhat preferring instead an iron reinforced concrete frame, a decision which negated the need for internal supporting walls, thus allowing for a more ... In addition to revolutionary construction principles the Villa Tugendhat is also remarkable for the advanced technology employed, including an electronic window opening system and an integrated...
'Brno'-posts