3% advance payment discount:

1.040,81 €

(Save

32,19 €

)
Versions which are in stock and immediately available (click here)
These items are in stock and are deliverable immediately:
The free-standing "Buchstabler" book storage system allows for the elegant storage of a large number of books with a minimum of fuss. Each level on Tom Fischer's Buchstabler can hold around 25 paperbacks, or DVDs, accommodated in a space-saving and clearly organised system. Typical of Moormann furniture the Buchstabler bookshelf is simply slotted together and requires no tools. In addition, the Buchstabler can be extended up to a 1.50 metres high tower of books. The musical counterpart to the Buchstabler is Moormann's Musikstapler.
Product type
Bookshelf
Dimensions


(1) Width: 34 cm
(2) Depth: 34 cm
(3) Final height is dependent on number of levels


Height with 2 levels: 56,5 cm

Height with 3 levels: 80,0 cm

Height with 4 levels: 103,5 cm

Height with 5 levels: 127,0 cm

Height with 6 levels: 150,5 cm

Height with 7 levels: 174,0 cm

Material
Shelves: FU birch plywood
Base: Cast concrete
Stabiliser: Synthetic wire
Book support: Spring steel
Spindle: Aluminium

Advice: FU birch plywood is a high value, industrially produced, film coated multi-layer panel. Colour and structural inconsistencies and small use marks are as such always possible.
Variants
Available in a range of sizes. Can be extended later if required.
Colours
Colours


Functions & Properties
Tool-free construction, subsequent extension possible.
Assembly

Care
Shelves: Light soiling of untreated edges can be removed with a fine sandpaper. The treated surfaces can be cleaned with a damp cloth. Heavier soiling of the treated surfaces can be removed with warm water and a little detergent. Additional infos for waxed

MDF: Waxed surfaces should only be dusted with a dry cloth - no liquids!

Base: Rough edges can, if required be removed with a fine sandpaper. Or kept and enjoyed.
Sustainability
Through the consequent use of natural materials and a strong focus on modular systems Moormann products are created with the environment and sustainability in mind. In addition all Moormann products are designed
so that they can both be simply recycled and transported in the smallest volume possible. 90% of Moormann products are made in the immediate vicinity of the company's Aschau im Chiemgau base, thus not reducing transport costs but supporting the local community.
Warranty
24 Months
Accessories
Buchstabler extension
Product datasheet
Please click on picture for detailed information (ca. 0,7 MB).

---
?
Should the answers to your questions not be found here, our service team can be contacted Mo-Fr, 8am to 6pm via
+49 (0)341 2222 88 22.
How high are the individual levels?
The Buchstabler levels are 23 cms high.
Are the Moormann Buchstabler and Musikstapler compatible?
Yes. Individual elements from the Buchstabler and Musikstapler can be combined. In the (smow) online shop extension elements for both systems can be ordered.
How is the Buchstabler delivered?
The Buchstabler is delivered flat-pack in separate elements. But don't panic! Construction is not only tool-free and straightforward, but also very relaxing....
---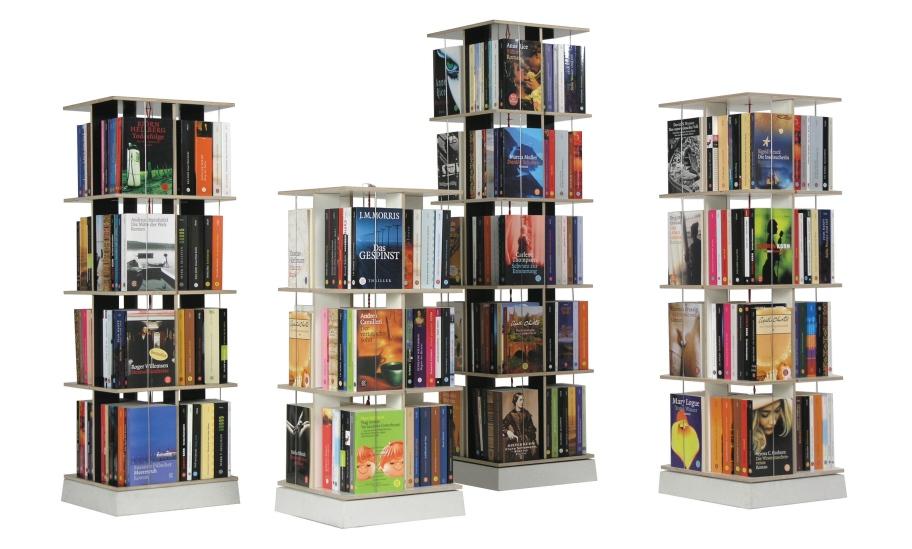 With a reduced, innovative yet ultimately playful design the Buchstabler is a very typical piece of Nils Holger Moormann furniture. Doing what its name implies Buchstabler stacks over several levels thus allowing for a free-standing, almost sculptural storage system that not only takes up a minimum of space but uses a minimum of materials. Turning 360 degrees to allow trouble free access, each level of the Buchstabler by Tom Fischer has space for around 25 books - or DVDS - and should you require more space can be simply extended up to a total of seven levels, circa 1,74m. The cast concrete base allows for stability and security.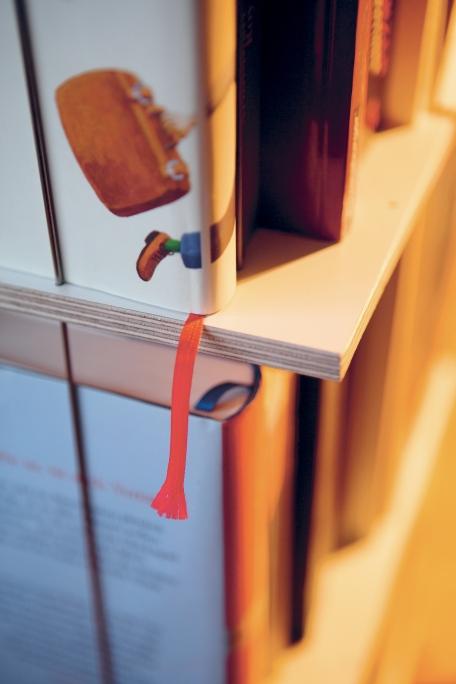 Designer
The Moormann bookcase Buchstabler was designed by Tom Fischer. Following completion of his studies at the Nürnberg Kunstakademie Tom Fischer established his own design studio in Nürnberg. Tom Fisher developed Buchstabler in 2004 and two years later the complimentary Musikstapler. In addition Tom Fischer has developed numerous projects, ranging from the folding screen Cocoon to Slieper, and aid for office naps. In 2008 Tom Fischer was awarded an iF Product Design Award for his 361 tower shelving system.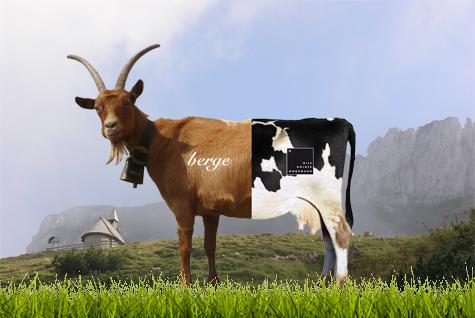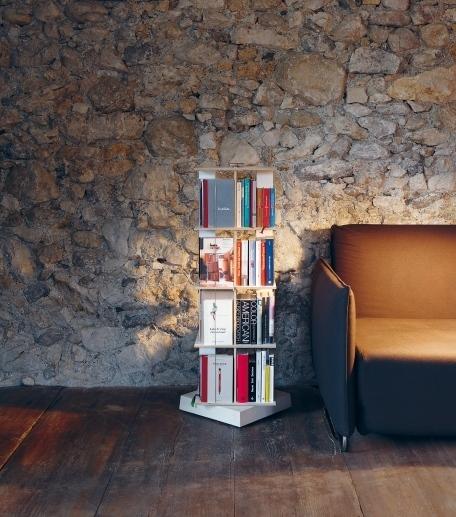 Production
As with all Nils Holger Moormann furniture the Buchstabler by Tom Fischer is produced in and around Aschau im Chiemgau. Moormann work closely with small and medium sized trades in a 30 kilometre radius from Aschau thus ensuring a high standard of quality and control. The shelves and side elements of the Buchstabler are crafted from FU birch plywood, a high value, industrially produced, film coated multi-layer panel and are available in white, black or red. As with all Moormann products the birch for Buchstabler is sourced exclusively from European FSC-certified woodlands. The base is formed from cast concrete. Being a classic Moormann product Buchstabler makes innovative use of glueless joints, thus not only raising the products environmental profile but also the ease with which it can be recycled.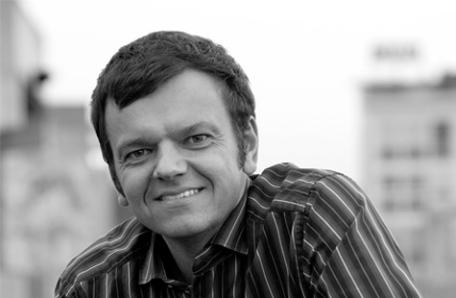 Manufacturer
The Buchstabler by Tom Fischer is produced by Moormann. Established in the 1980s by Nils Holger Moormann as a platform for products which appealed to his own particular taste, the company has from its earliest days placed a focus on young, unbeknown designers. And Nils Holger Moormann's own, idiosyncratic, creations. Over the decades the Moormann brand has developed into a collection of products characterised by a simple, logical concept combined with a smattering of well-placed humour. Or simple cheek. In addition Moormann's production is underscored by a firmly held commitment to maintaining ecological standards, including a focus on untreated natural materials and glue less joints and connections. Today Moormann employ some 20 staff at their base in Aschau im Chiemgau, Bavaria, who, in cooperation with a roster of international designers develop new projects and further develop existing Moormann products. In addition Moormann own and operate the Berge Guest house in Aschau; a lovingly, and environmentally sensitively, restored former bakery in which guest can not only sleep in Siebenschläfer bed from Christoffer Martens but also enjoy further products from the enviable Moormann collection. And a lot of peace and quiet.
You may also like these articles