Details
Product type
Desk, dining table or conference table
Dimensions


(1) Height: 74 cm
(2) Length: 75 / 100 / 150 / 175 / 200 cm
(3) Depth: 75 / 100 cm

Weight
ca. 25-50 kg
Material
Table top: Synthetic resin, linoleum, wood veneer or granite
Table legs and frame: Steel, chrome plated
Variants
Available in a range of sizes
Colours

Care
Chrome plated, powder coated and glass elements in addition to all table tops should be cleaned with a damp, light cloth and subsequently dried.

Stubborn stains can be cleaned with glass cleaner or water mixed with ethanol in a ratio of 10:1
Certificates
GREENGUARD - Indoor Air Quality
LEED "Green Directive"
Warranty
24 months
---
FAQ
?
Should the answers to your questions not be found here, our service team can be contacted Mo-Fr, 8am to 6pm via +49 (0)341 2222 88 22.
Is the USM Haller table height adjustable?
This version is not height adjustable. However through the use of distance rings you do have the possibility of raising the table top by 2 cms (with one ring) or 4 cms (two rings).
Must I assemble my USM Haller table?
Your new USM Haller table is delivered with the table top attached to the frame. For logistic reasons the legs need to be attached following delivery. This is achieved via a very simple screw, the necessary tool is included in the delivery.
---
Design Story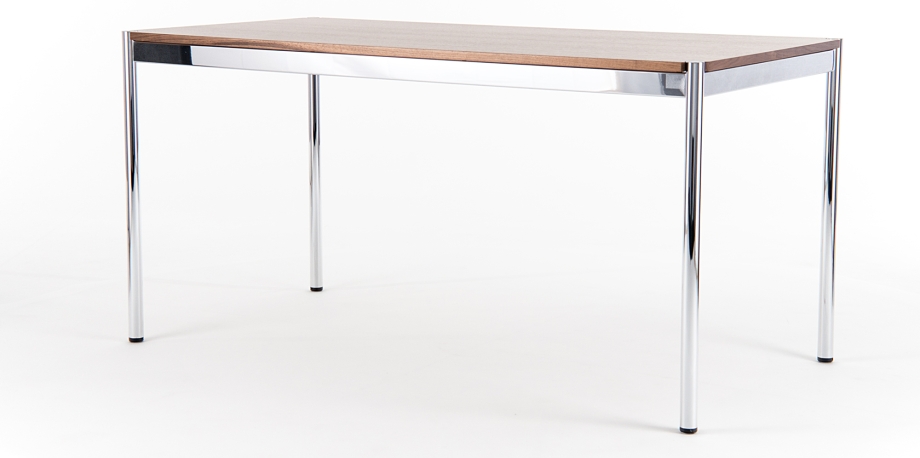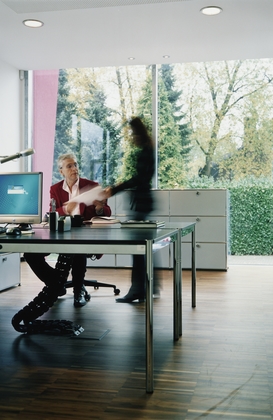 The Design
Although best known for the modular furniture system the USM Haller table is a central feature of the USM programme. The sleek chrome plated table frame beautifully reflecting the aesthetic elegance of the USM Haller units. Developed in 1963 by Swiss architect Fritz Haller, System USM Haller revolutionised office furniture of the period with its enviable ability to fit any situation and any given task: characteristics which can be be effortlessly carried over to the USM Haller table. Available in a range of lengths and depths and with a wide selection of surfaces there is a USM Haller for everyone and every occasion; and as befits a component of a modular system not only can every USM Haller table be complemented by a range of accessories but also used in varying functions, be it as dining table, conference table or desk.
Production
As with all USM Haller products the USM Haller tables are manufactured exclusively by USM themselves at the company's base in Münsingen, Switzerland. The table legs and frame are created from chrome plated steel and are, despite their reduced optic, extremely stable. The table tops are available in a wide range of colours and an almost as wide range of materials; linoleum, laminate, granite and various veneers being available. In addition to producing furniture intended to remain useful and stable for generations to come so to is the production at USM environmentally sensitive and respectful. Thus helping ensure you have a world in which to enjoy your furniture.
Designer
Designer of the USM Haller table is Fritz Haller. Born on October 23rd 1924 in Solothurn, Switzerland Fritz Haller was primarily an architect and no furniture designer; although it was without question his architectural training which enabled him to create the System USM Haller modular furniture system. Having built an office building for the company U. Schärer Söhne Fritz Haller was asked by company boss Paul Schärer to develop a furniture system for the offices. That the office building had been built according to Haller's MiniMidiMaxi system - a construction system that enabled buildings in three sizes to be built on the same principles - Fritz Haller reduced this system further to create storage cabinets for U. Schärer Söhne. Although developed for U. Schärer Söhne's own use word of the system quickly spread and before too long the company were receiving orders from around the globe. In addition to becoming a international design classic and commercial success the USM Haller system has also been recognised with numerous awards and inclusion in the MoMA New York permanent collection.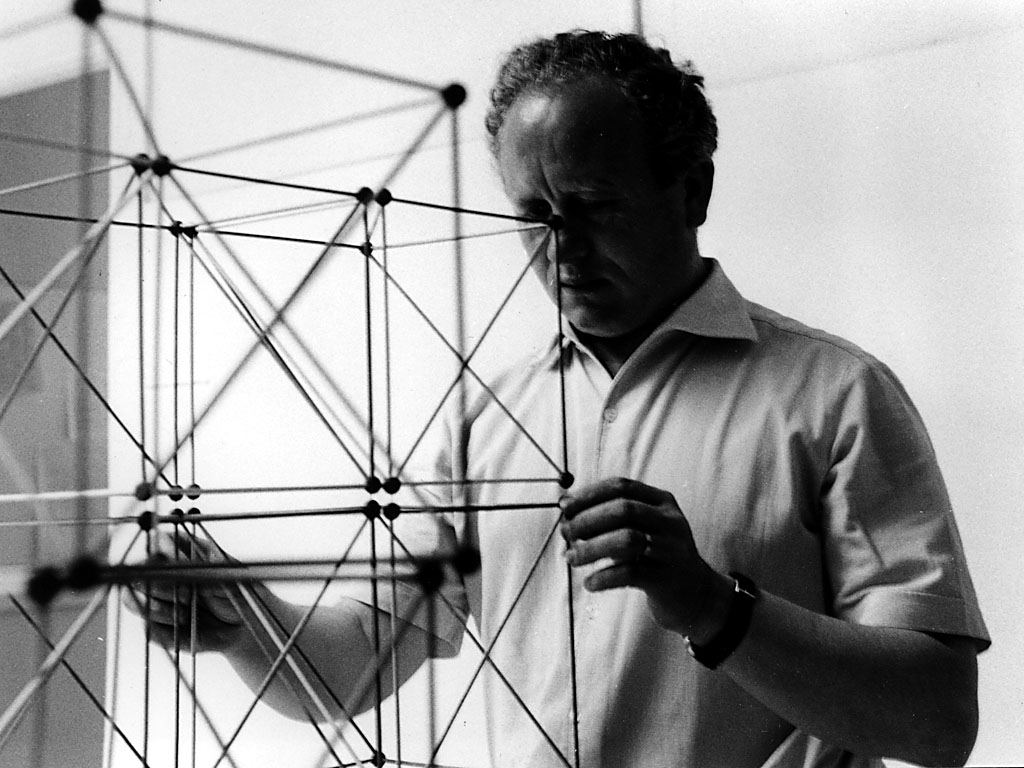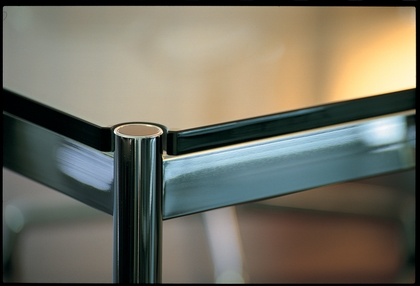 Historical context
Fritz Haller designed the USM Haller modular furniture system in the 1960s, and so at a time when functionalism had the say in international design. For protagonists of the movement technical, functional aspects took priority over aesthetic forms, all unnecessary ornamentation and decoration being rejected. Or to keep it short: Form followed function. Although not a new philosophy in the wake of the second world war "Form follows function" received a new prominence, not least because it allowed objects to be produced in larger numbers and in shorter times than had previously been the case. Fritz Haller's multi functional architecture and furniture systems perfectly reflect this thinking. As the USM Haller table with its reduced, almost minimalist form, more than ably demonstrates.
Manufacturer
The history of USM begins long, long before the creation of the storage system for which they are world famous. In 1885 Ulrich Schärer established a metalworks and ironmongery business in the village of Münsingen near Bern in Switzerland. The co-operation with Fritz Haller arose when in the 1960s Ulrich Schärer's son Paul Schärer commissioned Fritz Haller to build a new production hall and administrative building for the expanding company. Included in the commission was furniture for the administrative building. The mass production of the furniture began in the late 1960s after the Rothschild Bank used USM furniture for their Paris HQ. From that commission followed untold more, and in 2001 a place in the permanent collection of the Museum of Modern Art in New York.

More about 'Haller Table' in our blog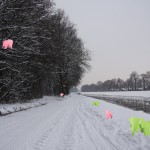 ... Then USM Haller arrived with a lorry full of Haller tables, USM Haller sideboards and roll containers.  And as they left us to head back to Bühl, moooi arrived from Amsterdam. Sometimes it really is like the EU car park in the (smow)yard!!! And then...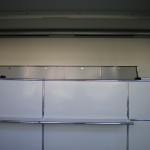 ... For a lot of people USM Haller make units where you can store lever arch files. True. They do. And that very successfully. However, the beauty of System USM Haller is such that with a little imagination, and the correct professional advice, one can also...
'Haller Table'-posts
You may also like these articles: