Foscarini
Aplomb
by LucidiPevere, 2010
— from 263,19 €
3% advance payment discount*:

255,29 €

(Save

7,90 €

)
The special feature of the lamp Aplomb by Lucidi & Pevere for Foscarini - and an object crowned 2011 Lamp of the Year - lies in its material: concrete. The resulting strength is expressed in the name: a ballet term referring to a secure stance and firm appearance. The 1.9 kg lamp for direct lighting is available in a range of subtle colours.
Product type
Pendant lamp
Dimensions


Dimensions in cm
Weight
1,9 kg
Material
Concrete
Variants
Halogen or LED
Colours
Available for all variants:




Only available for the LED-version:




In white with a white cable and canopy
In all other versions with black cable and canopy
Function & properties
Direct light distribution



Assembly
Please click on the image to open the assembly manual (ca. 0,6 MB).

Delivery includes
Light bulbs not included
Awards & museum
Winner "Light of the year" 2011
Sustainability
Foscarini conform to:
ISO 90001: 2008 (Quality management systems)
ISO 14001: 2004 (Environmental management systems)
Warranty
24 months
Product datasheet
Please click on picture for detailed information (ca. 0,3 MB).

The Design
The Foscarini lamp Aplomb by Lucidi & Pevere guarantees a concentrated, even illumination of the surface underneath. Formed from untreated concrete, a material familiar from modern architecture, aplomb is characterised by its compact expression of strength: a feature reflected in the name: "aplomb" - a Ballet pose of secure stability. This solidity contrasts with the delicate shape of the lamp - a rawness and elegance which also accounts for its popular appeal. The Foscarini Aplomb can be used both as an individual item, such as over a table, or in composition - as a series or at different heights - as an expressive light composition. The available colours emphasize different aspects of the lamp: in grey it acts as a purist object, in brown and white a much more graceful elegance.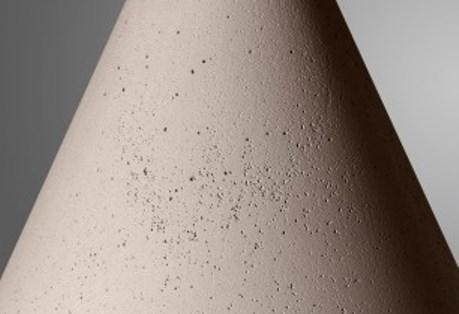 Designer
Paolo Lucidi, born in 1974, and Luca Pevere, born in 1977, graduated from Milan's Politecnico University in Industrial Design. Their first work experience was gathered in renowned Milan design studios and in cooperation with national and international manufacturers. In 2002 they first worked together on joint projects before in 2006 they formed the Studio Lucidi & Pevere in Milan. Working on a wide range of industrial design projects for international companies Studio Lucidi & Pevere has a conceptual span that goes over furniture and lighting to tableware and beyond. Currently based in Udine, in addition to working with Foscarini Studio Lucidi & Pevere also cooperate with, for example, De Padova, Kristalia, Zanotta, Ligne Roset, Gebrüder Thonet Vienna and De Castelli. Works by Lucidi & Pevere are regularly publicised in and through international exhibitions, books and magazines.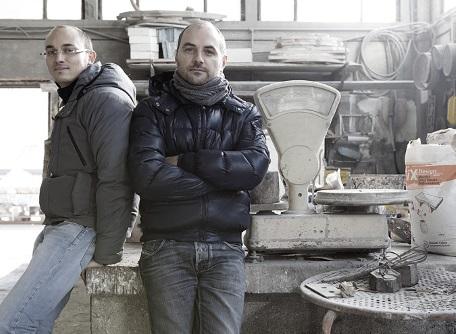 Production
The pendant lamp Aplomb by Lucidi & Pevere is produced by Marcon (Venice) based Foscarini. The body is moulded from specially coloured concrete while the ceiling rose comprises galvanized metal covered with dyed ABS plastic. In the white version of the lamp both canopy and the cable are also white, and are coloured grey and brown in the black versions. The 35.5 cm high Aplomb lamp has a circumference of 16.5 cm, a total length of nearly 2 meters and weighs 1.9 kg. As with all Foscarini products the Lucidi & Pevere lamp is manufactured in accordance with ISO 9001 and ISO 14001 - thus certifying highest quality and environmental standards.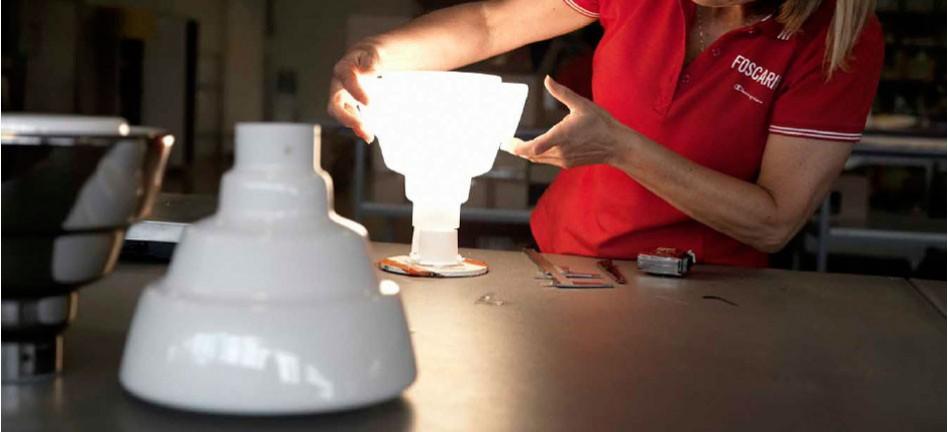 Manufacturer
The Venetian lamp manufacturer Foscarini was founded in 1981 as a producer of lamps made of Murano glass; however as a manufacturer Foscarini has always oriented its production processes to the respective design, thus the portfolio was able to quickly evolve away from glass. Foscarini regards itself as a research studio, and one which is committed to the implementation of innovative concepts. The result is a mixed portfolio of contemporary design classics such as the Havana floor lamp, a work represented in MoMA, or the iconic Le Soleil Parete. In terms of quality and environmental management Foscarini was one of the first Italian companies to be certified for it quality and environmental management.