Foscarini
Caboche Sospensione
by Patricia Urquiola & Eliana Gerotto
— 1.034,00 €
3% advance payment discount*:

1.002,98 €

(Save

31,02 €

)
Grand without being oppressive: so presents itself the Caboche Sospensione by Patricia Urquiola and Eliana Gerotto for Foscarini. The impressive, sculptural shape of the lamp and its pleasant light that emanates from it into the room made it an instant classic with design fans.
Product type
Pendant lamp
Dimensions
Media: H 20 x ø 50 cm, Total length max. 190 cm (10,2 kg)


Material
Balls: PMMA
Frame: chrome plated metal, blown glass, polycarbonate
Suspension cable: stainless steel
Colours



Variants
Alternatively available as Caboche Sospensione Plus as LED versions and in several sizes
Function & properties
Direct and indirect light distribution


Assembly


Delivery includes
Light bulbs are not included.
Sustainability
Foscarini conform to
ISO 90001: 2008 (Quality management systems)
ISO 14001: 2004 (Environmental management systems)
Warranty
24 months
Product datasheet
Please click on picture for detailed information (ca. 2,5 MB).


The Design
With its lushly studded shade of transparent or gold yellow glass balls the pendant lamp Caboche Sospensione by Patricia Urquiola and Eliana Gerotto is reminiscent of a precious pearl bracelet. Since its launch in 2005 it has gone on to become one of the best sellers for the Italian manufacturer Foscarini and has become an icon among contemporary lamp designs. The peculiarity of the Caboche Sospensione is that both the shape of the lamp as well as its sparkling-bright light effect arise from the the annularly arranged balls made of transparent acrylic glass. As if broken by countless crystals, the illumination from the Foscarini Caboche Sospensione shines throughout the room and is reflected from the ceiling. Despite its striking design, thanks to its colour neutrality the Caboche Sospensione provides a discreet, almost ostentatious, accent in any private or public space.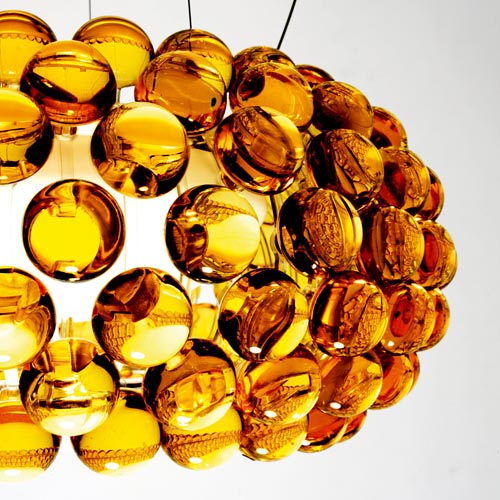 Designers
Patricia Urquiola was born in 1961 in Oviedo, Spain and studied at the Faculdad de Arquitectura de Madrid and then at the Milan Polytechnic Architecture, where she completed her doctorate in 1989. During her subsequent work as an assistant teacher at the ENSCI, a School of Industrial Design in Paris, she produced her first furniture designs. From 1990 she worked for De Padova, before become director of the design team at Lissoni Associati in 1996, and has in addition worked independently for many other design firms. In 2001 she founded her own design studio through whom she cooperates with many Italian and international manufacturers - such as Moroso, for which she created the exotic Tropicalia chairs. Eliana Gerotto was born in Venice. Initially trained as a commercial artist, she graduated at the Fondazione Davide Campari in Milan and has since worked in various fields including graphic, industrial and set designer as well as an interior designer.