Bruunmunch
PLAYdinner Lamé
by Henrik J. Bruun & Jacob S. Munch
— from 3.073,00 €
3% advance payment discount*:

2.980,81 €

(Save

92,19 €

)
The dining table PLAYdinner Lamé by the Danish manufacturer Bruunmunch promotes communication at the table: the intelligently designed tabletop means that even in the largest group no one need be consigned to an invisible corner. And should the group grow, the extension integrated extension mechanism developed by designers Henrik Bruun and Jacob Munch allows the Bruunmunch dining table to be extended by 50 or 100 cm.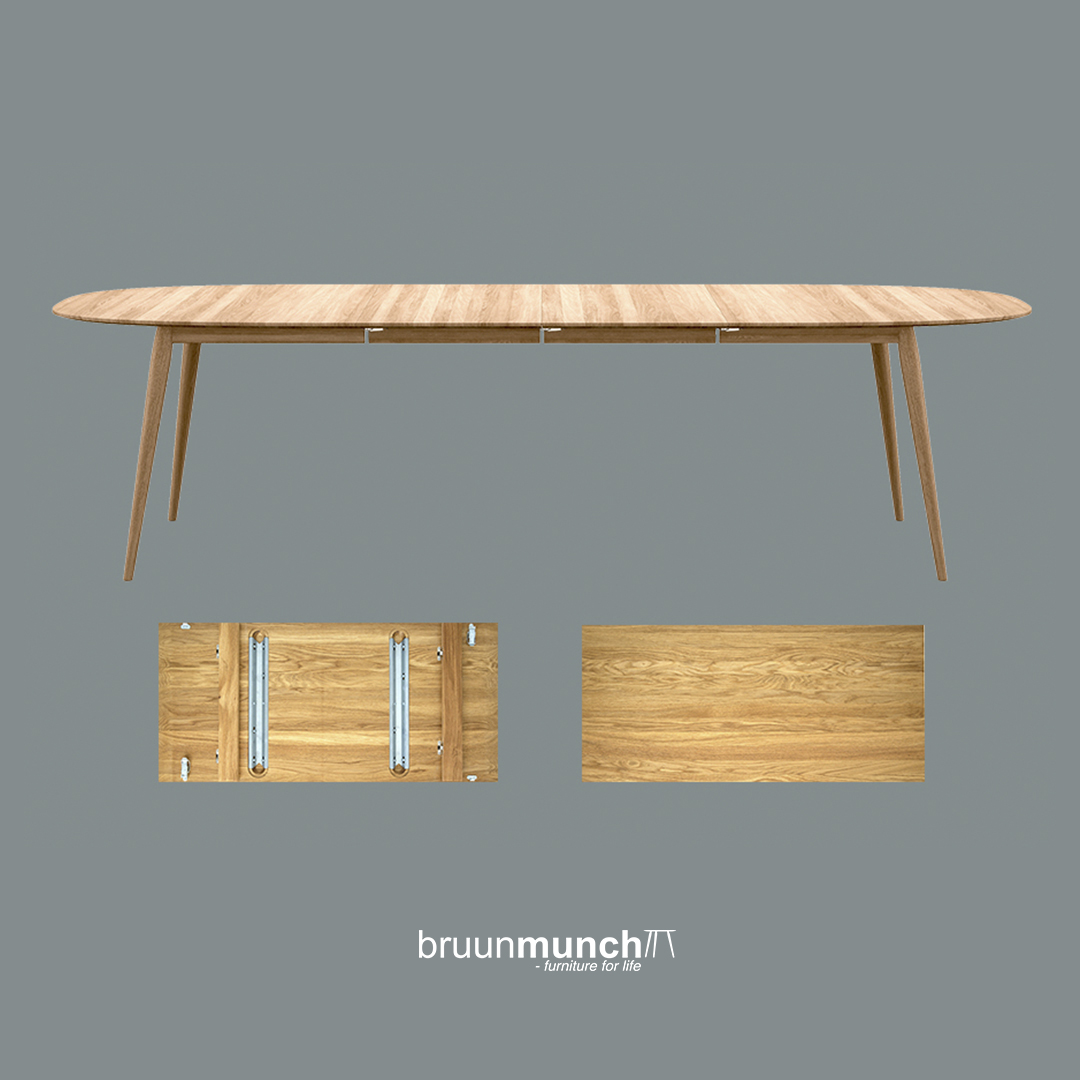 MAKE YOUR TABLE GREAT AGAIN
Until January 31st 2021 the PLAYdinner Lamé in oiled oak with two extension leaves is available at the exceptional price of just € 3073, rather than its regular € 4657.
Extend your dining table with the two complimentary extension leaves from 180 cm to 230 cm, or even, 280 cm. And thus, depending on your current mood and/or community infection situation, you can either entertain many guests or ensure a sufficient, and safe, social distance. Bon appétit!
Product type
Dining table
Dimensions
Material
Solid wood, range of wood
Colours



Variants
Available with one or two extension leaves allowing for a table extension of 50 cm per leaf
Also available as PLAYdinner Round
Function & properties
Integrated extension mechanism
Stability is reinforced by folding brackets between table top and table top extension
When not in use, the inserts/table top extensions can be stowed under the table top
Care
For regular cleaning the use of a soft cloth and clean, hot water is recommended.
Before treating your furniture with a care product, the surface must be completely clean and dry. Every type of wood has its own specific care demands.Please study the brochure included with delivery for more information.
Certificates & Sustainability
Bruunmunch manufactures its furniture exclusively in its native Denmark. It uses only the highest-quality materials such as durable European oak and American walnut, wood Bruunmunch sources from a regional supplier.
Warranty
24 months
Datasheet
Bruunmunch PALYdinner Lamé Datasheet (ca. 0,5 MB).

You may also like these articles