The hooks on the Rechenbeispiel backboard can be individually added and replaced.
Individual Rechenbeispiel clothes hooks from Moormann
Untreated maple
End covered in red or black felt
Attach magnetically to backboard
More about 'Rechenbeispiel' in our blog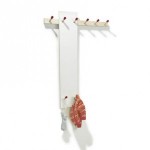 ... Rechenbeispiel from Nils Holger Moormann is a modular clothes hanger system which can be assembled, extended and restructured according to your wishes. The hooks have felt tips, are magnetically fixed to the backboard and can be moved and exchanged as ... The children's hanger, for example, makes Rechenbeispiel perfect for families. Additionally, Rechenbeispiel can be expanded with a key board, a hat rack, a memo board and a mirror. In addition to...
'Rechenbeispiel'-posts
You may also like these articles: