String
String Pocket
by Nisse Strinning, 2005
— from 143,00 €
3% advance payment discount*:

138,71 €

(Save

4,29 €

)
With their victory in a 1949 Swedish book shelf competition Kajsa and Nisse Strinning popularised their reduced String design - and in the same year a company was founded with the same name which has since sold the shelf system thousandfold. Since 2005 a wall version of the classic has been available: the String Pocket is the smaller, but just as adaptable version, of its practical big brother.
Product type
Wall shelf
Dimensions
Height: 50 cm
Width: 60 cm
Depth: 15 cm
Thickness (shelves): 1,9 cm
Colours
Lacquered



Veneer




Material
Shelves: lacquered MDF or veneered chipboard
Side ladders: painted steel
Variants
The String shelving system can also be configured individually. Shelves and components can be added to the side panels as required.
With the String Configurator you can plan your own system.
Function & properties
Must be directly mounted on the wall
Delivery includes
2 side elements, 3 shelves
Care
Wood surfaces should not be subjected to excessive moisture. Cleaning with a soft, slightly damp cloth is recommended.
Awards & museum
Recognition and Design Award from Svensk Form
Gold Medal, Triennale, Milan
Warranty
24 months
Product family
All String products
Product presentation
Design Story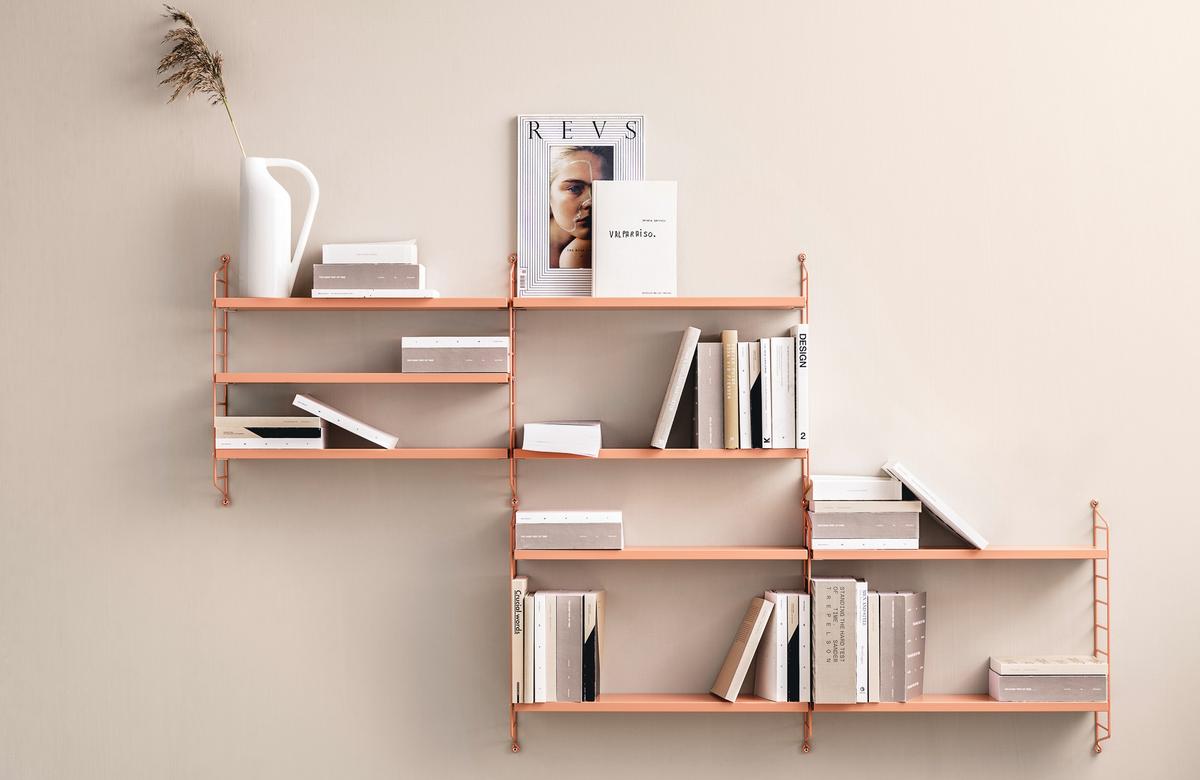 1949 - 2019: 70 Years String System
In 1949, at the age of 32, Nisse Strinning designed the String shelving, together with his wife Kajsa, in context of a competition organised by the Swedish book publisher Bonniers, to create a bookcase which is affordable, easy to transport, and easy to assemble and build. The Strinnings won with their String System; in the same year, they founded their eponymous company, to produce their bookshelf "String", which subsequently became a global success. The original string shelf consists of filigree wire ladders, which serve as side walls, which can be mounted directly on the wall and can be combined in different colours with different shelves. In 1953, the furniture company released the first free-standing version of the popular bookshelf, if a version that Nisse Strinning initially did not like. The shelf system began its triumphal march through the world, not only moving into private homes and dwellings, but also into public facilities, including the UN headquarters in New York City. Awarded numerous international design awards, the manufacturer String has extended the flexible wall shelf solution, especially in recent years, with a whole system of accessories and office furniture. In 2005, the String Pocket was launched: In design and concept equal to the String, the smaller version of the wall shelf impresses in any situation thanks to its functionality and adaptability. Whether in the kitchen as a spice rack, in the bathroom as a storage for towels, tubes and creams or in kid's rooms as space for beloved toys - available in many different colour variants the string Pocket is a wonderful all-rounder.