Artemide
Tolomeo Faretto
by Michele de Lucchi & Giancarlo Fassina, 1995
— 139,00 €
3% advance payment discount*:

134,83 €

(Save

4,17 €

)
The Tolomeo Faretto is the wall lamp from the Tolomeo lamp family designed by Michele De Lucchi and Giancarlo Fassina for which they were awarded the Compasso d'Oro. The Faretto luminaire has the same shade as the popular Tolomeo Tavolo, but is attached to the wall and is thus particularly useful as a space-saving bedside lamp.
Product type
Wall lamp
Dimensions
Height: 23 cm
Depth: 27 cm
Weight
0,4 kg
Material & colours
Anodized and polished aluminium
Function & properties
Cantilevered joints
E-27 socket, max. 8 W (LED) / 77 W (Halogen)
Concept & manufacturing
Delivery includes
Light bulb not included
Care
To clean the Artemide lamp wiping with a damp cloth and a mild detergent is recommended
Awards & museum
Compasso d'Oro
Certificates
Tested and certified according to European standards (ENEC)
IP Code IP20
Warranty
24 months
Product family
Tolomeo Collection

Datasheet
Please click on picture for detailed information (ca. 0,2 MB).

The Tolomeo Faretto belongs to the successful Tolomeo lamp collection created by the designers Giancarlo Fassina and Michele De Lucchi for the Italian lighting manufacturer Artemide. The small wall light is particularly applicable as practical, space-saving bedside lamp; however the design and aluminium look are both timeless and classic, thus allowing the lamp to be used in many situations. Thanks to the adjustable optical head the focussed light is suitable both as a reading aid or, and directed upwards, as indirect lighting. The Italian lighting manufacturer Artemide is renowned for its high-quality products "Made in Italy". Based near Milan a guiding principle of Artemide is the "The Human Light" concept, a theory which follows the belief that light subconsciously affects human emotions and well being and thus not only is the light source important when designing a space but also the activity to be undertaken in the room must be carefully considered - the Artemide Tolomeo Faretto provides a particularly good example of the Artemide's understanding of such.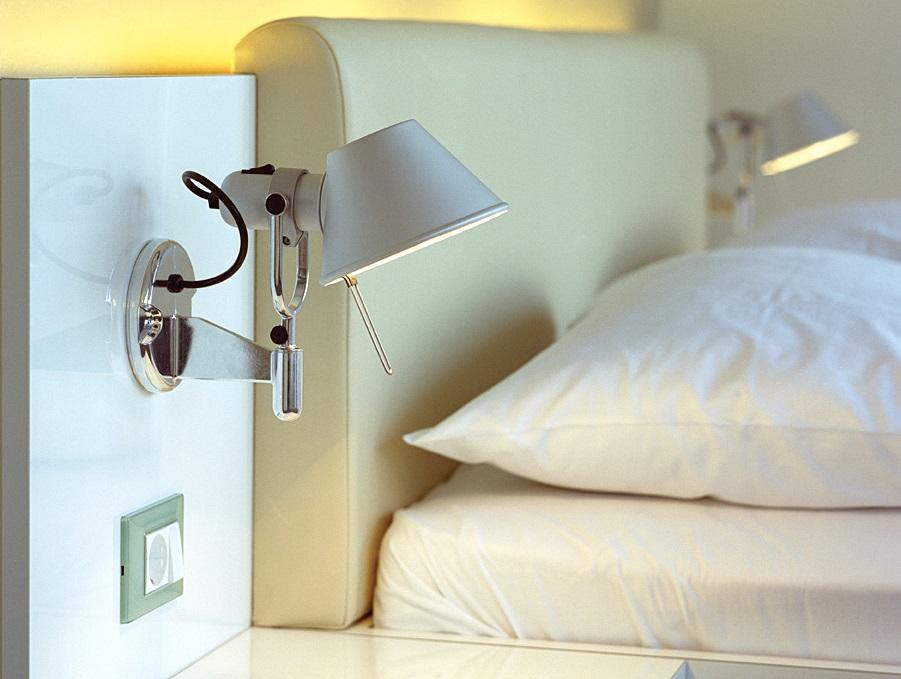 You may also like these articles