USM Haller
USM Haller Side Table with Drawer
by Fritz Haller & Paul Schärer
— 454,00 €
3% advance payment discount*:

440,38 €

(Save

13,62 €

)
Originally designed as a modular office furniture system, the USM Haller tables demonstarte how easily and elegantly the system can be applied to the living area. From the original large desks and filing cabinets the USM portfolio now includes a wide range occasional furniture, including special USM nightstands, all created and constructed according to the accepted standarsds of the Swiss furniture manufacturer.
Product type
Side table
Dimensions
Overall
(1) Height: 43,5 cm
(2) Length: 43,5 cm
(3) Depth: 53 cm
Ball centre to ball centre
(1) Height: 39,5 +4 cm
(2) Length: 39,5 cm
(3) Depth: 50 cm

Weight
ca. 11 kg
Material
Panels: Metal, powder coated
Structure: Steel, chrome plated
Ball: Brass, chrome plated
Colours



Colour chart
Request a USM Haller Colour Fan
Functions & Properties
Side table can be extended in all directions
Inflammable class 1
Care
Chrome plated, powder coated and glass elements should be cleaned with a damp, light cloth and subsequently dried.
Stubborn stains can be cleaned with glass cleaner or water mixed with ethanol in a ratio of 10:1.
Awards & Museums
MoMA, New York
Certificates
Inflammable class 1 (DIN 4102)
GREENGUARD - Indoor Air Quality
LEED "Green Directive""
Warranty
24 months
Product datasheet
Please click on picture for detailed information (ca. 1,6 MB).

Product presentation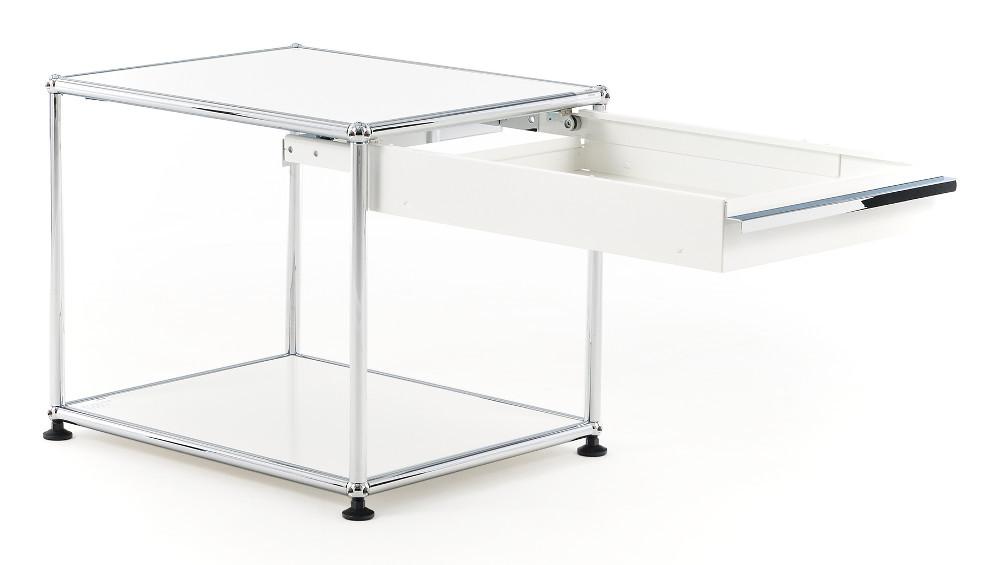 The USM Haller modular furniture system originated in 1963 from a collaboration between the USM company owner Paul Schärer and architect Fritz Haller, and was originally created for the USM Office Pavilion in Münsingen, Switzerland. In 1969 the company began with the series production of the USM Haller furniture system; a system which in addition to the classic USM Haller sideboards includes various members, such as the USM Haller Side table with side walls. Defining for the USM shelves is their system character. The basic idea defines furnishings as a state but a process; consequently, the USM Haller system is modular and can not only be built to meet individual requirements, but can also be transformed again and again and again as required. The heart of the design is a small chrome plated brass ball which binds everything together. To each ball connects metal pipes, metal panels then act as cladding to both complete the units and allow for a touch of individuality in each object.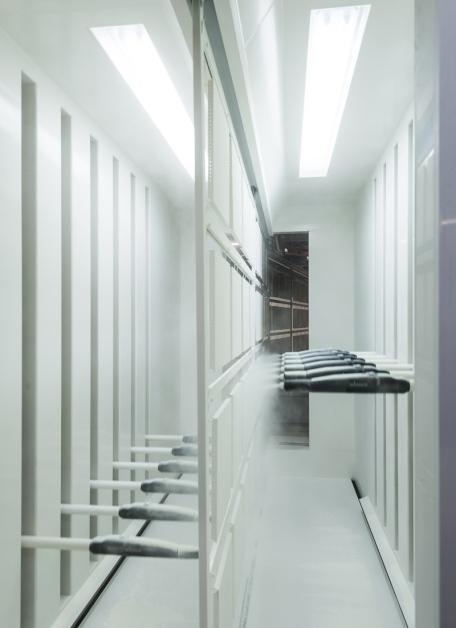 Designer
The USM modular furniture system was designed in the 1960s by Fritz Haller. The qualified carpenter and architect, was born on October 23, 1924 in Solothurn, Switzerland and predominately developed larger building projects such as, for example, schools, office buildings and production halls. He also came to the aid of USM. In 1961 USM CEO Paul Schärer commissioned Haller with the construction of a new office building and factory at the company's base in Münsingen. An additional feature of the contract was the furnishing for the new USM office pavilion. Despite the global success and popularity of the USM system it was to remain Fritz Haller's only excursion into the world of commercial furniture design. In addition to his architcetural work Fritz Haller also taught at numerous institutions including holding Professorships at the universities of Karlsruhe and Stuttgart. Fritz Haller died on October 15th 2012 in his native Switzerland.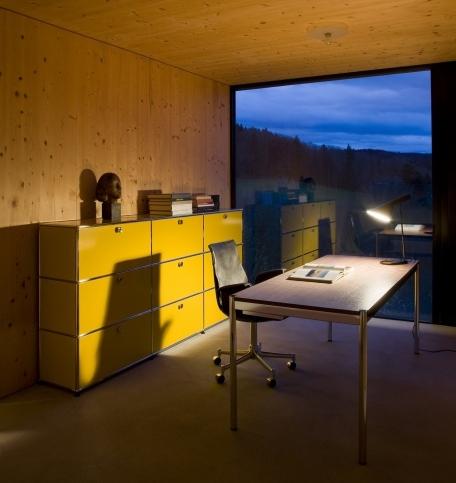 Production
Based in Münsingen, Switzerland USM is a company that is every bit as aware of its environmental responsibility as of its economic goals. Environmental responsibilities which the modularity of the system and the high quality materials from which it is constructed greatly help advance. A USM table, for example, consists of a few, only high quality materials, such as chrome plated metal pipes and chrome plated brass balls. The steel shelves and cladding are coated using a powder coating process which not only produces a, relatively, scratch-resistant surface, but is also environmentally friendly in terms of waste generation and resource usage. In 2008 the USM modular furniture system was awarded the Greenguard Indoor Air Quality certification for low emitting products.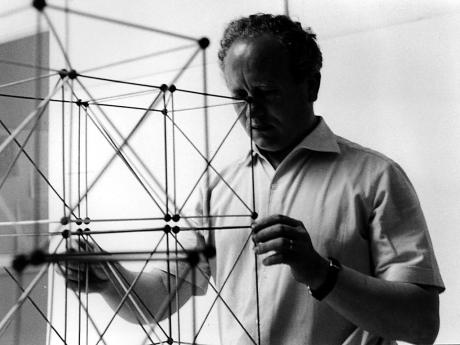 Historical Context
The emergence of USM modular furniture in the 1960s places the system, historically, in functionalism: the movement which at that period dominated both architecture and design. Mere aesthetics and unnecessary ornaments were rejected; instead design and architecture focussed on new technology, scientific research and ideas of usefulness and relevance. Even more than in the days of the Bauhaus 1960s functionalism was dominated by: Form follows function. That is furniture should be functional and shape depend on the function. USM furniture, where each unit is constructed individually according to its required function, reflects this ethos par excellence. In connection with the economic boom of the postwar years the possibility to mass produce furniture became an increasingly important criterion in furniture design: something USM Haller effortlessly achieves thanks to the reduction of the product to steel and the use of a minimal and manageable amount of individual elements.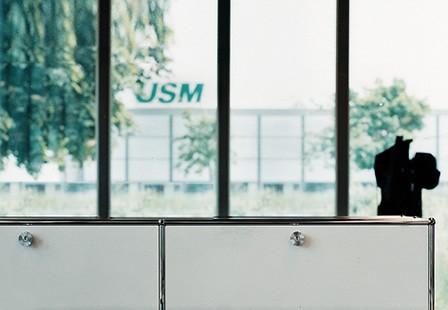 Manufacturer
The history of the Swiss furniture manufacturer USM Haller begins long before the emergence of its shelving and storage system. In 1885 Ulrich Schärer founded a hardware store and locksmith concern in the Swiss village of Münsingen near Bern. Following steady growth and expansion Paul Schärer, grandson of Ulrich Schärer, commissioned the local architect Fritz Haller in the early 1960s with the design and construction of anew USM factory and office building: as well as with the design of furniture for the office pavilion. Although originally only intended for use in USM's own buildings, the USM modular furniture system entered series production in 1969, and has since gone on to become a globally acknowledged and admired office furniture system. In addition to having been recognized with numerous awards Fritz Haller's design was included in the permanent collection of New York Museum of Modern Art in 2001.
Our USM Haller Sideboards, Highboards and Filing Cabinets
Depth:




always 37cm

M




Length: 77cm

L




Length: 152cm

Sideboards




Height: 74cm

Highboards




Height: 109cm

Filing Cabinets




Height: 179cm
Everything is possible with USM. Somethings more popular however than others. Consequently (smow) maintain a standard stock of the most common USM Haller highboard, sideboard and filing cabinet combinations. A standard stock that are, usually, available at short notice. Naturally, we can however deliver individual USM Haller units created by you to meet your own personal requirements and needs.
USM Independent - Contact our USM Service Team via: +49 (0)341 2222 88 11
Individual advice and configuration of your desired USM configuration
Everything is possible with the USM modular furniture system.
Talk to our experienced team of USM Haller consultants, to help you realise your individual USM Haller unit.
System USM Haller is available in countless sizes and colours.
Alterations and variations of all models offered in our online shop are always possible.
USM Haller: Compo