Vitra
Panton Chair Sunlight
by Verner Panton, 1999
— 249,00 €
3% advance payment discount*:

241,53 €

(Save

7,47 €

)
Until 31.08.2017 the legendary Vitra Panton Chair is available in a special "Sunlight " edition. The bright yellow chair sets a colourful tone in any garden or apartment and ensures a good mood, regardless of the weather. Summer is here!
Product type
Multi-purpose chair
Dimensions


Dimensions in mm
Weight
5,6 kg
Material
Dyed-through polypropylene in limited edition "Sunlight"
Function & properties
Suitable for outdoor use
Care
When cleaning the Panton Chair always use a soft, damp cloth and a mild, household, detergent.
Awards & museum
MoMA, New York
Certificates
Greenguard: Indoor Air Quality Certified
Sustainability
Vitra conform to:
ISO 9001: 2008 (Quality management systems)
ISO 14001: 2004 (Environmental management systems)
Warranty
24 months
Product family
Panton Chairs

Accessories
Suitable Seat Pad for Panton Chair by Parkhaus Berlin or Seat Dots by Vitra available in different colours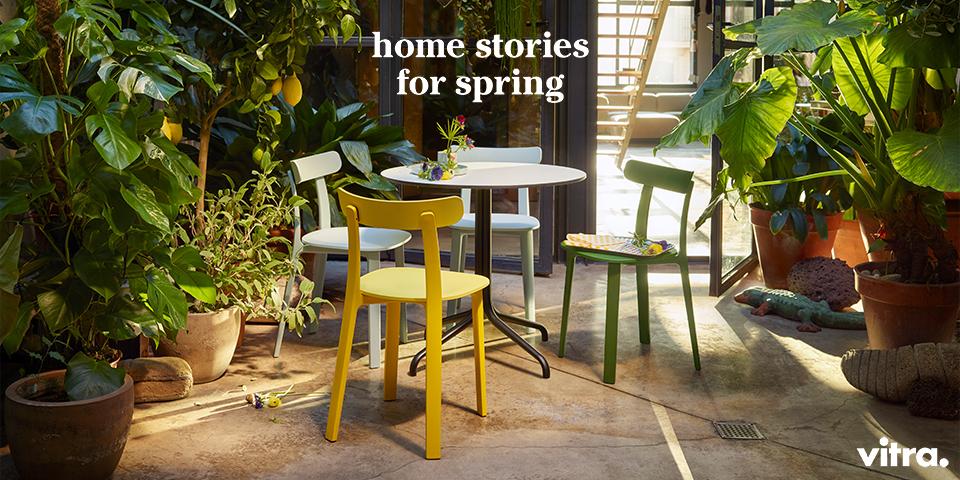 Please click on the picture to download the brochure (PDF, ca. 4,2 MB).
Home Stories for Spring
From kitchen gardens and living room plants to backyard jungles ... With their "Home Stories for Spring 2017" Vitra take us into a world of furnishings conquered by nature. Unique collages of furniture, plants and accessories seduce into the warmth, comfort and ease of spring, summer and nature. Browse the brochure, get inspired and create your own personal #SecretGarden.
?
Should the answers to your questions not be found here, our service team can be contacted Mon-Fri, 8 am to 6 pm via
+49 341 2222 88 22
.
What is the difference between the Panton Chair and the Panton Chair Classic?
The Panton Chair Classic is constructed from rigid polyurethane foam with a gloss varnish finish, and as such is true to the version originally produced and marketed by Vitra in 1967. The Panton Chair is produced from a modern polypropylene and has a more matt surface. The polypropylene version was authorised by Verner Panton in 1999.
Is the Panton Chair available in other colours?
The Panton Chairs in the current regular Vitra colour palette are available separately. Vitra also regularly develops new colour concepts which reflect current trends. Chairs in colours from previous collections can no longer be supplied as the corresponding colour granules are no longer produced.
How much weight can a Panton Chair support?
The Panton Chair meets the "GS" test standards and is tested up to a load of 110kg. The way in which the chair is used is also important. Swinging, for example, causes a higher strain which can reduce the chairs lifetime.
Design Story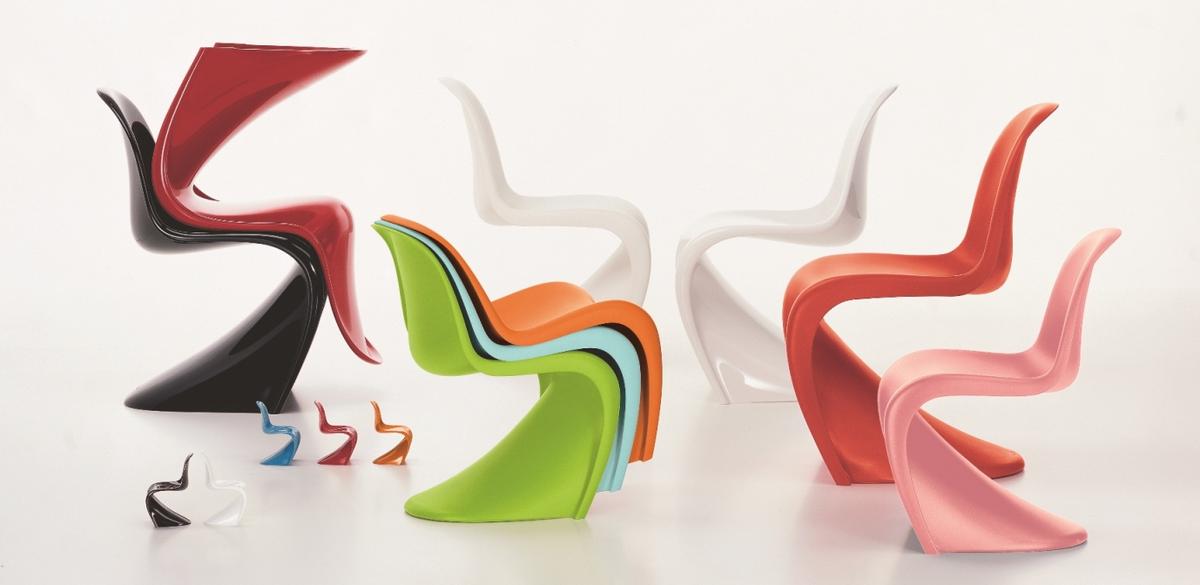 The Panton Chair is widely considered as the first chair produced in a single cast, and thus thanks its position as one of the icons 20th century furniture design to more than its fluid dynamism. Initially the sculptural seat from the Danish designer Verner Panton was made of fibreglass-reinforced polyester, the handmade production however proved too expensive and soon became replaced by a more industrial Polysteron. Since 1990 the design classic has been produced as the "Panton Chair Classic" in the full-plastic version with high-gloss finish by Vitra, while Verner Panton also authorised a version with a matt surface crafted from dyed polypropylene, which as a "Panton Chair" offers the demanded quality at a reasonable price. Vitra also developed a junior version of the popular plastic chair in child-friendly colours and proportions, the "Panton Junior". But in whatever form, the ergonomic cantilever with its unique concave curvature is the legendary example of 1960s design, and as contemporary now a sit ever was.