Louis Poulsen
PH 5, Pastel oyster gray blue pink
by Poul Henningsen, 1958
— from 827,00 €
3 % advance payment discount*:

891,43 €

(Save

27,57 €

)
This Contemporary edition by Danish manufacturer Louis Poulsen sees PoulHenningsen's classic 1958 PH 5 lamp, and omnipresent Danish lamp Classic, shine in contemporary colours. Carefully selected, the chosen hues optimize the classic aluminium lamp for contemporary living spaces. In addition to the PH 5 contemporary Louis Poulsen supplies the Poul Henningsen PH lamps in many versions.
Product type
Pendant lamp
Dimensions

Weight
ca. 2,5 kg
Colours



For a detailed colour chart please click on the picture:
Material
Shades: Spun aluminium/copper/brass, (Variants Classic White or Modern White with matt finish, Copper & Brass shiny metal, other variants matt finish)
Anti-glare: Aluminium lacquered/brass/copper, spun
Bracing: Rolled aluminium, painted bronze, white or violett
Colour correction ring: aluminium, coloured powder-coated
Functions & Properties
100 % glare-free
Symmetrical light distribution
Vertical and horizontal directional light
E27 socket, max. 75 Watt
White textile cable
Cable length 3 meters

Delivery includes
Electricity cable and canopies are in the package
Light bulbs are not included
Care
The surfaces can be wiped with a soft cloth. If necessary, use lukewarm water with a small amount of dish washing detergent.
Certificates
IP Code IP20
Protection class II
Warranty
24 months
Product family
PH Collection


Product presentation
Product datasheet
Please click on picture for detailed information (ca. 0,7 MB).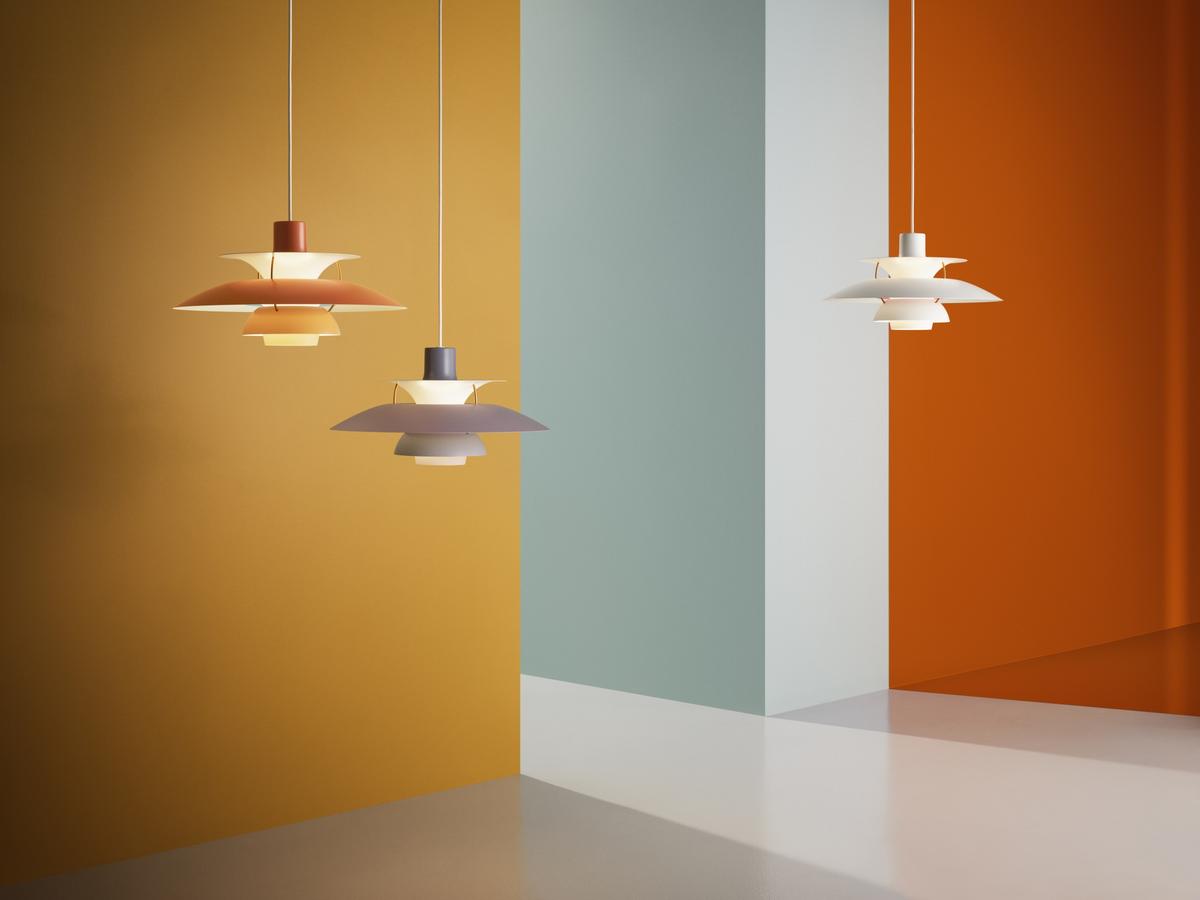 The Design
Released in 2013 the Louis Poulsen PH 5 Contemporary is a special edition homage to the classic 1958 PH 5 lamp from Poul Henningsen. The PH 5 Contemporary combines a contemporary colour scheme with the striking shade of the classical Poul Henningsen lamp to create an object every bit as refined and accessible as the original. Composed of several segments whose proportions are based on the logarithmic spiral, a structure that appears frequently in nature and which in the context of the PH 5 and PH 50 lamps allows for uniform, and glare-free, light distribution; principally downwards, however the upper, trumpet-shaped segment also provides for even horizontal radiation and so for an indirect luminescence. A luminescence which is supported by delicately applied coloured areas on the inside of the lower shade segment.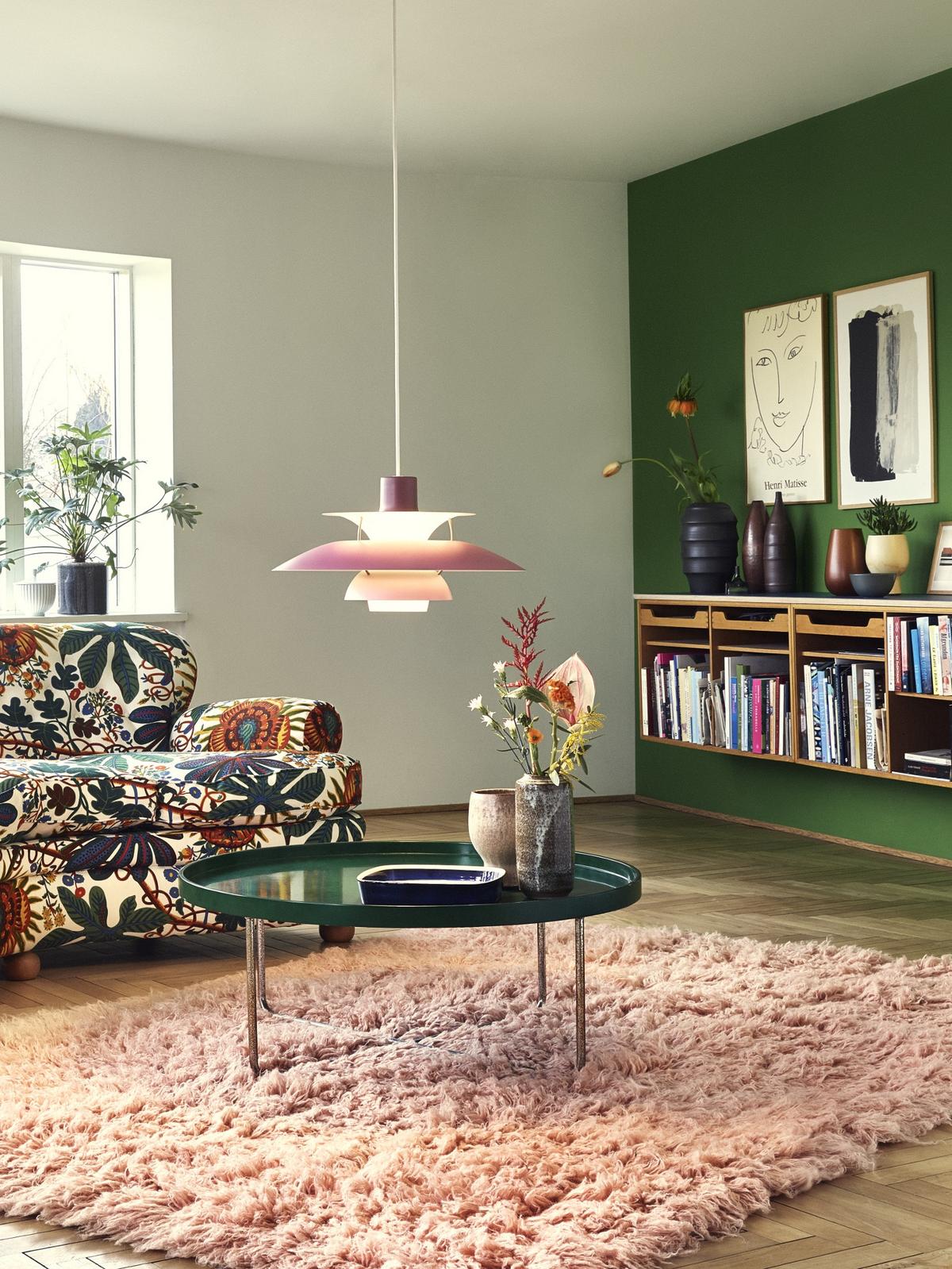 Designer
Born in 1894 as the only son of a writer and a satirist, Poul Henningsen became interested in painting and architecture in his youth and subsequently at the age of eighteen began to study architecture; studies he quit after six years in order to devote himself to painting, before finally finding success as a lamp designer. In the early 1920s Henningsen came into contact with the lamp manufacturer Louis Poulsen for whom he was to develop numerous designs over the following decades. A central element of Poul Henningsen's design is and was the idea of glare-free lighting and his early research into such saw some of his first designs being recognised at the 1924 Exposition Internationale des Arts Décoratifs et Industrial and modern in Paris. Today the PH 5 and the Artichoke lamps are Henningsen's - and Louis Poulsen's - most successful designs.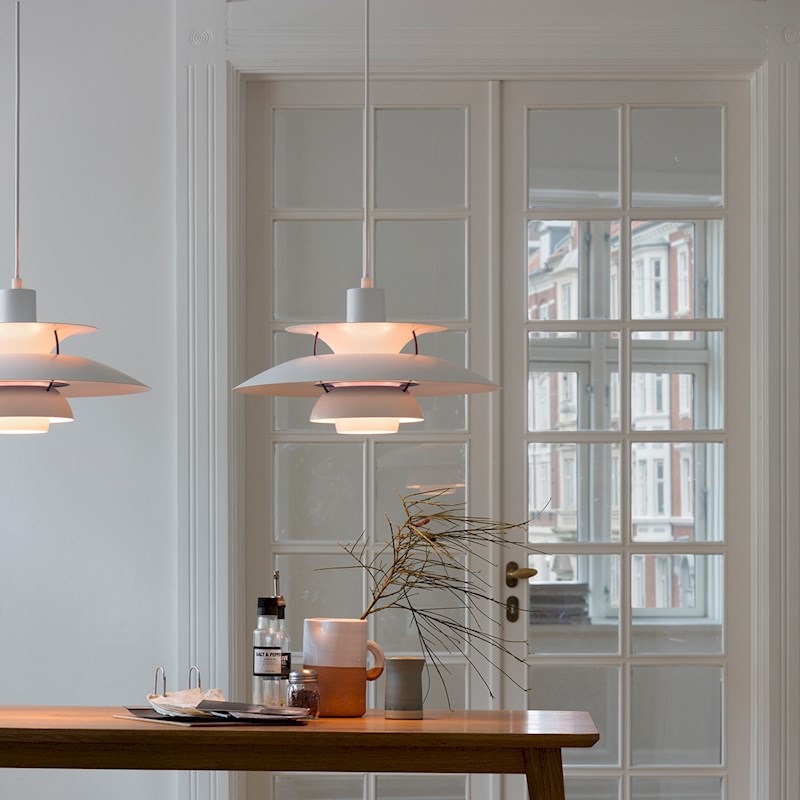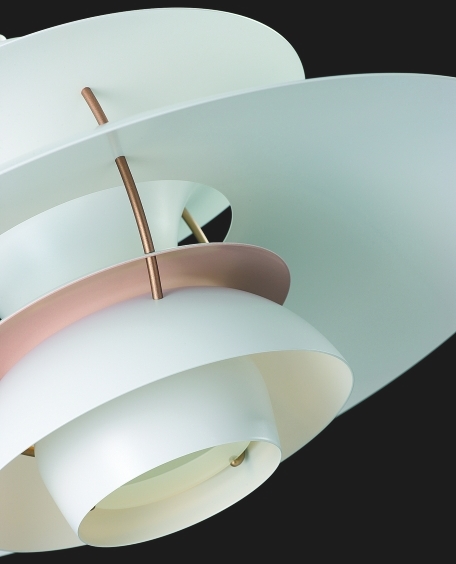 Production
The screen segments are made of carefully polished and powder coated extruded aluminium. In the context of the PH 5 Contemporary Edition lamps these are subsequently hand painted in the following colour combinations: pale rose with green lamp shade, dark grey with turquoise lamp shade, army green with dark grey and white lamp shade available with pale rose lamp shade. The bracing elements which combine the individual segments are made of bronze coloured aluminium. By utilising only high quality and durable materials, and by ensuring strict quality control at each production stage, the Louis Poulsen PH 5 lamps offer outstanding quality in an extremely durable product. A guarantee that can be underwritten by Louis Poulsen's decades of experience in the production of designer lighting: not only are the company responsible for Poul Henningsen's PH 5 but also, for example, for the AJ Floor Lamp by Arne Jacobsen.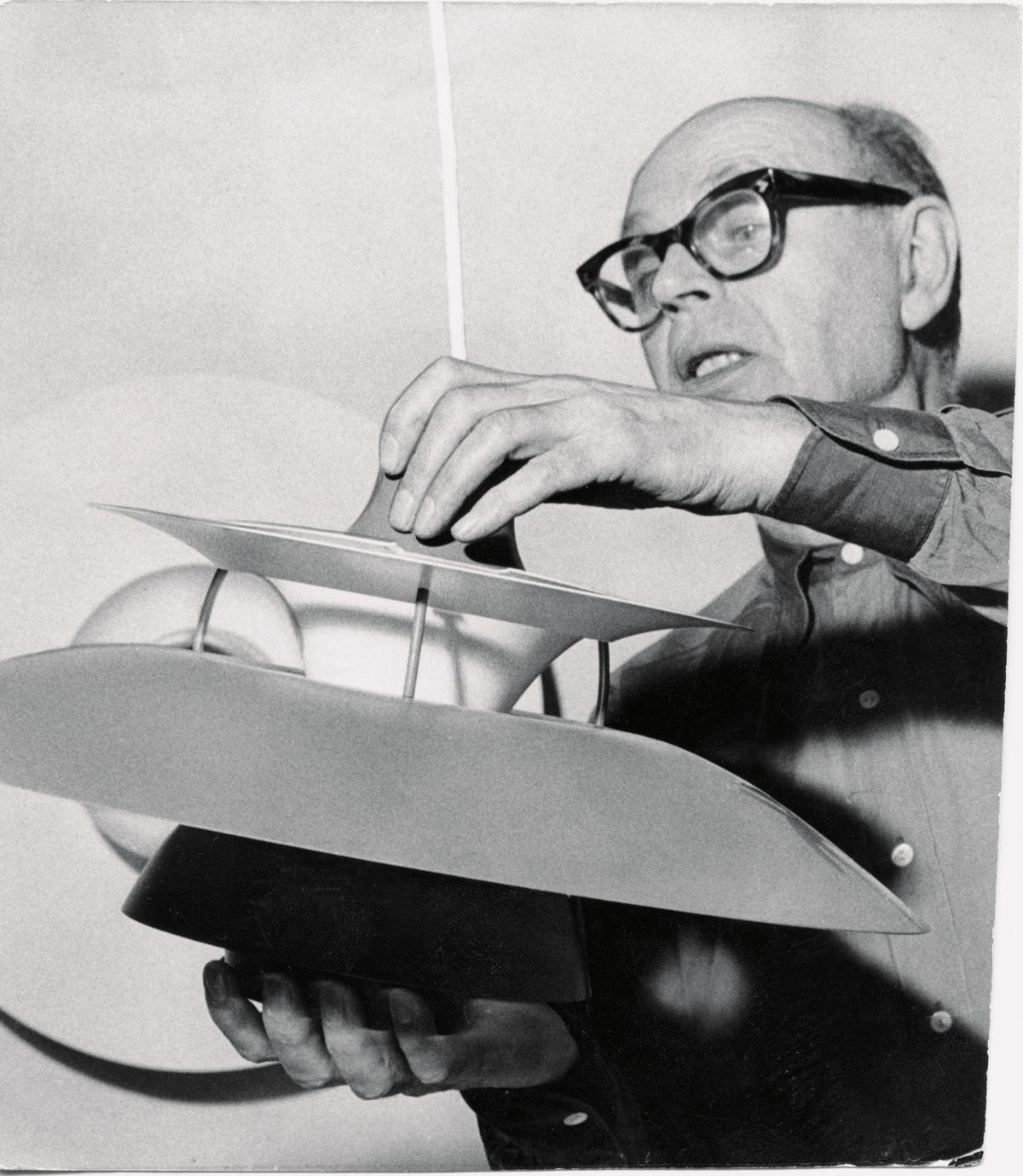 Historical Context
The PH 5 lamp is without question one of the major works of Scandinavian design and its creator Poul Henningsen one of the major Scandinavian designers alongside the likes of Arne Jacobsen, Eero Saarinen and Alvar Aalto: a collection of designers divide by time and geography yet united by a desire to create functional, objective, yet aesthetic designs that went beyond mere fashion and trends. Objects such as Poul Henningsen 's PH 5 lap from 1958, an object which remains as relevant as ever today and which in context of the PH 5 Contemporary and its choice of fresh colours has received a contemporary re-edition. In addition to creating an aesthetically charming object, with the basic research into light structures, shadows on which the PH 5 is based Poul Henningsen helped establish the understanding of light and lighting design that still forms the bass of the Louis Poulsen philosophy.
Manufacturer
In 1874 Ludvig R. Poulsen founded a wine import company in Copenhagen before in 1892 he opened an electrical goods shop, a business his nephew Louis Poulsen took over upon the the death of Ludvig. Louis Poulsen's subsequent transformation to a lamp manufacturer can be thanked to Poulsen's successor Sophus Kaastrup Olsen, who initiated the cooperation with Poul Henningsen in the 1920s. Together Olsen and Poulsen developed the revolutionary PH lamps, objects which following their premier at the 1924 Paris Exhibition of Decorative Arts and Industrial Design went on to achieve a global fame and following. Thanks to the lighting design of designers such as Poul Henningsen or Arne Jacobsen Louis Poulsen is today one of the most internationally renowned producers of architectural and decorative lighting. The PH 5 Contemporary is Louis Poulsen's second special edition of the classic PH 5 following the anniversary edition PH 50 from 2008.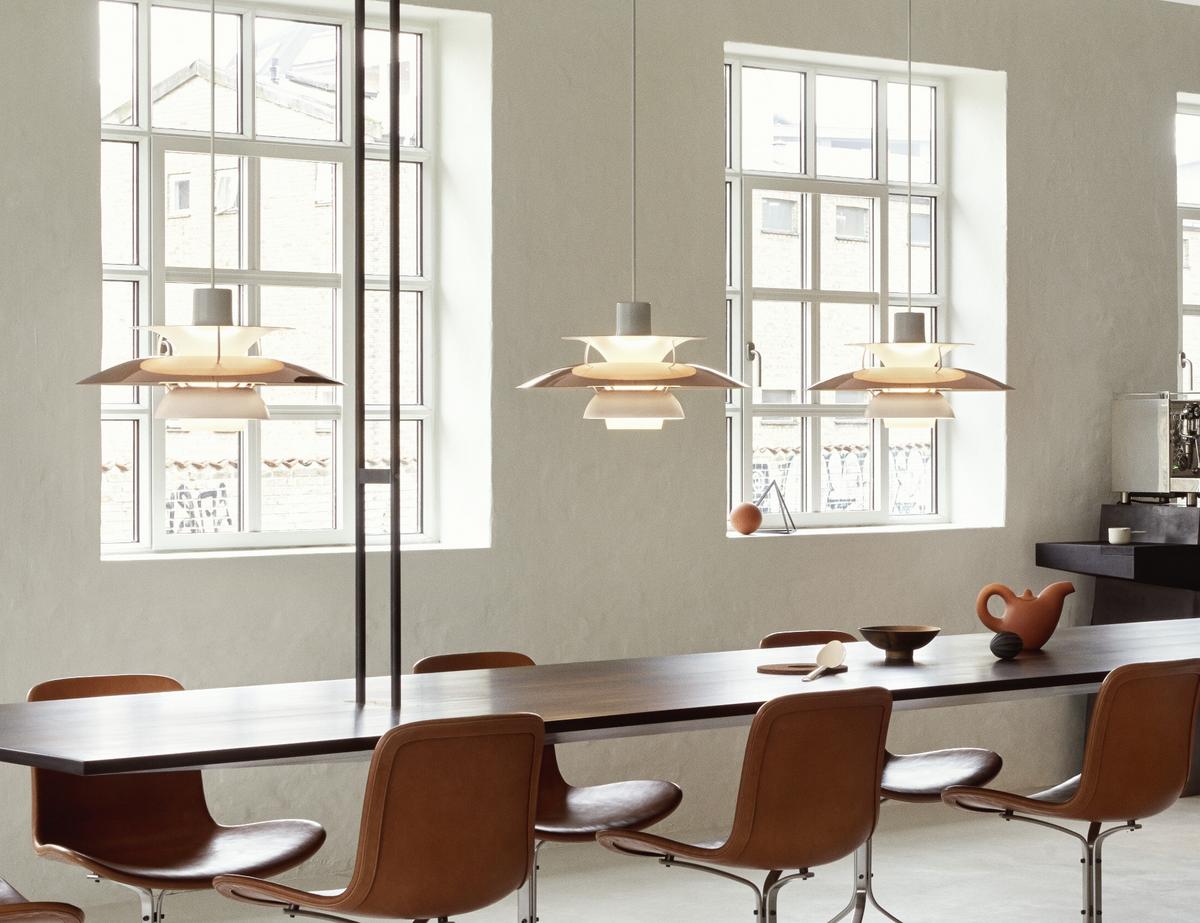 You may also like these articles