3% advance payment discount*:

290,03 €

(Save

8,97 €

)
The Vitra Ball clock belongs, indisputably, to the most humorous of George Nelson's sculptural clocks he created in the years 1948-1960. Presenting brightly coloured balls either monotone or multi-coloured attached to a reduced metal frame the Nelson Ball Clock is an endearing sculptural reference to the beauty of basic geometric shapes.
Product type
Wall clock
Dimensions


Dimensions in mm
Material
Balls: Wood, painted
Body and supports: Metal
Colours

Manufacturing
Delivery includes
High-quality quartz clock movement, battery included
Care
The surface can be wiped with a soft, damp cloth. If necessary, use lukewarm water with a small amount of mild neutral detergent.
Assembly
Please click on picture for detailed information (ca. 0,9 MB).

Sustainability
Vitra conform to:
ISO 90001: 2008 (Quality management systems)
ISO 14001: 2004 (Environmental management systems)
Warranty
24 months
Product family
Nelson Wall Clocks
Product datasheet
Please click on picture for detailed information (ca. 0,4 MB).

Design
The Vitra Ball Clock is a design classic which is not just fun, but also works. Featuring painted wooden balls reminiscent of more innocent childhood days in place of numbers, the Vitra wall clock is one of a series of wall clocks created by the designer George Nelson for the Howard Miller Clock Company between 1948-1960. This horologists was a subsidiary of the famous Hermann Miller Furniture Company, or better put, a son: Howard Miller, son of the famous furniture manufacturer Herman Miller utilised in the company the full depth of knowledge he had acquired from his time with a traditional clock maker in the Black Forest. George Nelson,creative director of Herman Miller since 1945 complimented the technical experience with appealing designs. Vitra have produced the Ball Clock and other George Nelson clocks since the 1990s.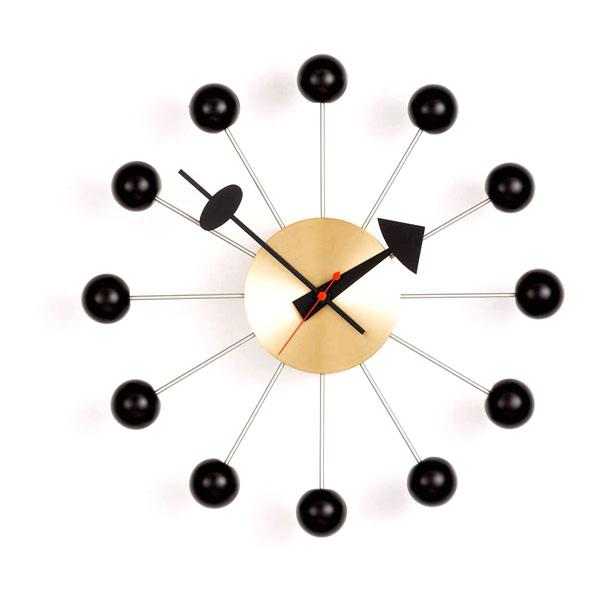 Designer
The conviction that design is a way of improving the world defined the work of the George Nelson. Strongly influenced by the classical modernity, during a study tour to Europe in the early 1930s he became personally acquainted with the likes of Mies van der Rohe, Le Corbusier and Walter Gropius. Following his graduation from Yale George Nelson became associate editor of the magazine "Architectural Forum" before the in 1945 Herman Miller Furniture Company employed him as creative director. That precisely this furniture manufacturer should be so closely associated with the classics of mid-century American modernism is largely thanks to George Nelson: Ray & Charles Eames, Isamu Noguchi and Alexander Girard being just some of the giants of American design he managed to sign for Herman Miller