3% advance payment discount*:

821,59 €

(Save

25,41 €

)
One of the most individual bed designs of recent times is Moormann's Siebenschläfer. Constructed without screws the stability of the Siebenschläfer bed comes solely from a simple plug-in principle. With its clean design, different sizes, different colours and optional headboard and a matching night-shelf, the Siebenschläfer bed is perfect for creating your personal dreamscape.
Product type
Bed
Dimensions


External sizes
(1) Width: 102,6 - 212,6 cm
(2) Length: 212,6 cm or 232,6 cm
(3) Height: 36,5 / 74 cm

Mattress sizes
Width: 90 - 200 cm
Length: 200 or 220 cm

FU/MDF plate thickness: 18 mm
Material
Frame: FU (Plywood, birch) or Unicolor (MDF, reinforced), colored through and clearly varnished
Supports for slatted mattress support: Spruce
Slatted mattress support: Untreated ash with belt straps

Attention: FU (Plywood, birch) is a high-quality, industrially produced multi-layer product with a protective film covering. Variations in colour and structure in addition to small scratches are always possible!
Variants
Available in a range of sizes.
Optionally available with headboard
Optionally available with slatted base


Colours



Functions & properties
Tool-free construction
Assembly
Please click on the picture for detailed information (ca. 0,7 MB).

Delivery includes
1 bed
Optionally available with slatted base
Mattress and bedding not included
Accessories
Siebenschläfer Shelf available separately
Care
Light soiling of untreated edges can be removed with a fine sandpaper. The treated surfaces can be cleaned with a damp cloth. Heavier soiling of the treated surfaces can be removed with warm water and a little detergent.
Awards & Museums
Internationaler Designpreis Baden-Württemberg 2008, Focus Green in Silver
Deutscher Designer Club "Gute Gestaltung 2009"
Nominated for Designpreis der Bundesrepublik Deutschland 2010
Sustainability
Through the consequent use of natural materials and a strong focus on modular systems Moormann products are created with the environment and sustainability in mind. In addition all Moormann products are designed so that they can both be simply recycled and transported in the smallest volume possible. 90% of Moormann products are made in the immediate vicinity of the company's Aschau im Chiemgau base, thus not only reducing transport costs and pollution but supporting the local community.
Warranty
24 months
Product datasheet
Please click on picture for detailed information (ca. 5,1 MB).

Product presentation
?
Should the answers to your questions not be found here, our service team can be contacted Mon-Fri, 8 am to 6 pm via
+49 341 2222 88 22
.
What tools do I need to assemble my Siebenschläfer?
None! The Siebenschläfer is based on a halved joint construction principle which allow sit to be assembled without tools.
Do I have to order the Moormann slatted mattress support?
No. The optional Moormann slatted mattress support can be ordered, however any other mattress support can also be used. Important to note is that the distance between the slatted mattress support frame and the top of the bed frame is 11.5 cms. For beds up to 1.40 m wide Moormann deliver one slatted mattress support, for Siebenschläfer beds 1.60 and wider two slatted mattress supports are required.
Why does the Siebenschläfer surface occasionally show inconsistencies?
Film protected FU (plywood, birch) is a high value industrially produced material. The film coating process can lead to visible alteration sin colour, structure and/or small scratches. In addition in the internal construction elements, for example, central support or slatted mattress support physical features such as knots and knot holes may be present. These are normal and in no way affect the quality of the wood or the physical stability of the object.

There are, it is fair to say, very few truly individual contemporary bed designs. Siebenschläfer from Moormann is one of them. Designed in 2007 by Christoffer Martens the Siebenschläfer is based on halved joint construction principle which means that it is 100% wood - no screws, no nails, just wood. The individual components of the Siebenschläfer can be effortlessly and tool-free connected making the Siebenschläfer not only environmentally responsible but also optimal for today's increasingly mobile society. The Moormann bed is crafted from birch plywood and is available with or without headboard,
in a range of sizes and 3 colours. In addition an accompanying shelf is available, perfect for books, alarm clocks and the like. Radiating the characteristic warmth of wood the clear, even design positively invites the user to peaceful sleep. And juries to present it with awards. In addition to winning the Internationalen Designpreis Baden-Württemberg in and the Deutschen Designer Club's Gute Gestaltung Preis 2009, in 2010 the Siebenschläfer was nominated for the Designpreis der Bundesrepublik Deutschland.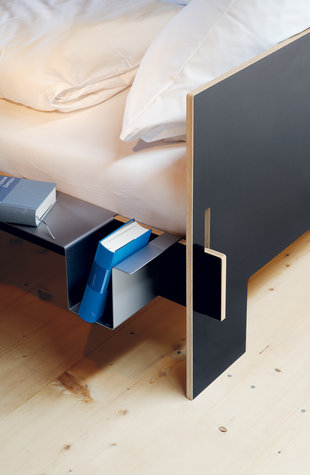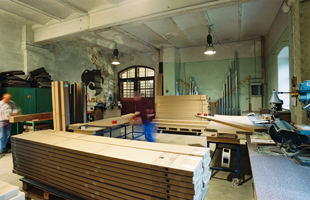 The Siebenschläfer is produced by German manufacturer Moormann. Some 90% of Moormann furniture is produced with a 30 km radius of the company's base in Aschau im Chiemgau, Bavaria. Moormann's close co-operation with local craftsmen begins with the production of prototypes and continues throughout the product development stages up to final production and beyond. Co-operations which ensure a continuous quality throughout the Moormann programme. The Moormann Siebenschläfer is constructed from FSC certified Swedish birch plywood and is available in red, white or black. Beyond the local production and sustainably sourcing the Moormann Siebenschläfer shows its respect for the environment through its lack of synthetic components and a construction system which negates the need for screws, nails and similar.
Born in Bremen in 1975 Christoffer Martens worked as a graphic designer before studying product design at the FH Potsdam. In 2008 Christoffer Martens spent a year working for Alfredo Häberli in Zurich before returning to Berlin where he established his own design studio. IN addition to Siebenschläfer and further projects with Moormann Christoffer Martens has co-operated with institutions as varied as Thonet, Khala Porzellan the Museum der Dinge in Berlin.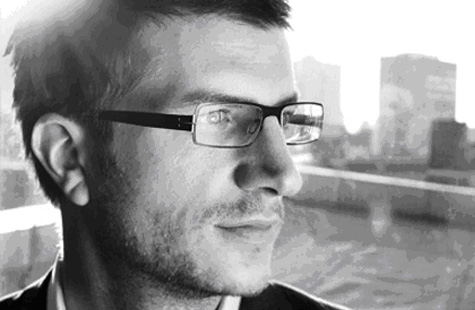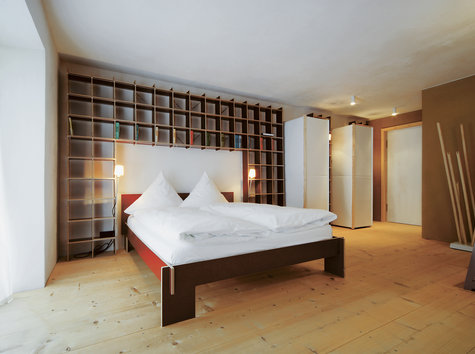 Christoffer Martens' Siebenschläfer is manufactured by Moormann. Established in 1982 by design autodidact Nils Holger Moormann the company have a natural affinity to and preference for young designers looking to try something new. To push boundaries. Based in Aschau im Chiemgau, Bavaria, the former one man show has grown to a company employing some 20 staff and represented globally. In addition to contemporary design objects united by their easy functionality, and a little humour, the Moormann programme is also united by the fact that
wherever possible the products are manufactured by small and medium sized businesses in the near vicinity of the firms Aschau base, including workshops employing the local handicapped. In addition to housing the Moormann HQ, Aschau im Chiemgau is also home to the Hotel Berge, a hotel by and with Moormann and which positively lives the Moormann flair. And in which one can spend a restful night in the easy elegance of a Siebenschläfer bed by Christoffer Martens.