3% advance payment discount*:

969,03 €

(Save

29,97 €

)
The Vitra Sunflower Clock is a re-edition of the classic from 1958. Originating in a series of wall clocks by George Nelson the Sunflower Clock combines a filigree birch structure with a high quality quartz movement. The unique shape of the sculptural structure is based on the Asteraceae family - sunflowers, daisies et al - and transforms a mundane object into a work of art.
Product type
Clock
Dimensions


Dimensions in mm
Material
Bows: Wood
Body: metal
Variants
Alternatively available as Sunflower Clock Black
Delivery includes
Clock, including high-quality quartz movement with battery
Care
The wood surfaces should be cleaned with a soft, damp cloth and a mild, neutral detergent.
Assembly
Please click on picture for detailed information (ca. 0,9 MB).

Sustainability
Vitra conform to:
ISO 90001: 2008 (Quality management systems)
ISO 14001: 2004 (Environmental management systems)
Product family
Nelson Wall Clocks
Warranty
24 months
Datasheet
Please click on picture for detailed information (ca. 0,4 MB).

The Design
Sophistication in layered birch: A true classic among the Vitra wall clocks the Sunflower Clock combines aesthetics and functionality, by turning time-telling a filigree wooden flower. Designed by George Nelson in 1958 the Sunflower Clock belongs to the series of wall clocks created between 1948 and1960 for the Howard Miller Clock Company. Howard Miller, son of the furniture magnate Herman Miller, had learned the craft of clock-making in Germany's Black Forest, and in the Howard Miller Clock Company - a subsidiary of the Hermann Miller Furniture Company - had the opportunity to express his technical expertise. George Nelson, since 1945 Creative Director for Hermann Miller, delivered the innovative design. Since 1990 Vitra has produced the Nelson wall clocks an with the family of sculptural entities in a variety of shapes and materials , from stars, suns or flowers has a collection of clocks which stand as the perfect alternative to traditional wall clocks. The ornate objects are complimented by a high quality quartz movement.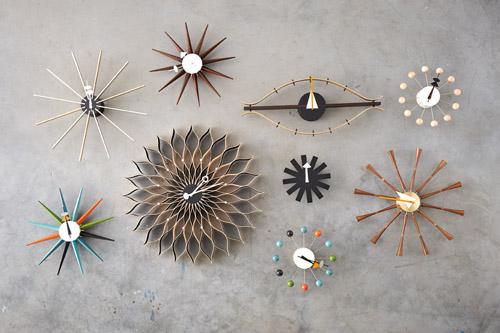 Designer
After studying architecture at Yale George Nelson won a scholarship to Rome through which he came into contact with classical European modernism, the buildings and for all their protagonists such as Mies van der Rohe, Le Corbusier and Walter Gropius. Experiences which were to have a large influence on the young architect. The modernist belief that design is a way to make the world better, influenced his subsequent work, be that for the magazine "Architectural Forum" or from 1945 as design director of the Herman Miller Furniture Company. One of the leading figures in the development of American design, he invited the likes of Charles & Ray Eames, Isamu Noguchi, Alexander Girard to work with Herman Miller and thus ensured the realization and dissemination of their designs. In addition, Nelson ran his own studio, creating designs such as the Vitra Sunflower Clock, which have become characteristic for the "Mid-Century-Modern". From 1957 onwards Nelson operated closely with the Swiss furniture manufacturer Vitra, and since his death in 1989 by the George Nelson Archive has been held by the Vitra Design Museum.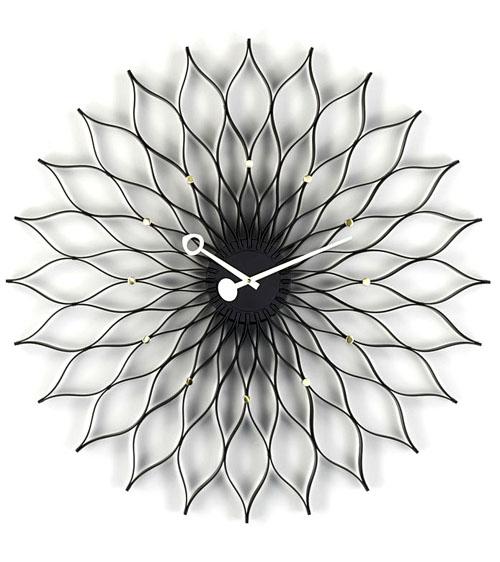 Manufacturer
The designs of George Nelson, including the Nelson Sunflower Clock, are closely associated with Vitra. After the Herman Miller Furniture Company ceased production of the clocks in the 1980s 1980s, production was resumed in the 1990s by the Swiss furniture manufacturer Vitra, a firm who had long worked closely with George Nelson. The ideals Vitra and George Nelson are very much as one: Design is regarded as a way to make the world better, everyday objects are given a value that helps them unlock the value of everyday life itself. Vitra is in addition the Europ