3% advance payment discount*:

620,80 €

(Save

19,20 €

)
A chair for your home or office. A work chair. A chair at the conference table. A chair to develop ideas, to meditate, seesawing gently. The seesaw motion is comfortable, reminding you to move now and then, strengthening your muscles.
Product type
Office swivel chair
Dimensions


(1) Height: 80,5 - 89 cm
(2) Width: 62 cm
(3) Depth: 45 cm
(4) Seat height: 46 - 54 cm

Material
Seat shell: beech, oak or ash veneer
Base: Steel, chrome plated or black
Variants
Base with either gas spring or spindel
Optionally available with armrests (same colour as base)
Colours
Seat



Base


Function & properties
Height adjustable, up to 8 cm
Care
To clean the wood surfaces it is recommend to use a soft, damp cloth with a mild, non-abrasive, detergent.
Warranty
24 months
?
Should the answers to your questions not be found here, our service team can be contacted Mon-Fri, 8 am to 6 pm via
+49 341 2222 88 22
.
What type of castors are mounted on the chair?
The Seesaw office chair with the chrome-plated base comes with chrome plated castors featuring a black outer ring. The chair with the black base has black castors.
Is the Seesaw office chair also available with with glides?
No. The conference chair version with glides is no longer produced.
The Design
In terms of the Richard Lampert office chair Seesaw, the name says it all. Fittingly, the swivel chair is characterized by a flexible shell that allows for a slight "see-saw" and so stimulates body movement even while working at a desk. With its elongated S-shaped form Seesaw is very reminiscent of the classic cantilever chair. The seat shell itself is not attached directly to the swivel base, but rather "cantilevered connected" to the frame, thus enabling the rocking. Consequently, in conjunction with the mobile base Richard Lampert's office swivel chair Seesaw is an extremely flexible variant of the office chair and which combines an intelligent functionality with a very simple appearance, that has only little in common with conventional office chairs. Particularly useful as a home office chair the Seesaw was designed in 1999/2000 by Peter Horn for the furniture manufacturer Richard Lampert.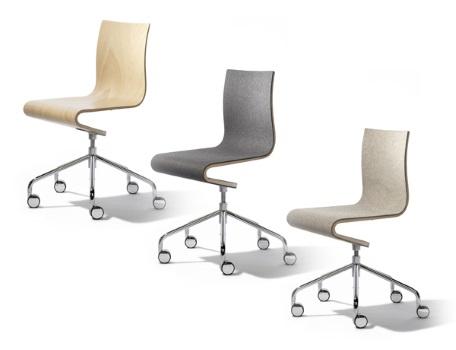 Designer
the Richard Lampert swivel chair Seesaw was designed by Peter Horn. Born in Dresden in 1968 Peter Horn trained as precision mechanic and designer and together with his colleague Michael Majewski has operated the Horn Majewski Design Studio in Dresden since 1998. Peter Horn is mainly specialized in office chair development, equipment design and construction. Apart from a range of office furniture Horn Majewski have also worked on projects as diverse as a motorboat, sports equipment and even a tram. As one of the most successful design studios in Sachsen Horn Majewski designs won the Sachsen State Prize for Design 2001, 2003 and 2007. In addition to the Seesaw office swivel chair Seesaw Horn Majewski have created numerous other projects fro Richard Lampert, including, for example, the Giorgio stacking chair and the Fixx kids' container.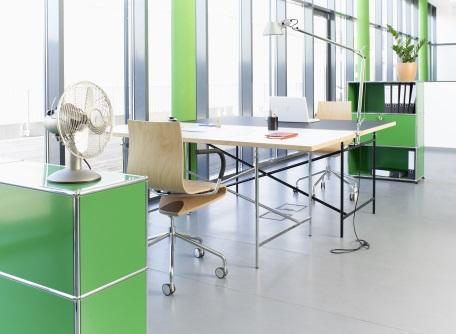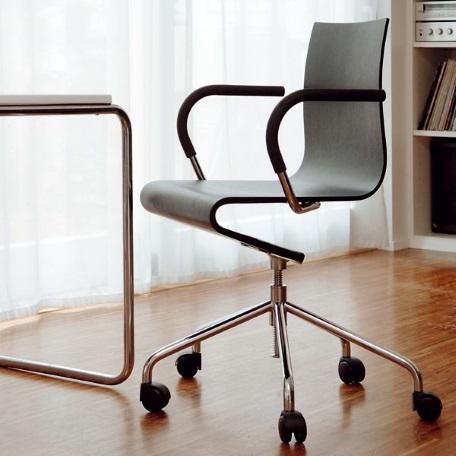 Production
The Richard Lampert office swivel chair Seesaw is available with a chrome plated frame, a seat made either of ash or beech wood and optional armrests. The shell of Peter Horn's chair is, in addition, available in natural wood finishes with white melamine with felt coating. Based in Stuttgart Richard Lampert have quickly made a name in the field of modern designer furniture, and rely not only on the strength of their contemporary designs, but also on high standards in terms of quality and environmental responsibility and sustainability. Just three reasons why most Lampert furniture is produced in Germany.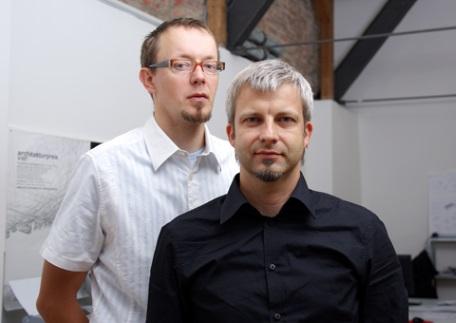 Manufacturer
Stuttgart born Richard Lampert founded his eponymous company in his home city in 1993. The company was founded when Richard Lampert acquired the license to produce long forgotten furniture designs by the German architect Egon Eiermann. The Eiermann Table 1 is now exclusively produced by Richard Lampert and has experienced in recent years, a real revival. In addition to the Eiermann classics, the focus for Richard Lampert is on contemporary designs that combine a modern, clean look with comfort; a focus which means combining classics from the likes of Egon Eiermann and Herbert Hirche with works by newer designs including Peter Horn or Arik Levy. Another central focus in the Richard Lampert portfolio is the Kids Collection, including, for example, a child-friendly version of the Eiermann table and the chair Turtle, which, just as with the Seesaw chair, was designed by Peter Horn.