3 % advance payment discount*:

1.741,15 €

(Save

53,85 €

)
The timeless Nesting Tables were designed by Josef Albers in 1926 for the Moellenhoff-Haus in Berlin and stand today as one of the more endearing and popular Bauhaus classics. Manufactured by Klein & More, unlike the tubular steel furniture that is so typical for the Bauhaus, the Nesting Tables are made of warm, solid oak wood and feature colourful glass table tops and thereby set a stylish accent in any space.
Product type
Nesting tables
Dimensions
Light blue(S): H 40 x W 42 x D 40 cm
Orange-red (M): H 47,5 x W 48 x D 40 cm
Yellow (L): H 55 x W 54 x D 40 cm
Turquoise (XL): H 62,5 x W 60 x D 40 cm
Material
Frame: solid oak
Table top: glass, underside lacquered
Function & Properties
Tables nestle within one another
Delivery includes
A Nesting Table set comprises 4 side tables
Care
For cleaning, a soft, slightly damp cloth and a mild, neutral detergent are recommended.
Warranty
24 months
Designed during the Bauhaus years by Josef Albers the Nesting Tables are a popular and endearing symbol of the era. Produced today by the manufacturer Klein & More their mix of solid wood and coloured glass remains as contemporary as ever, not least on account of their friendly, enlivening colours. The functional benefits of the Albers' side tables first benefited the owners of Moellenhoff-Haus in Berlin. First and foremost a painter, designer and art theoretician, something reflected in the diverse colour scheme of his Nesting Tables, Josef Albers spent numerous years at the Bauhaus in Weimar, Dessau and Berlin, before, following its closure by the National Socialists, he and his wife Anni emigrated to the United States where he remained until his death in 1976.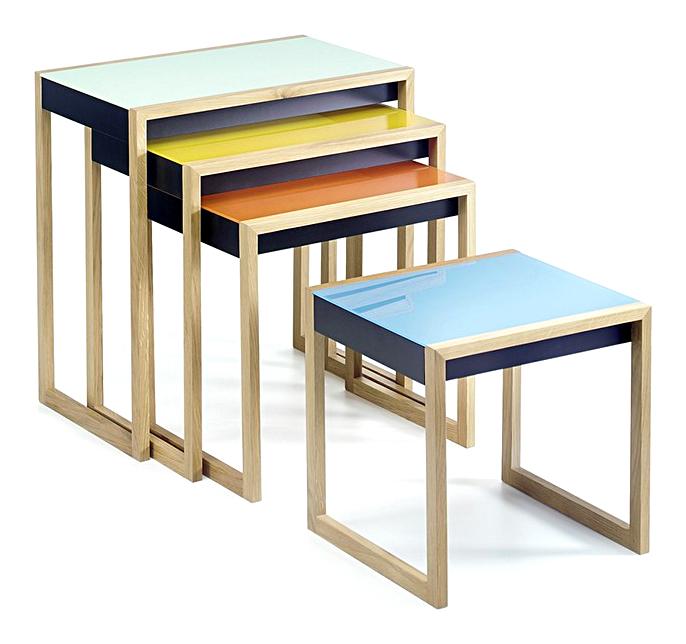 You may also like these articles