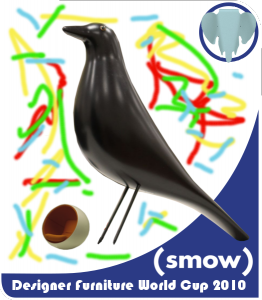 Following his ankle injury Cesare "Joe" Colombo was replaced for this match by Antonio Citterio, one of the most experienced designers in the Italian squad.
Opening with a quick Mobil for Kartell Antonio Citterio quickly reinforced this with a Follow Me for Vitra. Despite the intensity of the opening Citterio couldn't break Maarten Van Severn's legendary calm and the doyen of Belgian furniture design responded with an elegant LCP for Kartell and MVS Chaise for Vitra combination and so cancelled out Antonio Citterio's excellent work.
All further attempts by both sides made little headway, and the match ended 0:0
The Group A table and all Group A results can be found here.