2010 Designer Furniture World Cup: Scotland 1 – Israel 1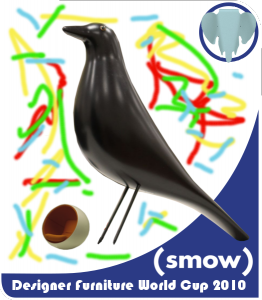 Although stylistically worlds apart both Ron Arad and Charles Rennie Mackintosh are united by their individual and uncompromising style and approach to design. As expected it was Charles Rennie Mackintosh who made the stronger start, taking a  1:0 lead with his Argyle Chair – a brave break form contemporary convention and a deserved lead. Ron Arad's attempts at stemming Mackintosh's dominance largely lacked the required precision and all landed wide of their intended target. Late in the second half however Ron Arad did manage to level proceedings with his ingenious and genre redefining Bookworm bookcase for Kartell.
An intriguing and just 1:1
The Group C table and all Group C results can be found here.