2010 Designer Furniture World Cup:Denmark 2-Belgium 2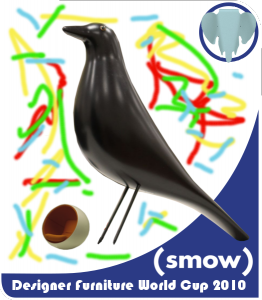 Following Verner Panton's red card against Fritz Haller, Denmark were forced into a change and so Arne Jacobsen lined-up against Maarten Van Severen.
And although this was never going to be a high-tempo encounter the crowd in Johannesburg did become somewhat impatient at the incredibly slow pace of the competition.
With both designers endlessly reworking and perfecting their pieces it was well into the second half before the first attack developed: a neat Ant Chair from Arne Jacobsen giving the old master of Danish design the slight advantage. Arne Jacobsen extended his lead with an Egg Chair and seemed to be heading for a clear victory before Maarten Van Severen salvaged a draw with a late .07 and Kast combination for Vitra.
The Group A table and all Group A results can be found here.