Stockholm Furniture Fair 2023: Say Hej! to… VS Stakki by Martin Ballendat for VS Vereinigte Spezialmöbelfabriken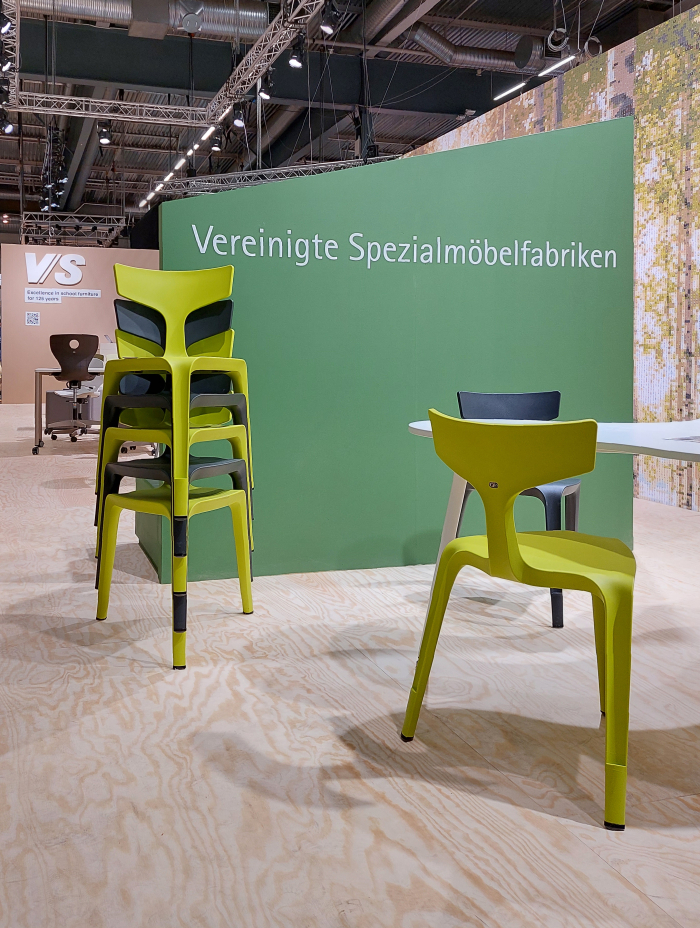 Based in Tauberbischofsheim in the extreme north of Baden-Württemberg, Germany, VS Vereinigte Spezialmöbelfabriken have producing furniture for schools for over 120 years — the "S" in "VS" was for the greater part of that 120+years Schulmöbelfabriken, school furniture works — and while you can definitely see Stakki in educational establishments, not least thanks to the child sized versions on show in Stockholm, and which, one presumes are known in Tauberbischofsheim as Stakkli, or as Stakkerl in Martin Ballendat's studio in Unterach am Attersee, Austria, or Stakken in Ballendat's native Ruhrpöttisch, it is also very much an object for home, office, cafe, factory, wherever. And very much also an object for adults.
Released in 2020 and ostensibly little more than a robust, durable, stackable plastic chair, hardly the most revolutionary of concepts, if one that, arguably, will never cease to be required, one of the primary joys of Stakki is that it can be sat on in a number of ways, in many regards Stakki's three legs are programmatic for the three different sitting options Stakki offers: normal, with your back on the backrest; or, alternatively, using the backrest as a side rest with, if desired, one arm resting on top; or, alternatively, with the backrest in front of you, and acting as an armrest for both arms, a not unappealing position for working with a mobile electronic device or reading a book. And whichever seating position you choose, Stakki ensures a secure, stable and very comfortable sitting experience, aided and abetted by the pleasingly resistant resilience of the classically informed klismos-esque backrest which allows free movement while remaining very much in charge.
In addition, the three legs and the triangular seat form, with its tapering towards a point at the front, allow Stakki to fit with ease around a round table; the triangular profile very much aiming Stakki towards a round table in contrast to that way quadratic chairs tend to challenge and impede round tables. Yet a triangularity which in no sense alienates Stakki from quadratic tables: whatever shape the table you're very much sitting, comfortably sitting, flush with the table edge.
And does all that indoors or out. Stakki don't care. Stakki's happy in either environment.
Arguably the only problem is the name, but, ¯\_(ツ)_/¯