Milan 2011: Stand Construction with Nils Holger Moormann
Once a month we visit a trade fair.
We don't always want to – but we always have to.
We look at furniture. We think up some cheap jokes. We take some out of focus photos. We come home.
But what is actually involved in organising a trade fair stand? How important are trade fair stands? Is our weak humour and poor photography disrespectful?
In an attempt to try to answer these and similar questions we helped Moormann with the construction of their stand at Milan 2011
Although "helped" is stretching things a little.
The Moormänner had planned four days for the construction of the stand. We joined them on day three.
The outer structure of the stand was, as one would expect from Moormann, an uncomplicated wooden construction. The walls formed from black cloth.
When we arrived on the Sunday morning all this was, thankfully, in place. Our contribution was assisting with the construction of the ca. 3.5 x 5 metre FNP unit that was to form the backwall of the stand.
The principle problem for Moormann however was not the stand construction itself, but rather the somewhat late confirmation as to how large their space would be.
"As with every year we were absolutely convinced that we would be given a larger stand and planned the concept accordingly", explains Nils Holger Moormann. "And then came the information – no, once again the smaller. And that was a shock."
Not least because some three months of planning had already been invested in the stand design concept. The confirmation of the actual size came just 10 days before show begin.
And so a new plan was quickly hewn by Nils Holger Moormann personally, "I was inspired by the fact that everyone is only interested in new products – which I find interesting but also idiotic, because furniture needs time. It must be refined and gradually perfected. Furniture design involves a lot of thought and consideration. And with this quick, quick, new, new one has the risk that we become like the fashion industry with two, three, four collections per year. And that can't be"
And so in a typical Moormann response the Milan 2011 stand presented 12 new products. The majority of which however were shrouded in blankets. Not being ready until 2028. At the earliest. Allegedly.
"What I like is to create unfamiliar situations where visitors stare, aren't sure if it's serious or not. And that for me is just as important as good products."
Konrad Lohöfener and Christian Neumeier, the two Moormänner charged with realising Nils Holger's concept are in real-life designers employed by Moormann in the product development department. Employed as it were to help transform good designs into mass-producible furniture.
An unseen and unglamorous, if critical, aspect of the designer furniture industry.
In Milan, however, Konrad and Christian's thoughts were less occupied with the next generation of Moormann products and more with making sure one of the company's best sellers was straight.
And in their attention to detail one sees what separates Homo sapiens ssp. designer from the rest of the animal kingdom.
On several occasions a point was reached where would have said it was OK.
It wasn't.
And Konrad and Christian adjusted further until it truly was.
With the heat in Milan Trade Fair Hall 20 becoming ever more unbearable – lest we forget the temperature outside was some 31 degrees, and that in early April – the final tasks for the day were cabling up the Rosi lamps to the FNP and attaching the company logo to the front of the stand. No easy task 5 meters above ground level and after several hours climbing ladders, moving scaffolding and assembling a 17 square meter shelving unit.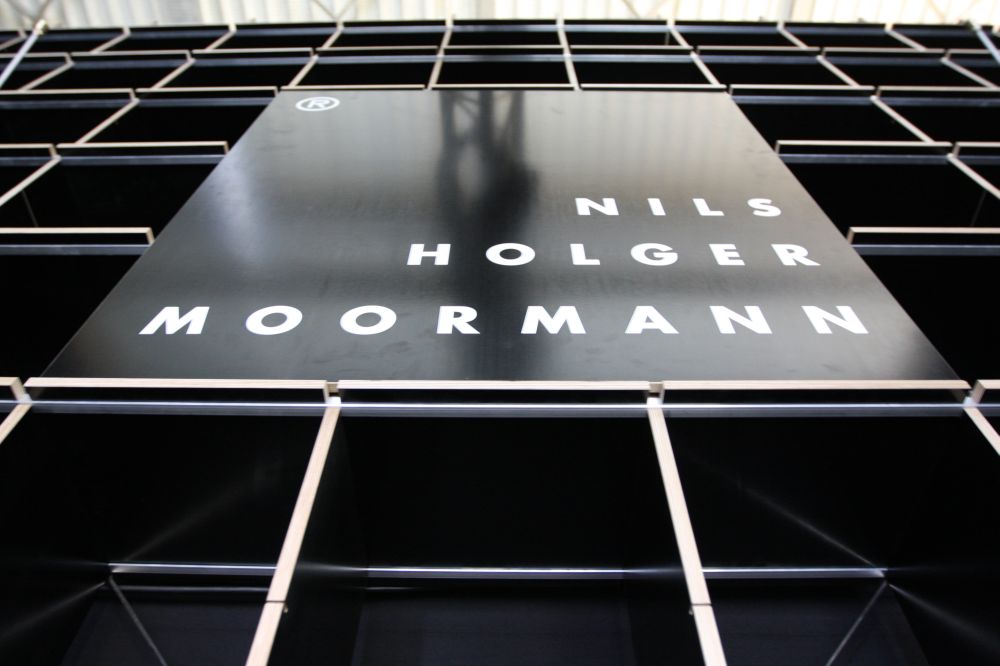 But is the effort all worth it?
For Nils Holger Moormann the answer is a resounding yes. "We have a lot of export business and so here we can meet those customers who we otherwise perhaps wouldn't get a chance to meet in the course of the year."
But have they never considered leaving the limited space and inflexibility of the Trade Fair behind for their own space in the city; a space where they can have more planning security?
The No is equally resounding
"Every detail here has been considered in great detail; it looks very simple, but isn't, and every detail needs to be perfect. And then to potentially only have very few visitors would be tragic, but here at the Fair you have the guarantee that both visitors and the international press will be here."
Having invested our own sweat in the project, we can only concur: we 'd also be pretty gutted if the stand wasn't seen and appreciated by as many people as possible. And that's without us having any financial interest in its success or failure!
And so after some eight and half hours as honorary Moormänner and with our work done for the day, we bid our farewells and headed downtown for a much deserved, and longingly anticipated, cold beer. Or four.
Sitting in the train we reflected a little on our day, and although we can't guarantee that in the future our photos will be better, or that our jokes will be funny, we do promise to be much more respectful of the effort and time invested in creating such a stand.