MAD Brussels presents Belgium is Design: Belgitude & The New Belgians
Whereas other cities get by with a design week, Brussels has a whole month: which shouldn't be taken as an indication Brussels is four times more design than say Milan, Eindhoven or Vienna.
It isn't.
It just takes its time. Doesn't rush. It is Belgium after all ……
For Brussels Design September 2017 MAD Brussels is hosting Belgitude & The New Belgians, two exhibitions of contemporary product design curated by the federal platform Belgium is Design.
MAD Brussels presents Belgium is Design
Established in 2011 after the national authorities re-embraced the inescapable logic of federalism in context of promoting Belgian design and Belgian designers, Belgium is Design is not only the source of our favourite joke during Milan design week – see Belgium is Design posts ad nauseum, ad infinitum – but has also introduced us to the likes of, and amongst many, many more Alain Gilles, OpenStructures and Ateliers J&J. For which we will always be grateful. If hopefully never fawningly uncritical.
Following on from their inaugural exhibition Occupation:Designer which focussed on Brussels creatives, MAD Brussels is casting its net wider, or at least as wide as one can cast one's net in Belgium, and celebrating Design September with two exhibitions devoted to contemporary Belgian design: Belgitude & The New Belgians. Both exhibitions were premièred in Milan in April and have only just come home.
As we say Belgians, unhurried…..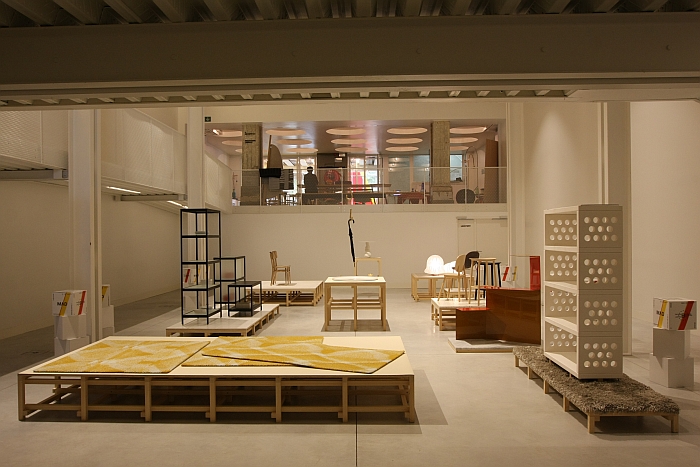 Belgitude – 10 Creative Teams from Belgium
Coupling a designer with a manufacturer is by means a new idea, but is one that always works as if new, being as it is a classic case of same same but different.
Inaugurated in 2016 as Belgian Matters, Belgitude is curated by DAMN° magazine and asked 10 designers to select a company with whom they wanted to cooperate. For us such projects are always more interesting when designer and company are brought together by fate, but that is in no way to negate the "choice" approach.
Aside from the projects, particularly interesting for us is the exhibition's new title: "Belgitude" implying as it does not only not taking oneself too seriously, but of identifying yourself through the fact that you don't, and of in any case not really wanting to define yourself. And thus when applied to objects a term which as a matter of course ignores classic genres and places the interpretorial emphasis firmly with the viewer.
Among the 2017 collaborations we were very taken with muller van severen's collaboration with Emaillerie Belge, an object bearing the name Untitled and which in more than just its moniker fits very well into the idea of Belgitude. More architectural feature than object – we're calling it an enamelled plate steel room divider, but arguably it is also a home office system – on the one hand we were very taken with its presence, it carries itself with a very unassuming self-confidence, but also by the eminent logic of its flow and nicely considered proportions. That it is as practical as it is sculptural simply adding to its charms.
Pleasingly reminiscent of giant jellyfish Nathalie Dewez's Inner Light family, created with crystal glass manufacturer Val Saint Lambert, are crafted from two layers of crystal, the inner etched, the outer sanded to serve as a projection surface, LEDs proving the light. Not only interesting on account of their illumination, or resemblance to giant jelly fish, but also their scale: such objects are rarely that big, that dominant that robust. Or would work if they were. And staying on things animaltastic, the Bee Chair by Xavier Lust created in collaboration with Charles Schambourg by Nacarat reminded us greatly of works by Edward J Wormley. And believe us we never thought we'd see the day we'd namecheck Xavier Lust and Edward J Wormley in the same sentence. Having the advantage of not being the pairings first joint project, but thereby also lacking a little bit of the risk and volatility we so enjoy when the pairings are selected at random, Bee, as the name implies and the pointed base illustrates, takes its inspiration from, the Bee, and is a formally very pleasing work, not least because there is something unmistakably classical in its deportment, albeit in that abstracted contemporary manner that makes Wormley furniture so alluring. Alone the comfort question remained with us unanswered.
The New Belgians
The New Belgians is not only a reminder to The Established Belgians that everyones' time is eventually up, but also the joint Walloon/Brussels presence at SaloneSatellite Milan: we've always been too scared to ask why Flanders don't join/aren't invited. In affaires belges we tend to keep our distance.
Although we understand that part of The New Belgians exhibition concept is about avoiding unnecessary resource waste in context of the project presentations, and appreciate that when considered against the environmental irresponsibility that is Milan, the presentation at MAD Brussels does suffer a little from the space: both the gaping voids between the objects and the lack of relation between object and its immediate environment. In a smaller gallery space such a concept would work, in the MAD cavern it doesn't quite, rather leaves them hanging, exposed and friendless. Something which thankfully doesn't distract from the works themselves.
The 2017 New Belgians edition featuring half a dozen designers from which the stand out object for us is/was the O-Line lamp by Laurent Verly. Rigid yet flexible like a lasso rope the O-Line can be rolled up into a compact(ish) lamp or stood aloft like an attacking cobra. Or placed pretty much anywhere in between.
Elsewhere lighting features heavily in The New Belgians 2017 including Roxane by Romy Di Donato, Venise by Pauline Plus Luis and the family of shape shifting lamps Vector equilibrium by Nicolas Brevers. In addition the showcase presents the vertical backrest/leaning post Paradosso by Pierre-Emmanuel Vandeputte and the Smock seat cover collection by Coralie Miessen
Beyond Belgitude and The New Begians MAD Brussels is also hosting an exhibition of photos by Laetitia Bica which document the Belgitde cooperations, a WallpaperSTORE* pop-up shop and some very brief, yet very informative, portraits of Brussels creatives by the magazine Feeling Wonen/Gael Maison. While we can also recommend taking a sneaky peak into the MAD cafeteria, furnished as it is with Brussels furniture from the likes of Benoît Deneufbourg and Ateliers J&J.
Belgium is Design: Belgitude & The New Belgians runs at MAD Brussels, 10 Place du Nouveau Marché aux Grains/Nieuwe Graanmarkt, 1000 Brussels until Sunday October 8th
Full details on MAD Brussels, Belgitude and The New Belgians can be found at http://new.mad.brussels
On Belgium is Design at www.belgiumisdesign.be
And for all in or near Brussels in September full details of the Brussels Design September programme can be found at www.designseptember.be