5 New Architecture & Design Exhibitions for February 2018
If academics are to be believed, which admittedly seems unnecessary given the wealth of irrefutable facts available on Twitter and Facebook, February has always been a short and flexible month.
Initially non-existent – the contemporary January and February being once considered an indivisible "winter" – when the Romans decided to extend their calender, February was deliberately left shorter than all other months, largely for accounting purposes, that is, to allow it to be adjusted as the solar calender dictated. And nobody has seen fit to rectify that situation.
Nor do we.
And so maintaining this tradition, our 5 new architecture and design exhibition recommendations for February 2018 features but four……..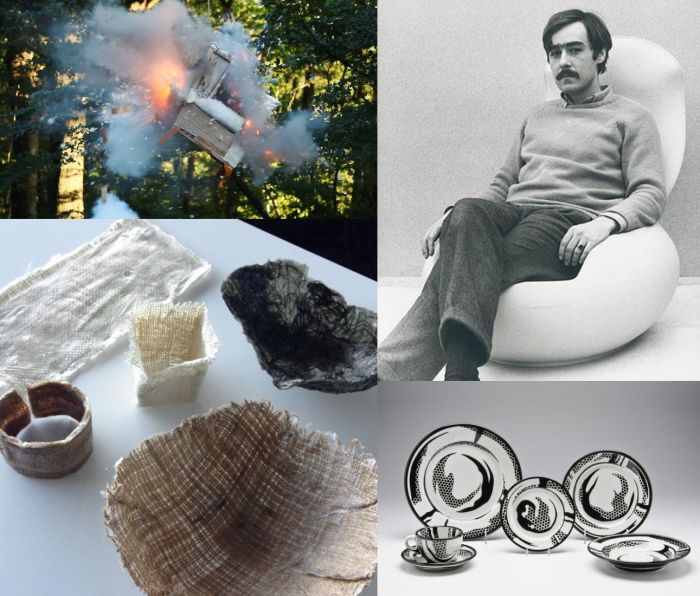 "Upholstery: Evolution to Revolution" at The National Centre for Craft and Design, Sleaford, England
The noble art of the upholsterer seems an unlikely place to search for revolution, yet if one explores the history of furniture design, upholstery and the upholsterer have often played key roles: from the first consideration that putting some thick fabric on a chair may assist the comfort, over the development and popularisation of side chairs in the 15th century and on to the application of contemporary materials to realise new production possibilities in the 21st, the upholsterer has always been actively altering our understanding of and relationship to our chairs. And by extrapolation, of and to contemporary society.
Organised by the London based collective Second Sitters a.k.a upholsterers Hannah Stanton and Jude Dennis, Upholstery: Evolution to Revolution promises to lead visitors on a multi-medial timeline through examples of works by selected upholsters and which through doing so aims to explore both the evolution of the craft, but also contemporary upholstery as a form of social, cultural and ecological expression.
Upholstery: Evolution to Revolution opened at The National Centre for Craft and Design Navigation Wharf, Carre Street, Sleaford, Lincolnshire, NG34 7TW on Friday January 26th and runs until Sunday April 15th
"Material Driven Design" at Form/Design Center, Malmö, Sweden
As we've oft noted in these pages, new materials demand new forms and new theatres of application, and as such can be a genuine motor to the evolution of design.
In order to realise such designers must however thoroughly understand a material, its properties, limits and preferences. Which is what makes Material Driven Design such an interesting approach to product design: it starts with the material, and works its way from there.
Presenting the results of a project undertaken by product design students at Malmö University, Material Driven Design promises to neatly demonstrate just such. Divided into there sections: DIY, Do It Yourself, looking at possibilities with waste textiles; CIY, Cook It Yourself, investigating new bioplastics; GIY, Grow It Yourself, exploring the possibilities of kombucha (fermented tea), Material Driven Design the exhibition probably won't do anything revolutionary, the materials they are working with have been explored before elsewhere; but, being a student project should, we would hope, present Material Driven Design the subject in an accessible and playful manner which will allow lay visitors and/or those new to the subject to understand the importance of such fundamental research in the design process.
Material Driven Design opens at the Form/Design Center, Lilla Torg 9, 203 14 Malmö on Saturday February 3rd and runs until Sunday February 25th
"Peter Ghyczy. 50 Years of Functionalism" at ADAM – Brussels Design Museum, Brussels, Belgium
It can't be easy spending 50 years as a designer, yet being popularly recognised for an object made at the very start of your career. It must be like a musician known only for their first single or an author for their first novel. As if they'd never developed their art since then.
Such is the fate of Peter Ghyczy who in 1968 designed the polyurethane Garden Egg Chair, and for the past 50 years has been known as the designer of the polyurethane Garden Egg Chair.
A state of affairs the ADAM Brussels hope to rectify with, according to themselves, the first ever exhibition dedicated to the work of Peter Ghyczy.
Based since 1972 in the Netherlands, from where he designs and distributes his designs through his own company, Peter Ghyczy has developed an expansive portfolio of objects since achieving an initial prominence with the, well, polyurethane Garden Egg Chair; objects we only know from photos, but some of which tend to indicate they may be well worth getting to know personally. And which therefore indicate an exhibition well worth exploring.
Peter Ghyczy. 50 Years of Functionalism opens at ADAM – Brussels Design Museum, Belgiëplein/Place de Belgique, 1020 Brussels on Wednesday February 2nd and runs until Sunday March 11th
"Design in Revolution: A 1960s Odyssey" at Philadelphia Museum of Art, Philadelphia, Pennsylvania, USA
2018 being as it is 50 years since 1968, we expect the coming months to provide many a museal exploration of the events and legacy of the fabled year.
With the exhibition Design in Revolution the Philadelphia Museum of Art promise an exploration of social and cultural developments throughout the 1960s as reflected in art, design and architecture. If we're honest we expect a lot of graphic design, it is an art museum; however, the museum also promises to reflect on, for example, discourses between art and design – Pop Art – and innovations in materials and technology – Plastics – and therefore represent an exhibition which sounds like offering some interesting perspectives on the changes that were occurring as society rolled (inevitably?) towards '68.
Design in Revolution: A 1960s Odyssey opens at the Philadelphia Museum of Art, 2600 Benjamin Franklin Parkway, Philadelphia, PA 19130 on Saturday February 3rd and runs until Sunday September 9th