#campustour 2019: Netherlands – Maastricht & Arnhem
Small as the Netherlands may be in the global jigsaw, it has been the source of numerous significant impulses in terms of architecture and design, numerous significant impulses which for reasons of brevity we'll reduce to the Dutch gable as a defining feature of baroque architecture, to De Stijl as leading protagonists of the early 20th century European avant-garde, and to that late 20th century Dutch avant-garde that developed in the course of the 1990s and which did so much to force an evolution in understandings of design, including allowing for an increasing popular acceptance of conceptual design and thereby the understanding that design isn't necessarily the object but how one gets there and what we (can) collectively learn from the journey.
How the coming generation of Dutch, and in the Netherlands trained non-Dutch, designers are making their way, what they've learned thus far from their journey and why they are undertaking the journey, were among the motivations for taking our 2019 #campustour to the Netherlands.
Small as the Netherlands may be in the global jigsaw, our visits to its design schools was the source of more than could comfortably be accommodated in one post, and so we've split it into two, starting in Maastricht and Arnhem…….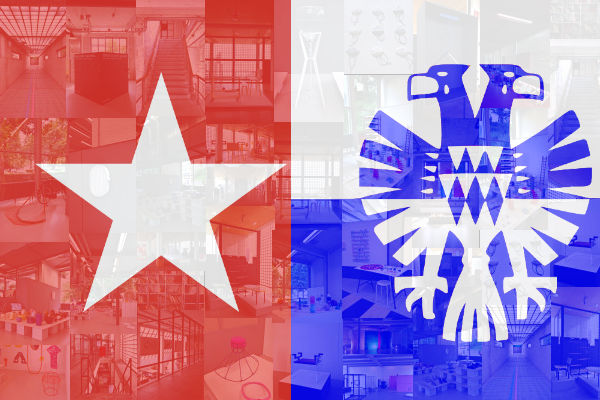 Graduation 2019, Academies Beeldende Kunsten Maastricht
As Gruff Rhys so elegantly put it "In Maastricht we made union that was so divine"
And a union so abhorrent to the right wing fringe of English conservative society that its abolition has become the unrestrained driving force of that society. Self-destructive, aberrant and petulant a force as it is: as the rest of Europe celebrates in 2019 the avant-garde and the fundamental necessity, and unavoidable truth, of moving society and culture ever forward, England celebrates its arrière-garde. Which would be fine, if we didn't all suffer on account of their arrogant ignorance.
And so yes this year of all years a visit to Maastricht was always going to be emotional. That we were there at the same time as André Rieu was staging his annual hometown summer open air spectaculars made it even more so, as in traumatic, the streets awash as they were of ageing Rieuists in an ocean of pastel hues ….. but we got through. Very quickly, but we got through.
Yet not with such undue haste that we were unable to properly peruse and consider the graduation projects at the Academies Beeldende Kunsten's three schools: Maastricht Academy of Fine Arts and Design, Maastricht Academy of Architecture, & Maastricht Academy of Media Design and Technology, the latter staging their exhibition in the so-called Eiffelgebouw in downtown Maastricht, and showcasing multimedia and communication design projects as diverse as, and amongst many others, the board game The Perception by Elisa Franssen, a game aimed at increasing understandings of depression; Camille Dolmans' Let them #beetoo campaign, one of several graphic/communication projects we saw during our 2019 #campustour devoted to assisting our apoidean chums, and not entirely unselfish assistance given the importance of bees in those systems on which human existence depends; while with the project Celebrate Success Paula Conraads aims to allow a framework within which millennials can enjoy a greater feeling of success, whereby the word "millennial" is one that is cropping up ever ofter in design school projects, whereas within living memory it simply didn't exist, today its all but ubiquitous, presumably because ever more who identify as millennials are at design schools and reflecting there on life and society as they experience, understand, it. The question is, what does that mean for the future of design? The future of society? And questions for another day, the question at hand is how can millennials learn to enjoy their own success in a world awash with the success of others? Stop looking at Instagram and believing everything you read online would be one approach; Paula's proposition is to celebrate your own small successes, understand success is a personal moment, that success can only ever be measured and judged in a personal context, and that one should, can, must not only celebrate successes as small as going to the gym, talking to a stranger or making a dentist appointment, but for all share those success. Although, and sorry to hit a negative note, but successfully navigating the daunting prospects of gym visits, dentist appointments and talking to strangers ain't exclusive millennial problems, affect all generations. Certainly us…..
Amongst the Maastricht Academy of Architecture projects we spent most time with a trio of projects from the Interior Architecture Master programme, a trio which, whether deliberate or not, perfectly surmised the open, fluid, borderless nature of the region around Maastricht, the sort of borderless freedom that causes English conservatives to work themselves into a blind rage, but reaffirmed our belief in just such a future, and a trio which each took a single word as the starting point for their deliberations: Landscape, a concept students reflected on and responded to in context of Maastricht's Sint Pietersberg hilltop fortress; Town which considered Liège "as an interior", or more specifically the Saint-Léonard district of Liège as an interior as the starting point for reflections on the organisation of space: and House, a neatly understated title for a project which asked the students to consider and respond to the architecture, space and emotion of Rudolf Schwarz's 1930 St. Fronleichnam church in Aachen, a church whose existence we first became aware of through the project, and which we well imagine we will seek out next time we're in Aachen, and a project which, amongst other results produced some nice considerations on church seating. A favourite subject of ours, and one one meets far too infrequently.
Presented amongst the béton brut and glass bricks of Wiel Arets early 1990s extension to the institute's main building, the Maastricht Academy of Fine Arts and Design graduation showcase, or at least the Design part of the institute's graduation showcase, presented projects from across the three main axes on which the design department is positioned: Body, Material & Object. From which our focus, naturally and organically, settled on the latter and projects such as NEST [Nomadic Essentials for Easier Transitions] which saw Désirée Malessa reflect on contemporary urban nomadicity, a concept that, as we always argue, insist, is pure fallacy, both the belief that it is prevalent and somehow something specific to and defining for our age. It aint. And it aint. But nomadicity is nonetheless an interesting and valid theoretical position from which to start considerations on those objects with which we share our domestic spaces. Considerations which led Désirée to devise a charming collection of pared down objects – bed, desk, bench, shelving – which all pack together into a box for simple transport, and from which we can well imagine one or the other object functioning as a stand alone product. For all the bed, an object based on the most delicious extension concept thus making it a genuinely interesting guest bed concept.
Considerations on bed of a different kind formed the basis of Thomas Bickle's graduation project: "Like two-thirds of adults in industrialised societies, I don't sleep enough", he notes in the introduction to, the programmatically titled, Better Sleep Traditions. Traditions Thomas sees as being closely linked to evolutions in lighting technology and which he thus proposes continuing through evolutions of lighting technology: a collection of three programmable OLED lamps whose automation guides the user on the path to bed, and (hopefully) a peaceful night, through supporting Thomas's three key components of better sleep: environment, decision and routine. The later being represented by a wing-esque folding pendant lamp, one of two such propositions we've seen thus far, two propositions it is important to note which not only arose from different starting points and methodologies, but function differently. Form may or may not follow function, but can one always read one from the other? In the interests of completion, the second wing-esque folding pendant lamp being Alissa Wolter's project Moodable at the Kunsthochschule Berlin Weissensee.
Elsewhere, with his project Under Production Daan Snippe researched how small scale furniture producers could achieve an efficiency to match large scale furniture produces, research that ultimately took him to the IKEA Koopjeshoek, Bargain Corner, and a furniture collection based on materials and components sourced there, and therefore, for us, less a project about the collection per se as the use of that which is returned and rejected in contemporary consumption systems, about integrating the readymade and bricolage into contemporary consumption systems rather than contemporary production systems; while for his Enomis collection Jules Wanten went not to IKEA but back to his childhood, specifically to his childhood fantasies of unearthing a lost city and his wonder of the art, architecture and design he discovered there, a wonder he reproduced in objects, objects conceived as much as reflections on the tangible in our contemporary intangibility as they are functional objects. That said we were very taken with the chair: an upholstered metal seat suspended in a glass frame, a captivatingly absurd expression of monumentally. In a positive sense one understands, a captivatingly absurd expression of monumentally in the negative sense being found in the ocean of pastel hues flooding downtown Maastricht……
Further information on the Academies Beeldende Kunsten Maastricht can be found at www.zuyd.nl/kunstacademie-maastricht
Finals 2019, ArtEZ Academy of Art & Design Arnhem
Representing the "A" in ArtEZ, a triumvirate confederation of art/design/music/et al schools bound by the most improbable acronym, the E and Z being Enschede and Zwolle, the Academy of Art & Design Arnhem offers a range of design programmes encompassing Fashion, Graphic, Product and Interaction, the bachelor projects from the latter producing works such as Narcissism is a global phenomenon, and it has no borders by Eva van Boxtel which explored, questioned?, the rise of the selfie museum and the fluidity of the border between the land of fantasy of the influencer and land of actual reality; with Monument for Memory (NXP) Bram de Groot celebrates a forgotten moment in technological history, and indeed a very real interface between our digital and craft worlds, namely the fact that the first computer core memory chips were hand woven, everything starts with craft, and from there develops and evolves; while with The Ball, the Field, The Arena Florian van Zandwijk explored the relationship between play, technology and culture, including a very nice comparison of computer football games and military drones, not a 100& new comparison, but one very pleasingly and elegantly presented and whose easy accessibility promoted reflections on how unthinkingly, effortlessly, one can pass from a computer game to a military drone, how the ease and innocence of play can lead us to much less innocent places. Or as Karel Fialka one phrased it, and in context of a related audio-visual media technology, Hey Matthew, what do you see?
The Product Design graduation projects were presented under the title We Made It, one of those deliciously equivocal, ambiguous titles for a student exhibition, is it a celebration, a sign of relief, an apology, a sign of disbelief? All these and a great many more?
Among a wide range of projects our attention was particularly caught by, and amongst others, The hidden qualities of salt by Mireille Steinhage which explored using salt to help purify air in domestic environments, largely through a series of salt encrusted objects including a radiator, humidifier and a lamp; LUPA by Emma Hoogstede in which a series of spontaneous line drawings were transposed into a pleasingly idiosyncratic furniture collection, amongst which a rocking stool kept us engaged for hours; and Plankton Cowboys in which Bart van Dommelen considers the possibilities of zooplankton as a future source of protein for human diets, an interesting alternative to the meal worm, certainly one that would appear easier to cultivate, and, when all is said and done, if it's good enough for the blue whale……..
Aquatic thoughts of a different nature lay at the heart of the project Land Fishing in which Jasmijn van der Weijden created all manner of fishing devices, ranging from those inspired by children's crabbing nets over coarse fishing and on to deep sea trawling, the latter being arguably the signature piece in the collection: a trawler net that attaches to the back of a bicycle. And thus, and as with all the devices, doesn't catch fish, but litter. On the one hand a very nice reminder that our contemporary litter problem isn't confined to our oceans, but that our terrestrial environment is also endangered by our all-pervasive indifference; on the other hand a nice project to tour round regional design festivals, alone the presence or absence of a bottle and can deposit scheme should greatly influence what Jasmijn catches; and on the particularly pleasing third hand, an actual, potential product for low resource litter collection following a street event or in any any indoor arena, exhibition centre etc….
Elsewhere Thomas van den Bliek created in his project Objects for a cashless society, well…., objects for a cashless society and which in being such also explored the physical relationship we have with tangible cash, and how the lack of that relationship will invariably affect our relationship to intangible microeconomics; Anti Chair Movement saw Tosca Schift make chairs dance as part of wider reflections on functionality; and in Room to Move Eva Slegers & Floris de Vries consider(ed) a future in which private living space has ceased to exist and we all sleep in small, shared, modules integrated into the urban landscape. An absolute dystopian future, although such, or very similar, can already be found in China, and as with all good dystopian visions one that stimulates and motivates the humane in you to ensure that the proposed never becomes the norm. The practicality and feasibility, that fact such is conceivable, and would appear to make sense, underscoring the urgency of the matter, underscoring that we need sustainable future-orientated urban spaces, underscoring that we need to be aware of the importance of not losing sight of ourselves in our push for progress, and underscoring the need to eradicate attitudes that could, would, do, accept such.
Further information on the ArtEZ Academy of Art & Design Arnhem can be found at www.artez.nl/arnhem