5 New Architecture & Design Exhibitions for November 2019
On November 1st 1512 Pope Julius II celebrated the All Saint's Day Mass in the Sistine Chapel. The first public presentation of Michelangelo's frescos, and thereby the opening of a permanent exhibition still on show today. And still attracting a public.
And while permanent exhibitions are good and important, for all in allowing an overview and an introduction to a subject, it is those ever changing temporary exhibitions that, should, ideally, allow for new insights and deepening of understandings.
Our recommendations for five new, temporary, architecture and design exhibitions opening in November 2019, and which promise such insights and depths, can be can be found in Munich, New York, Vienna, Esslingen and Gotha…..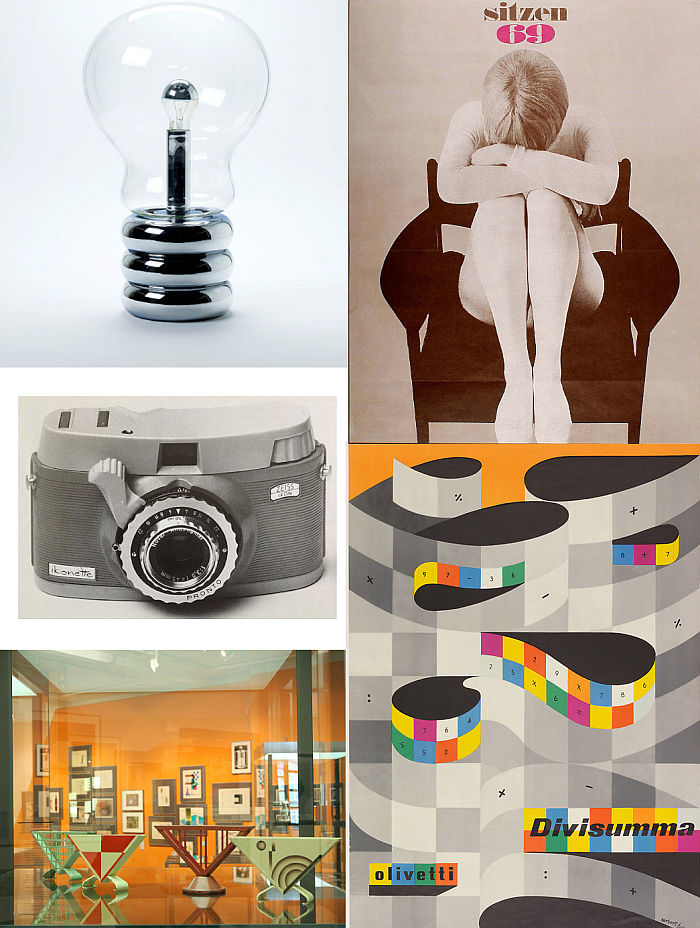 On November 15th 2019 the Die Neue Sammlung – The Design Museum, Munich will open Ingo Maurer intim. Design or what?, the fifth, year long exhibition, in the institute's Paternoster Room, and an exhibition not only about Ingo Maurer, but created by Ingo Maurer.
On October 21st 2019 Ingo Maurer past away in his native Munich aged 87
Ingo Maurer intim. Design or what? consequently becomes, on account of Ingo Maurer's sad passing, an all the more relevant, all the more intim, intimate, exploration, celebration, of his work, his approach to his work, and his understanding of design, for all in that genre for which he unquestionably is best known: lighting. A genre he first achieved a fame with in 1966 with his creation, the near programmatically titled, Bulb, and in which over the next 50 years he continually pushed at both the technological boundaries of, but also the boundaries of art, design and architecture.
Featuring a presentation of projects from across those five decades, and through objects, sketches, models and photographs, Design or what? promises to provide for a very personal tour through Maurer's life and career, one as perceived from his perspective, and which thus should, not only to allow a better understanding of Ingo Maurer but also contemporary lighting design.
Ingo Maurer intim. Design or what? opens at Die Neue Sammlung – The Design Museum, Pinakothek der Moderne, Barer Straße 40, 80333 Munich on Friday November 15th and runs until Sunday October 18th
"Herbert Bayer: Bauhaus Master" at the Cooper Hewitt, Smithsonian Design Museum, New York, New York, USA
it is somehow very relevant that in this bauhaus weimar centenary year there should be an exhibition in america devoted to the work of the bauhäusler who perhaps did more than most to promote bauhaus in america. and therefore helped build the bauhaus legend. and, arguably, necessitate a bauhaus weimar centenary year.
born in haag am hausruck, in the contemporary austria, beyer joined bauhaus weimar in 1921, taking charge in 1925 of the newly established print workshop in dessau, and where in addition to helping establish the contemporary understanding of bauhaus graphics and bauhaus photographic art, he was responsible for the decision to print all texts lower case. a political as much as design decision, questioning as it did the accepted basis of written german and its curious mix of upper and lower case, for all the use of upper case for nouns.
leaving bauhaus in 1928 bayer switched to private practice in berlin and where he soon established himself one of the leading graphic designers, advertising designers and exhibition designers of the 1920s and 1930s, setting new standards and helping advance both contemporary form languages, and the development of those still, relatively, new and evolving disciplines. a reputation he confirmed following his emigration in 1938 to america, not least with the new york museum of modern art, moma, exhibition bauhaus 1919–28, an exhibition that helped carve the bauhaus legend in american stone.
promising a presentation of rarely seen works by a designer, who, inarguably, was a leading talent of his generation, and thereby the chance for a much fuller assessment of his contribution the development of graphic design, we trust the cooper hewitt will find space to, properly, discuss his numerous projects for the nsdap, before leaving germany for the safety of america. certainly amongst the works on show would appear to be one from 1935, and so it's not as if bayer's nsdap years don't feature……
Herbert Bayer: Bauhaus Master opens at Cooper Hewitt, Smithsonian Design Museum, 2 East 91st Street, New York 10128 on Saturday November 16th and runs until Sunday April 5th
In 1969 the, then, Österreichische Museum für angewandte Kunst, the, now, Museum Angewandte Kunst Vienna staged the exhibtion Sitzen 69, Sitting 69, with a presentation of good seating designs.
And whereas most everywhere else in Europe 1969 was, after '68, and was about pop art, radical design, utopian visions, plastic and colour: Sitzen 69 presented exclusively wooden chairs, for all Scandinavian wooden chairs by the likes of Ole Wanscher, Hans J Wegner or Alvar Aalto. And thus not necessarily contemporary Scandinavian wooden chairs.
Why?
Is a very, very, good question.
And one that will be explored in "Sitzen 69" Revisited; a presentation which promises to not only recreate, restage, that 1969 exhibition, but to exhibit some of those objects that one would, could, have reasonably expected to have featured in a 1969 exhibition about seating, including works by the likes of, and amongst others, Pierre Paulin, Joe Columbo or Verner Panton.
And in doing so aims to not only explore why Sitzen 69, apparently, (seemed to have) missed 20 years of furniture design, but in addition also promises to pose some very interesting and important questions about the mediation of design, about understandings of that which is relevant, important, interesting, "good", when does a contemporary formal aesthetic understanding become be rooted in the helix of cultural understanding, and for all the role of museums in such questions……
Then. And now
"Sitzen 69" Revisted opens at the MAK – Museum für angewandte Kunst, Stubenring 5, 1010 Vienna on Wednesday November 13th and runs until Sunday March 29th
"Hans Erich Slany – Das Werk" at Villa Merkel, Esslingen, Germany
Born in 1926 in Loučná pod Klínovcem, then part of Austria-Hungary, today the Czech Republic, Hans Erich Slany is perhaps not a household name in terms of European industrial design, but there is a good chance you have used one of his creations, certainly that you are familiar with them, amongst his clients being, and amongst many, many others, Kärcher, Bosch or Leitz, the latter for whom he developed many folders and storage systems, as well as hole punches. In addition Slany developed office chairs for Wilde+Spieth, film projectors for Bauer, and, allegedly, we've been unable to verify it ourselves, pens for Edding. In addition he was active in terms of large scale industrial machines both as a designer and as Professor for Capital Goods Design at the Akademie Bildenden Kunst Stuttgart, and was, along with the likes of Peter Raacke, Arno Votteler or Herbert Hirche, a co-founder of the Verband Deutscher Industrie Designer.
But you may not have heard of him.
To rectify this, or least approach a rectification, the Esslinger Kunstverein are hosting a retrospective of Slany's work in Esslingen's Villa Merkel, and while we'd venture to suggest, given the shear volume and scope of projects he realised, it is unlikely to be able to completely encompass the man and his work, it should allow for a better understanding of the contribution of, and for all enable increased visibility of, as the subheading to the exhibition states, Einer der bedeutendsten Produktgestalter In Deutschland – One of the most important product designers in Germany.
But you may not have heard of him.
Hans Erich Slany – Das Werk opens at Villa Merkel, Pulverwiesen 25, 73726 Esslingen am Neckar on Friday November 29th and runs until Sunday January 19th
2019 is not only 100 years since the establishing of Bauhaus Weimar, but 90 years since the Bauhäusler Marianne Brandt took up position as head designer with Gotha based metal goods producer, Ruppelwerk.
And while the exhibition Inspired by Bauhaus may have been initiated in context of the former, it is very much about the latter, about the three years Brandt spent reworking, redeveloping, reinvigorating not only the Rupplework portfolio, but the aesthetic, formal, functional understandings at Ruppelwerk, efforts which not only produced one of the most interesting translations of Bauhaus to industry but saw Ruppelwerk objects arrive in the New York Museum of Modern Art, MoMA's, permanent collection; including an alarm clock which, and as with the Savings Calenders shown as part of Four "Bauhausmädels" at the Angermuseum Erfurt, wouldn't look out of place in a Braun catalogue. Just twenty five years before Hans Gugelot or Dieter Rams got there.
In 2009 Gotha staged a fairly large Bauhaus exhibition, and Inspired by Bauhaus sounds like being influenced by and largely based on that show; which isn't a complaint, far from it, on the one hand it takes place with ten years more research and understanding of Marianne Brandt, something underscored by the promise of previously unseen Brandt works, and on the other, and as we oft note in context of Marianne Brandt, her story is one that not only deserves to be more widely told, but that one that needs to be much better understood.
Inspired by Bauhaus sounds like allowing just such an opportunity.
Inspired by Bauhaus. Modernism in Gotha opens at the KunstForum Gotha, Querstraße 13-15, 99867 Gotha on Friday November 15th and runs until Sunday December 29th