5 (New) Architecture & Design Exhibitions for January 2021
The only certainty as 2020 flows into 2021 is the ongoing uncertainty. An uncertainty that is increasingly being understood as an ongoing certainty and thereby turning ever more "plans" into "options".
And also causing a great many global architecture and design museums to skip over the first quarter of 2021 as if weren't there, and to move their new exhibition openings to April and beyond.
A state of affairs which on the one hand means there are currently fewer lonelier locations than any given museum's "future exhibitions" listings; but on the other hand means that much as the coldest hour is the one just before the dawn, so it is increasingly certain, as in "old" certain, that the paucity of new exhibitions opening in the first quarter of 2021 will cede to a flood come spring. And so you can now plan, as in old "plan", to visit an exhibition a day come summer. And still have options. Old and new
And a state of affairs which has to a degree forced our hand and produced a hybrid recommendations list for January 2021: offline exhibitions in Berlin, Hamburg and Metz; online exhibitions from Warsaw and Weimar/Dessau.
And as ever in these times, if you do feel comfortable visiting any museum, please familiarise yourself in advance with the current ticketing, entry, safety, hygiene, cloakroom, etc rules and systems. And during your visit please stay safe, stay responsible, and above all, stay curious…….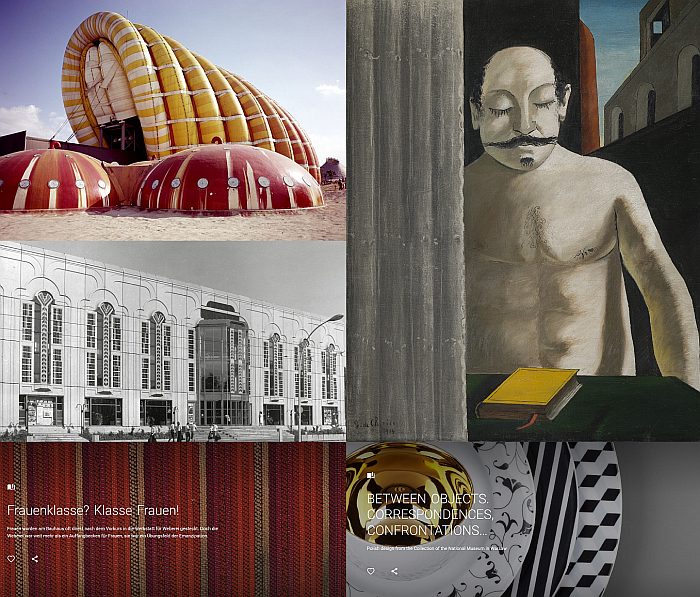 For anyone taking even the shortest bus, tram or train journey through the German capital the answer to the Berlinische Galerie's forthcoming exhibition title would appear to be a resounding: yes!
With Anything Goes? the Berlinische Galerie aim to take a longer and more objective look at the architectural development of the city in the 1980s. Or more accurately cities: until 1990 Berlin was still East and West, and therefore stands as a very singular witness to the development of architecture and urban planning understandings of the 1980s. A decade that in itself can be considered highly singular, bringing forth as it did the idiosyncrasies of Postmodernism.
Focussing on projects developed in context of the Internationale Bauausstellung 1984/87 in Berlin West and the 1987 Bauausstellung der DDR in Berlin Ost, Anything Goes? promises to not only provide for a much needed review of a moment in Berlin's architectural (hi)story that is all to easily and readily ignored, but also, and not least on account of the concentration of projects, the wide variety of protagonists and the singularity of the East/West division, should allow for some new, differentiated, reflections on and understandings of Postmodern architecture. In Berlin and beyond.
And in doing so should not only help make global Postmodernist architecture more approachable, something that one less easily and readily ignores, but also allow for more critically reflective bus, tram and train journeys through the German capital.
Anything Goes? Berlin Architecture in the 1980s is scheduled to open at the Berlinische Galerie, Alte Jakobstraße 124–128, 10969 Berlin on Friday January 29th and run until Monday August 16th. Please check the Berlinische Galerie website for current information.
National Museum Warsaw – Between objects. Correspondences, confrontations… Polish design from the collection of the National Museum in Warsaw
With their online exhibition the National Museum Warsaw, and as the title neatly implies, juxtapose objects from the museum's permanent design collection: specifically, 20th century furniture, ceramic, glass, toy and textile designs by Polish designers with 21st century furniture, ceramic, glass, toy and textile designs by Polish designers.
And in doing so, through highlighting the correspondences and confrontations, not only allow for a (further) confirmation that the evolution of our objects of daily use is rarely at the functional level but invariably an evolution of form, materials, construction, interaction etc, and thus while form may follow function, it rarely does so slavishly; but for all allows for a very satisfying introduction to Polish design since the early 1900s.
A subject that most all of us require an introduction to. Not "require" in the sense we require oxygen and water; but "require" in the sense that approaching more sustainable understandings of the (hi)story of design requires expanding our horizons and moving beyond the ubiquitous and embracing the new. Or the "new" to you. Which is an important difference. Its "old" to someone else, an existing component of their understandings.
And a "new" which can be discovered and explored in the correspondences and confrontations, the juxtaposition, between the design from Poland presented in Between objects which you don't know, and the design from outwith Poland you do know.
Opening with a brief introduction before moving on to its main narrative, Between objects takes you on an easily accessible and well paced tour through that narrative; and a narrative that is pleasingly as much about introducing protagonists as it is about the Polish-Polish juxtapositions. The Polish-World juxtapositions are largely left for you to make on your own, but are so clearly signposted that the step is short, easy, and often very satisfying. As are the number of new paths that appear as you progress.
If we did have one complaint it is that after following a link to a particular object you can only return to the start of the presentation rather than to the page you were on, and thus spend a lot of time flicking back and forward. But that's a google fault not a National Museum Warsaw fault. And understanding that google is as fallible as the rest of us is also important.
⇶ Between objects. Correspondences, confrontations… Polish design from the collection of the National Museum in Warsaw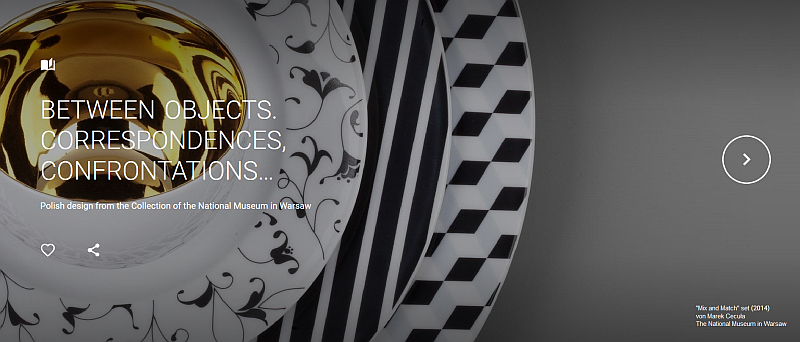 "Aerodream. Architecture, design and inflatable structures 1950-2020" at the Centre Pompidou-Metz, Metz, France
Among the many, many advances for which contemporary society owe a very real debt of gratitude to the 19th century, air-filled rubber structures is arguably one of the most overlooked. Not least because it is so mundane, so stupidly obvious. Yet, alone the briefest of considerations on where the pneumatic bicycle tyre has brought global society, pun intended, serves to highlight how fundamentally important the stupidly obvious idea of filling a rubber tube with air has been. And how increasingly important it became as in the course of the 20th century we developed synthetic plastics that could be filled with air. Or perhaps better put, how increasingly important it could have become. And still could.
A development and discussion the Centre Pompidou-Metz aim to explore and develop through a presentation of the many lives lived by air-filled synthetic materials; from early, largely rubber, industrial applications, over the plastic inflatable's associations with the utopias of the mid-20th century, their decline as late-20th century society began to ask more environmental questions, and a slow 21st century revival as new, renewable, synthetic materials allow a re-imagining of the early industrial applications and the 20th century utopias.
Promising a presentation that encompasses art, architecture and design, and featuring projects by creatives as varied as, and amongst many, many others, Frei Otto, Andy Warhol, Haus-Rucker-Co, Bernard Quentin, Otto Piene or De Pas, Urbino & Lomazzi, Aerodream should allow not only for a differentiated understanding of the (hi)story of the inflatable and of inflatable structures and objects roles in the developments of the 20th and 21st centuries, nor only for some more philosophical reflections on the symbolism of the air-filled shell, but also allow for more qualified reflections on how, if, we can employ such a stupidly obvious concept to help us create the more democratic and sustainable society the hopelessly mundane pneumatic bicycle tyre suggests is possible.
Aerodream. Architecture, design and inflatable structures 1950-2020 is scheduled to open at the Centre Pompidou-Metz, 1 Parvis des Droits de l'Homme, 57000 Metz on Saturday January 30th and run until Monday August 23rd. Please check the Centre Pompidou-Metz website for current information.
Stiftung Bauhaus Dessau – Frauenklasse? Klasse Frauen!
For all that Bauhaus is often held up as something thoroughly revolutionary, it was also very, very much of its time. Something very neatly underscored by the Frauenabteilung, Women's Department, a.k.a Weaving Workshop, that women's place in Bauhaus which only very, very few avoided. And many more objected to. And which is and was so reflective of both gender relationships in the 1920s and also of 2020s 1920s understandings of a woman's role in architecture and design.
Presented by Stiftung Bauhaus Dessau Frauenklasse? Klasse Frauen! – Women's Class? Classy Women! – takes you on a chronological journey through the (hi)story of the Bauhaus Weaving Workshop, and thereby through both the numerous lives it experienced in Weimar and Dessau and also its ever changing relationships with the school.
If, for us, in doing such it is just a touch too euphoric. Something that for us afflicts most all the Stiftung Bauhaus Dessau's online exhibitions; a trait which, for us, arises from an attempt to bequeath Bauhaus a primacy that it simply doesn't have, nor does it need to have, it has an importance that suffices. However, that which Frauenklasse? Klasse Frauen! in its breathless euphoria sidesteps is so clearly part of the narrative that as a presentation Frauenklasse? Klasse Frauen! is not only a very concise, very coherent and very pleasing, and very important, introduction to one of the more relevant and interesting components of the Bauhauses, but an open invitation to research further and seek answers to those unapproached but very present questions. And in doing so approach a more probable understanding of not just the Bauhauses, but the Bauhauses place on the helix of design.
⇶ Stiftung Bauhaus Dessau – Frauenklasse? Klasse Frauen!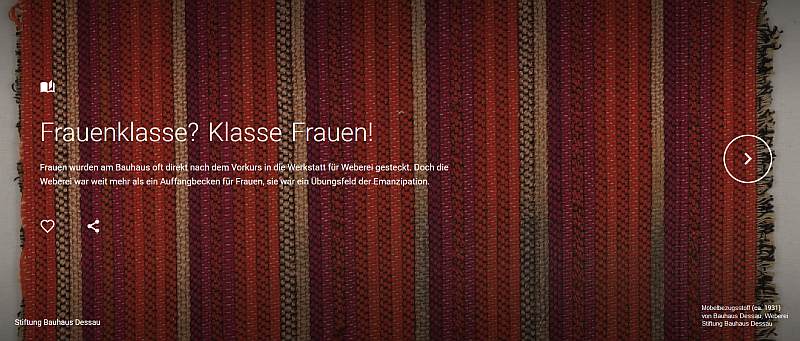 "De Chirico. Magical Reality" at the Hamburger Kunsthalle, Hamburg, Germany
With his pittura metafisica, metaphysical painting, the Italian artist Giorgio de Chirico was among the more important blazers of the trail that led to both Surrealism and Neue Sachlichkeit. Which, no, isn't a contradiction. Just a further confirmation that developments in art, architecture and design are rarely linear and equivocal, rarely things one can neatly map. Despite us all trying to.
Promising a presentation of over 80 works by not just de Chirico himself but also contemporaries such as, and amongst others, Giorgio Morandi and Pablo Picasso, as well as Symbolists such as Arnold Böcklin and Max Klinger who were influential in the development of de Chirico's art, Magical Reality should not only provide for a fulsome introduction to the work of Giorgio de Chirico, nor only help us all to better place him in the (hi)story of art, nor nor only only allow for an understanding of his ongoing legacy, but also allow for a differentiated perspective, pun intended, on how the development of understandings in architecture and design in the course of the 20th century arose. Including an understanding that for all that today art, architecture and design can be readily compartmentalised, in decades past they were much closer related, stood in much closer dialogue, and thus to approach the question if that closeness to, that dialogue with, art isn't necessary, or at least desirable, expedient, in contemporary architecture and design?
While the vast emptiness of much of de Chirico's work may provide for a little (much needed) catharsis as we map our way forward from our contemporary less than magical reality. And a timely reminder that it's not what you see, but how you view it.
De Chirico. Magical Reality is scheduled to open at the Hamburger Kunsthalle, Glockengießerwall 5, 20095 Hamburg on Friday January 22nd and run until Sunday April 25th. Please check the Hamburger Kunsthalle website for current information.