Stockholm Furniture Fair 2023: Say Hej! to… Rom and Lupa from Lentala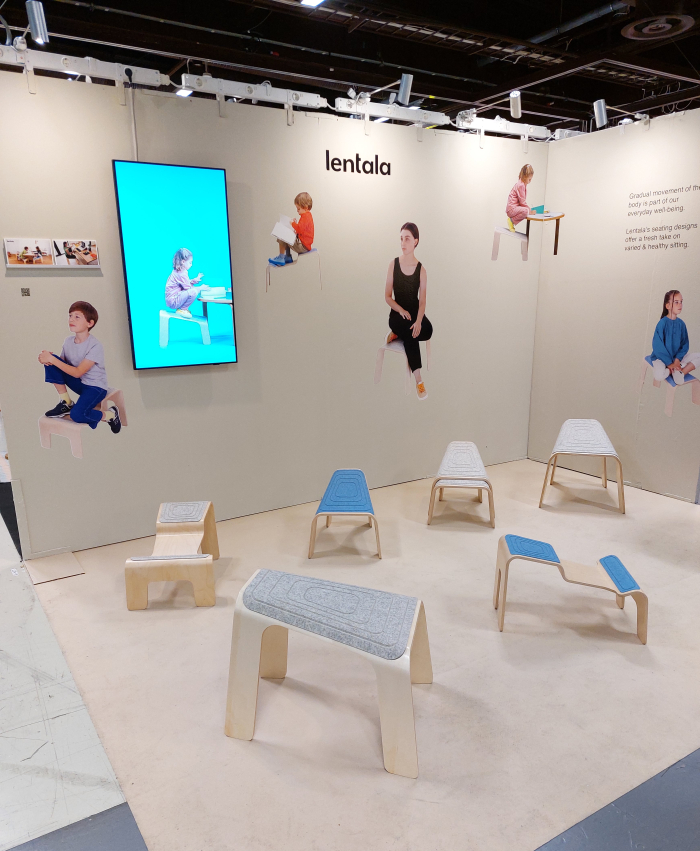 Amsterdam based manufacturer Lentala, a.k.a. Design Academy Eindhoven graduate Boris Lancelot, is, if one so will, a commercial expression of a research and experimentation begun in Eindhoven in context of Lancelot's 2018 graduation thesis Techno Motion, and continued post-Eindhoven in the project Active Classroom undertaken by Lancelot in conjunction with movement science researchers at the Vrije Universiteit Amsterdam and UMCG, University of Groningen. Research and experimentation which, as the names Techno Motion and Active Classroom tend to imply, concerned themselves with developing alternative seating options, with the enabling of a near endless as possible variety of seating postures by a single chair, the development of seating solutions that offer individualised, and effortlessly alterable, seating positions, without knobs and levers and pistons and apps. For children and adults.
And research and experimentation which have crystallised in the objects Rom and Lupa as presented in the 2023 Stockholm Furniture Fair Greenhouse. Objects which in the child sized versions are very much about encouraging and facilitating that endless fidgeting and that instinctive, innate, subconscious mobility of the sitting child, and thus very much the antithesis of the authoritative, controlling, school seating of yesteryear. And which in the adult versions seek to maintain and preserve that endless fidgeting and that instinctive, innate, subconscious mobility, both of which tend to be remorselessly driven out of us by our contemporary authoritative, controlling, office seating. Authoritative, controlling, office seating which helps contribute to so many of the physiological problems of Homo sedens.
And both of which very much achieve their aim: both Rom and Lupa can not only be sat on with two feet firmly on the ground, but also, enable, actively encourage, sitting, for example, and amongst many other options, with one or both knees raised towards your chin, or with one leg tucked up under the other, or sitting legs crossed like a busy tailor, the latter of which even we effortlessly managed despite our decrepit knees and hips. We even subsequently managed to uncross our legs and stand up. Without help. In addition both Rom and Lupa allow for squatting, a seating position employed by a great many cultures as the default sitting position, and employed by a great many children of all cultures as the default sitting position, but which conventional chairs not only don't allow but actively bar. Denounce. Yet which as a sitting position has its postural advantages. For children and adults alike. And which can be a meaningful addition to a roster of regular, ideally subconscious, changes of seating positions as you move between tasks in the course of any working day. While beyond sitting on Rom and Lupa, both can be sat next to: on the floor with Rom and Lupa serving as impromptu desks.
Crafted from moulded birch veneer with merino felt covers, stackable for storage, eminently suitable for kindergarten, school, office, home, home-office, home-school, home-kindergarten a.k.a. a child's bedroom, and possessing an implied but never fully articulated nor acknowledged zoomorphism, amongst the many, many satisfying aspects of Rom and Lupa is the unassuming simplicity of the works, for all Rom, a work that is nothing more than a slant. An unassuming simplicity that is highly deceptive; a deceptive simplicity that is not only the result of carefully undertaken research and development, but which can only be achieved through approaching the project from an alternative perspective, a perspective not obstructed by accepted norms and conventions. And a deceptive simplicity which assists both Rom and Lupa help advance the design position which argues that the greatest possible modes of interaction results from a minimum of information, that an object which doesn't define and dictate how it is to be used will be used most efficiently and most expressively and most spontaneously and most meaningfully. And most satisfyingly. Which is form follows function, but not the way the inter-War functionalists framed, controlled, the relationship.
Full details on Rom, Lupa and Lentala, and importantly photos of Rom and Lupa in use, photos which we deliberately didn't take in Stockholm, can be found at https://lentala.com/
And if anyone from Lentala is reading, firstly Hallo! and secondly, some object dimensions on the website would be very helpful…….