5 New Design Exhibitions for December 2016
Five recommendations for new architecture and design exhibitions opening in December 2016, featuring shows in Copenhagen, Weimar, Nürnberg, London and Munich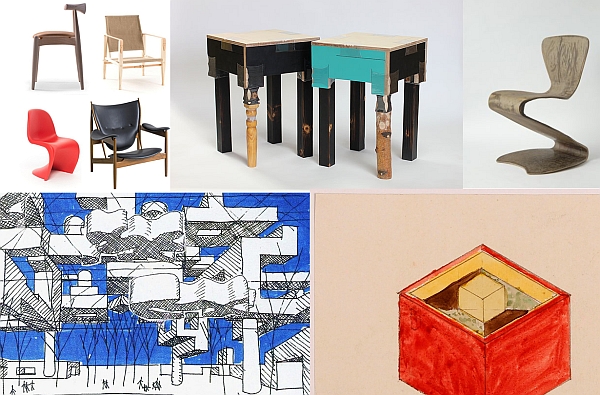 5 New Design Exhibitions for December 2016
2016 has been an awful year.
As in proper awful.
Which my explain the unusually high number of expressionist-esque art exhibitions opening globally in December 2016: the bright colours and supportive warmth and encouragement such works tend to radiate being just what we all need after a tough twelve months.
December 2016 also sees a goodly mix of new, interesting sounding architecture and design exhibitions; exhibitions which may not make you feel so good about yourself, or at least not initially, but which should not only distract you from the daily routine but for all bring you into a world where real change is possible and where individuals still look towards the future. And want to take society there with them.
Our top five is admittedly Germano-centric, or perhaps better put, Bavaria-centric, but that is simply because German museums are particularly active this December…. We suspect with German national elections due in 2017 they are just getting in early with their good time vibes.
Unnecessary as that obviously is, 2017 having to be better than 2016. Doesn't it………………..?
The Danish Chair at the Designmuseum Danmark, Copenhagen, Denmark
We don't normally mention new permanent exhibitions in these dispatches, but from time to time one comes along which leaves us no option.
As all familiar with these pages will be well aware, we don't follow the myth of "Scandinavian Design", consider it one of the best examples of the popular, mass, confusion, that invariably occurs when one removes furniture design from its social, political, historical and cultural context and views it purely stylistically.
And subconsciously we suspect that we may be hoping for a little support for our position from the Designmuseum Danmark's new permanent exhibition "The Danish Chair"
Promising a presentation of 110 chairs from the…….
110 chairs!!!
We know a lot of chairs. We know a lot of Danish chairs.
We're compiling a list. We're struggling. Even with the inclusion of chairs by non-Danish designers which have been important in the evolution of the Danish chair tradition…..
Yes, when one considers that, for example, Hans J. Wegner is credited with over 500 designs, and that the likes of Børge Mogensen, Arne Jacobsen or Finn Juhl were also prodigious, one could get to 110 simply by adding a few obscurer, and less interesting, works from the major names.
But we don't believe that is the Designmuseum Danmark's intention.
The press release for the exhibition includes what they refer to as "10 Danish chairs (and designers) you should know". We'll not repeat the list here, a bit too clickbaity for us, but the ten isn't a popular, commercial ten. It's much more considered. And so we are hopeful that the presentation will also be a well considered and honest reflection of the history and evolution of chair design in Denmark, of why Danish chair design became such a byword for high quality craftsmanship and aesthetics, and thus, potentially, hopefully, explode the myth of "The Danish Chair" …..
The Danish Chair opens at the Designmuseum Danmark, Bredgade 68, 1260 Copenhagen K on Friday December 9th and runs until further notice.
Der Bauhäusler Hans Martin Fricke at the Schiller Museum, Weimar, Germany
As as we've often noted in these pages, and will never cease to do until the situation changes, while most people can name up to six Bauhaus students, and those with a little more knowledge maybe 12-20, anyone who can name over 20 was there.
An excellent case in point is Hans Martin Fricke
?
Or perhaps more accurately
?????
But then that is the point.
Bauhaus wasn't just Breuer, Wagenfeld and Brandt, but also all those who's work has been forgotten.
Yes, there may be very good and even logical reasons why their work has been forgotten, but if one wants to have a realistic and honest impression of Bauhaus, to understand the institution beyond the stereotypes and clichés and thus soberly consider the contemporary relevance of the Bauhaus legacy, one has to understand the wide range of individuals associated with and produced by it. And not just a small, ubiquitous, if highly talented, group.
Promising some 150 items from Hans Martin Fricke's archive, including furniture, architectural sketches, artistic works and personal documents, Der Bauhäusler Hans Martin Fricke promises to neatly fill another gap in the popular information on Bauhaus; and that timeously to the institution's coming centenary in 2019.
Der Bauhäusler Hans Martin Fricke opens at the Schiller-Museum, Schillerstraße 12, 99423 Weimar on Friday December 16th and runs until Sunday March 12th
On Prototypes and Models at the Neues Museum – Staatliches Museum für Kunst und Design,
Nürnberg

, Germany

The creative process, regardless of in which genre, is rarely instantaneous. The idea might develop very quickly, but the realisation is invariably a long path; one which is defined and influenced as much by dark, dead ends, long phases of self-doubt and meddling officialdom as it is by the inspiring views of the approaching horizon. As the path is followed the idea changes, evolves and the ultimate result is a synthesis of the initial idea and the path it took.
In furniture design this path is charted by models, mock-ups and prototypes, those 3D visualisations of the project in various material and functional qualities which guide the designer towards their goal.

If we're honest we have no idea what the Neues Museum in Nürnberg are planning, there being next to no public or press information available. We do however know that the presentation has been organised in cooperation with Die Neue Sammlung Munich, know the quality and depth of the collections in Nürnberg and Munich, and the understanding both have of design and the design process. And trust them to put on a showcase which educates as much as it entertains. And sometimes you just have to trust your instincts.

And having said we rarely feature new permanent exhibitions On Prototypes and Models is permanent-ish, won't run for ever, but is at the moment, much like the creative process, a path without foreseeable end.

On Prototypes and Models opens at the Neues Museum – Staatliches Museum für Kunst und Design, Klarissenplatz 90402, Nürnberg on Tuesday December 13th and runs until further notice
Joints + Bones at the Aram Gallery, London, England
The leg bone is famously connected to the knee bone, the knee bone in turn being connected to the thigh bone and the thigh bone's connected to the hip bone. Dem bones, dem bones gonna walk around.
Similarly design is largely about connections – on the one hand those which help you get work, and on the other those which compose your work: connections providing the stability and durability of any object – if it's going to break, it's going to be at a connection. While simultaneously, well crafted joints give a object its aesthetic elegance, are one of the major divisions between good work and mediocre work, of a work that will stand the test of time aesthetically as well as physically. And one that wont.
With the exhibition Joints + Bones the Aram Gallery aim to explore the nature of connections in design through a presentation of works by sixteen contemporary design studios which promises to present examples of both differing approaches to joints and connections and also a comparison between the joint in design and the joint in nature and which thus, hopefully, helps elucidate and exemplify the function and importance of the joint as more than a simple connection.
Joints + Bones opened at the Aram Gallery, 110 Drury Lane, Covent Garden, London, WC2B 5SG on Monday November 28th and runs until Saturday January 28th
Yona Friedman – Munich Spatial at the Architekturgalerie München, Germany
Budapest born, Paris based architect Yona Friedman is one the leading proponents and protagonists of mobility in architecture, of modularity and flexibility in architecture and, if you will, of making architecture a tool for urban planning rather than the urban planning.
Much more an architectural theoretician than a builder of buildings Yona Friedman's numerous written works and theoretical positions contributed greatly to the development of post-war architecture and urban planning. And continue to do so.
With the exhibition Munich Spatial Yona Friedman will…. well again we're not 100% certain, the Architekturgalerie offering nothing in the way of clues as to what one can expect from the exhibition.
Other than Yona Friedman
But then, and to be honest, when a Yona Friedman is in town, it is, as a general rule, always worth checking it out. It may not be 100% your thing, you may not be enamoured by the ideas, may even feel alienated by them; but you should experience a well constructed and considered exhibition which helps you understand an aspect of architecture thinking and which thus makes contemporary architecture a more accessible, and thus enjoyable, subject. And for all one with which you want to engage.
Yona Friedman – Munich Spatial opens at the Architekturgalerie München, Türkenstrasse 30, 80333 Munich on Thursday December 15th and runs until Saturday January 14th