5 New Design Exhibitions for May 2017
On May 1st 1851 Queen Victoria opened The Great Exhibition in Hyde Park London: the first "World's Fair", an event which celebrated the advances of the industrial age, and whose influence on industry, engineering, science, architecture and society was to resonate globally for decades, acting as it did as the motor for the quickening technological advances of the late 18th and early 19th centuries. While the profit generated from the 6 million visitors allowed for the construction of London's Science Museum, Natural History Museum and neighbouring Victoria and Albert Museum.
If any of the numerous architecture and design exhibitions opening globally in May 2017 will become quite so pivotal remains to be seen. Our top five can be found in Hamburg, Atlanta, Amsterdam, London and Stuttgart.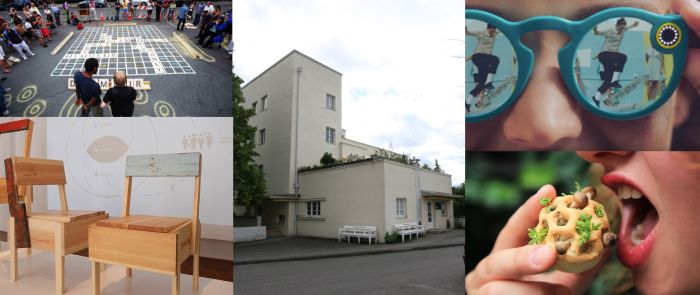 "Food Revolution 5.0 Design for Tomorrow's Society" at Museum für Kunst und Gewerbe Hamburg, Germany
As we've noted before, little winds us up more than a self-proclaimed "Foodie". When it comes to society's relationship with food we're very much on par with the Roman philosopher Seneca, "May gods and goddesses destroy those whose luxury passes the bounds of an empire that already awakens envy. They seek to stock their pretentious kitchens by hunting beyond the Phasis, and they aren't ashamed to ask for birds from the Parthians, from whom we have not yet exacted vengeance. From all sides they collect everything familiar to a fastidious glutton … Poor wretches, whose appetite is only tempted by expensive foods!"
While people die everyday because the don't have enough to eat, others treat eating as an "experience." An "experience" which "food designers" aim to intensify. Come on people! Think!
Where designers should be involving themselves with food is ensuring its supply is secured, democratic, affordable and nutritious. The exhibition Food Revolution 5.0 Design for Tomorrow's Society at the Museum für Kunst und Gewerbe Hamburg promises to explore just how designers, along with architects and scientists, can ensure that in our future world of dwindling resources there is always enough to eat. The one thing that does make us a little nervous is that the main exhibition image is a 3D printed concept…. and obviously we need 3D printed food like we need autonomous cars…..
Food Revolution 5.0 Design for Tomorrow's Society opens at Museum für Kunst und Gewerbe Hamburg, Steintorplatz, 20099 Hamburg on Friday May 19th and runs until Sunday October 29th
"Designing a Playful City" at Museum of Design Atlanta, Georgia, USA
Plato argued that "by means of their games, we should endeavour to turn the tastes and desires of the children in the direction of that object which forms their ultimate goal"
Charles and Ray Eames were of the opinion that "Toys are not really as innocent as they look. Toys and games are the prelude to serious ideas."
For the Design Museum Atlanta, creating spaces in contemporary cities where children can play safely is important for the healthy development of both child and city.
In addition to a focus on the situation, and possibilities, in Atlanta, Designing a Playful City also promises to take an interactive look at examples from other cities as part of a wider discourse on how play can be integrated into urban spaces, and why that is important for children and adults alike.
Yes it is curated by a board member of PlayAtlanta and the International Play Association, and so, yes, will, we presume, be more presentation than exploration, but we feel none the less valid for that fact.
Designing a Playful City opens at Museum of Design Atlanta, 1315 Peachtree St. NE, Atlanta, Georgia 30309, on Sunday May 21st, and runs until Sunday September 3rd
"Solution or utopia? Design for refugees" at the Stedelijk Museum Amsterdam, Holland
While there are those, sadly often in positions of real power, who argue that the best thing designers and architects can do in context of refugees is develop very high walls, there are much more responsible, humane and constructive steps creatives can undertake to assist and aid refugees.
Or at least creatives increasingly suggest there is.
With their exhibition Solution or utopia? Design for refugees the Stedelijk Museum Amsterdam promise not only an exhibition of recent projects and initiates created for, by and with refugees, but also, and arguably much more importantly, a platform for a discussion on what designers, architects, but also industry and commerce, can contribute to the problems rising from large scale migration. How we can stop said large scale migration is another question. A question to which the answer isn't walls and barbed wire fences.
Solution or utopia? Design for refugees opens at both the Stedelijk Museum, Museumplein 10, 1071 DJ Amsterdam and at Lola Lik, H.J.E. Wenckebachweg 48, 1096 AN Amsterdam on Saturday May 20th and runs until Sunday September 3rd.
"California: Designing Freedom" at the Design Museum, London, England.
""Designed in California" is the new "Made in Italy"" proclaims the London Design Museum, a bold claim, and one which forms the basis of their new exhibition California: Designing Freedom.
Staring in the 1960s, and the drug-ridden hippy culture which made itself so comfortable on America's west cost, the Design Museum promise an exploration of how Californian based architects, film makers, engineers, graphic, software, interface and product designers have influenced the way we approach, view and interact with the world around us. And for all how they have helped promote individual freedom. Or, we would add, corporate dependency and subjugation.
Focussing on five sectors – movement, perception, expression, production and community –  and featuring some 200 objects, objects as varied as, for example, autonomous cars, LSD, Emory Douglas's Black Panther posters, open source toolkits or documentation of the early Burning Man festival, the most interesting aspect for us is the less the romanticising the Design Museum press and promotional material is lost in, and much more the background question: is California's interpretation of personal freedom always such a positive thing? Or perhaps better put, are we not rapidly approaching the Dead Kennedys' dystopian Californiaization, "Zen fascists will control you, 100% natural, You will jog for the master race, And always wear the happy face"
California: Designing Freedom opens at the Design Museum, 224-238 Kensington High Street London, W8 6AG on Wednesday May 24th and runs until Sunday October 15th
"Kuehn Malvezzi – Transsolar: Architektur als aufführung und echte kooperationen" at the Architekturgalerie am Weißenhof, Stuttgart, Germany
That architects develop our urban spaces is widely understood, that they often do this autonomously and according to their own concept, is also understood, if the significance of that isn't always understood. With the exhibition Architektur als aufführung und echte kooperationen – Architecture as a play/staging and real cooperation – Berlin based architects Kuehn Malvezzi and the international climate engineering concern Transsolar aim to promote a more cooperative and participatory approach to architecture and urban planning. And for all one which sees a move away from the fixed architectural object as exemplified by the drawing, and towards what they refer to as a "script", a more fluid and flexible approach, and one which according to the organisers is more responsive, democratic and inclusive.
Yes, the word "script" does set our teeth on edge, but new approaches to how our towns, cities and urban spaces are developed are needed if we are to meet the challenges of our evolving society, and for all the cultural, social and demographic challenges. How, if, such a process can, should, be made more cooperative is currently an important question in defining this new direction, and, and despite the use of the word "script", Architektur als aufführung und echte kooperationen sounds like being an interesting contribution to that debate.
Kuehn Malvezzi – Transsolar: Architektur als aufführung und echte kooperationen opens at the Architekturgalerie am Weißenhof, Am Weißenhof 30, 0191 Stuttgart on Thursday May 25th and runs until Sunday July 9th