Stockholm Furniture & Light Fair 2018: High Five!!
One of the most striking aspects at Stockholm Furniture and Light Fair is the way the various Scandinavian manufacturers try to impress how old they are. Arguably on account of the sheer concentration of Scandinavians at the region's premier furniture and lighting trade fair, you will rarely find so many in one place at one time, all seem locked in a battle to claim the status as oldest, to lay claim, as it were, to being the elder statesmen of the guild.
Established in 1964 screams one stand. Founded in 1907 another. Since 1869. Etablerad 1724. Constituted in 1079 in the reign of Harald the Soft. Et cetera. Et cetera. Et cetera. Further and further back into the ether of time.
One suspects the reason is that given the relative similarity of the products on display, each is keen to show that they have been doing it longer than the rest.
Yet the question isn't who has been doing it the longest, but who is doing it best.
Or perhaps better put, elsewhere the question wouldn't be who has been doing it the longest, but who is doing it best; but we're talking about the furniture industry, an industry which in its heart has always been about taking inspiration from others. Something which increasingly means a focus on a few universally accepted archetypal "Scandinavian" forms: and not just amongst Scandinavians, we also spotted a few non-Scandinavians trying their utmost to claim a northern heritage.
Which shouldn't be taken as meaning that all the stands were carbon copies of one another, that all had identical portfolios and nobody was trying new things. Nor that there weren't objects of merit on show. It doesn't. Far from it. Such isn't our intention. Should however be taken as meaning that throughout the fair one is and was regularly greeted by variations on a very small number of basic forms. If you will by the fundamental geometry of understandings of Scandinavian design.
Yet, and much as we argued in our post from IMM Cologne on the 118 by Sebastian Herkner for Thonet, for us things get difficult when the object, the form, becomes the main focus of attention, rather than the thinking, processes and traditions which led to the object, the form, achieving its exalted position. And considerations on such were, for us, too infrequently on display. Or at least drowned out by the shouting
As ever we may have missed things, we're certainly not claiming totality, not least because our list is by necessity limited, with that in mind, and in no particular order, our Stockholm Furniture and Light Fair 2018 high five! six!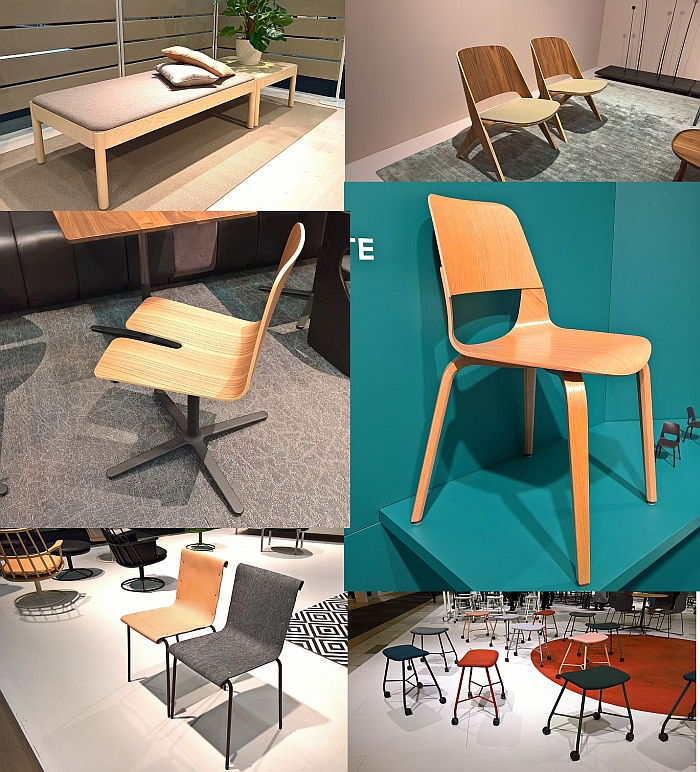 Motus by Marie Oscarsson for Materia
Yes, it looks like a zimmer frame. Yes, it moves like zimmer frame. Yes we are getting older, our joints and bones hurt when we move, and we are definitely thinking more regularly about zimmer frames. But that's not what drew us to Motus
Much more it was the baffling simplicity of the object.
Available in a low or a higher, perching, version Motus is a stool you could sit on for a long time, yet we see Motus principally as that universal temporary office seat; either, for example, for project work when people are moving between different stations, be that as individuals or a group, or when a colleague calls you to them to go over something. And you know its going to take longer than you want to stand for.
Although featuring a seat large enough to convince of its stability Motus barely exist as an object, not just on account of its reduced design but because of its obviousness, banal as it sounds, you know what it does, know how to work it, know it's capable, don't give it a second thought.
And in such an object, there is no more you can ask. That the mobility is good, responsive and unrestricted and that the object never for a moment takes itself too seriously, is however a boon.
Gap Chair by Osko+Deichmann for Blå Station
How do you stack chairs with a four foot star base?
Go on, how?
A four foot star base?
You're thinking about the base aren't you.
Berlin based studio Osko+Deichmann, didn't. They thought a little more abstractly and developed the Gap Chair for Swedish manufacturer Blå Station: their solution being the, yes, gap/slit in the seat, a gap which in no way imparts or otherwise distracts from the seating quality, yet does allow the stem of the base to slide in and thus the chairs to be stacked.
It's that easy.
Equally as pleasing is the unobtrusive knob which can be attached under a table and onto which the chair can be hung thus aiding cleaning in catering establishments/public spaces.
And that is arguably where we imagine the Gap Chair going principally going to find employment, in contract work rather than domestic.
Not that we can't imagine it working perfectly well in the home, just most people don't need the functionality. Featuring a moulded plywood shell a base complete with swivel function, the Gap Chair is not only a very, very nice piece of design thinking but a very pleasingly realised object, aesthetically, functionally and formally.
Skissernas by Johan Oscarson & Jonas Elding for Källemo
Originally developed by architects Johan Oscarson & Jonas Elding for the Skissernas Museum in Lund, the Skissernas chair for Källemo is as easy an object as one could imagine: a piece of form felt attached to a steel tube frame.
That a seat and backrest can be made from tensed material isn't new, it is after all the basis of the Eames aluminium chairs, it's just not something that designers tend to do very often. Arguably because off all the considerations, and troublesome questions, concerning durability.
We only sat in it for a few minutes, can't therefore discuss the statics beyond that; don't doubt for a second that Johan Oscarson, Jonas Elding and Källemo have done their homework and are sure there will be no issues. A confidence we also take from experiments we know other designers have undertaken. And which worked fine.
Physically lighter than its visual mass, the Skissernas chair is nevertheless a very minimal object, the frame being reduced to a bare necessity and the backrest and seat being from felt. Thanks to the construction the Skissernas chair gives ever so slightly when you move creating a very pleasing and natural sitting experience.
In addition to the form felt version the Skissernas chair is also available in a leather version. We just prefer the form felt version.
Frigate by András Kerékgyártó for Plydesign
While there is, yes, a certain inevitability about a chair designed by Budapest based designer András Kerékgyártó making it into these pages, it still has to prove itself.
Something we'd argue Frigate does
As previously noted, Plydesign started out as a sub-contractor manufacturing moulded plywood/veneer components for the European furniture industry, before in 2014 deciding that given their technical expertise, with the right design competence they could also produce their own chairs. András was hired to provide that design competence and among his first initiatives was to develop a moulded plywood leg/base system onto which could be mounted a series of interchangeable seats. A very nice, economic and logical approach to the commission.
Terms which apply equally to Frigate
Considering that there was little new that could be done with the one piece moulded plywood seat shell, András decided to experiment with the two piece shell, the result is a conventionally 2D moulded seat attached to a 3D moulded backrest, and therefore an object which brings the comfort of an anatomically formed backrest at a lower cost than when the whole shell is 3D moulded. And therefore as economically efficient as it is structurally.
A lightweight, compact yet very self-confident, stable and communicative piece of work, being as it is an András Kerékgyártó chair you needn't worry about the details of the curves or the clarity of the line, András has done that already…..Of that you can be certain.
Wakufuru by Johan Kauppi for Glimakra
Glimakra produce acoustic solutions, and Wakufuru is such an acoustic solution. Although we noticed that second.
First we noticed the construction principle.
Absurdly simple, as in absurd, and equally efficient, the solution developed by Johan Kauppi not only allows for very pleasing, rounded, almost naive objects, but means that it is a system: any legs can be fitted to any tops to create the desired object. As an office/facility manager all you need is a selection of legs, a selection of tops and job's a good 'un
And on account of the acoustic padding under the bench and table tops, job's an even better 'un.
It can be all too easily to forget that noise which is reflected back into an office/cafe/public space from underneath your furniture: Johan Kauppi and Glimakra didn't, acoustically insulated the undersurface and in doing so have realised a universally applicable range of furniture we see no reason to doubt offers acoustic effects every bit as pleasing as the physical form and construction principle.
Lavitta Lounge Chair by Poiat Studio
Although as a work the Lavitta Lounge Chair has a few formal similarities to 1950s upholstered side chairs, it is very much its own object.
Established in 2010 as an architecture and interior design office in Helsinki, in 2014 Poiat Studio a.k.a Antti Rouhunkoski and Timo Mikkonen decided to develop their own furniture; the first object was the Lavitta Chair, a dining chair, the Lavitta Lounge Chair is, as the name cleverly implies, a further evolution of that model.
A satisfyingly proportioned, formally inormal object crafted from moulded plywood and based around a deceptively simple construction principle, the Lavitta Lounge chair presents a very open character, both structurally and personally: it positively invites you to sit down and when you do the pleasingly inclined seat and back rest coupled to the natural buoyancy of the object provide for a very high degree of seating comfort.