Stockholm Furniture Fair 2023: Say Hej! to… Nychair X Rocking by Takeshi Nii & Makoto Shimazaki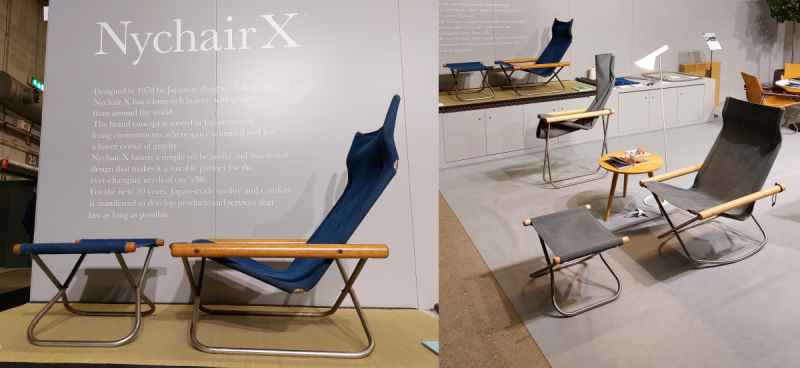 Born in Tokushima, Japan, in 1920 as a scion of long line of Kendō equipment manufacturers, in the course of the 1950s Takeshi Nii increasingly became a handcraft practitioner, primarily in wood, and subsequently moving to furniture, for all chairs, a fascination with chairs that, as best we can ascertain, and if our Japanese is as good as we hope it is, was inflamed by post-War Danish chair design, and for all by Peter Hvidt and Orla Mølgaard-Nielsen's 1950 AX chair for Fritz Hansen; and which motivated Nii to attempt to design and manufacture a chair "like the curry rice everybody loves". Which, we'd argue, is a thoroughly excellent basis for developing a chair concept. And a curry rice recipe that Takeshi Nii developed in collaboration with Makoto Shimazaki, a cook designer who following his graduation from Tokyo University of the Arts had travelled to Denmark in 1958 where he continued his studies at the Kongelige Danske Kunstakademi, that high bastion of Danish furniture design education, and where alongside his professor, Ole Wanscher, he also became acquainted with the likes of, and one imagines amongst a great many others, given where he was and when, Arne Jacobsen, Poul Kjærholm, Børge Mogensen and also Hans J Wegner whom he appears to have developed a particularly strong friendship with and fascination for. And one also presumes he would therefore also have met Peter Hvidt and Orla Mølgaard-Nielsen, it seems unavoidable. Before returning to Japan in 1960 to continue his career as a designer and a professor.
The result of Takeshi Nii & Makoto Shimazaki's culinary experimentation is and was the Nychair X, a work launched in 1970 and which today with its mix of metal, wood and sailcloth, still exudes a feeling of the late 1960s, yet isn't caught in the late 1960s, is very much with you in the here and the now, is very much a 21st century creation and position. A work whose low armrests not only very neatly frame the chair, and very neatly help visually lighten the chair through confusing your placement of the chair's borders, but are also highly functional as rests for the arms, but won't get in the way as you reach for your drink, your biscuits, your phone, your whatever is on the table next to you. A work whose chunky wooden armrests are not only tactile, satisfying to hold, but in their chunkiness very pleasingly help bequeath the chair a visual permanence and stability; a physical permanence and stability very much given by the metal and sailcloth, but not indicated, not articulated, by the metal and sailcloth. A work that is foldable via a simple process for easy storage, not irrelevant in terms of 1970s and 2020s ever more compact apartments, is self-supporting when folded, weighs in at just 6.5 kilos and is supplied in a compact flat-pack form for self-assembly. A work we forgot to ask if it's suitable for outdoor use, but we don't think is, are fairly certain it's indoor only, which clearly would be missing an opportunity. A low down work that allows for a very pleasing sitting comfort and a very supportive sitting experience. And a low down chunky armrested work that for us, is most satisfyingly expressed in the rocking version, a chair equipped with a very subtle, measured, delightful, gratifying rocking action, one effortlessly controlled with almost non-existent leg movements, and which once running largely looks after itself, leaving you free to concentrate on whatever else it is your doing.
We also like the fact that the "Ny" of Nychair X is phonetically both Takeshi's surname, Nii, and the Danish for new, ny. Which is the sort of joyous wordplay that will always tickle us. If you can thereby read a joint Japanese/Danish heritage in Nychair X, or if you believe that "Ny" was just an amusing connection that arose when trying to name the object, is something we'll leave you all to decide for yourselves; but for our part, viewing Nychair X before we knew about Shimazaki's involvement and about Nii's fascination with 1950s furniture from Denmark, we were definitely seeing a stereotypical 1960s bearded Dane eating their muesli in it, or their curry rice, which confused us greatly, not least because with its low seating height, transience, universality, stability and unassuming self-confidence it can be so easily rooted in the long (hi)story of Japanese interiors. And so, yes, we'd see an argument to be made that without Denmark it would have been a very different curry rice recipe. In which context we'd also throw into the mix Verner Panton's mid-1950s Bachelor Chair, a collapsible construction in metal and sailcloth, which presumably Shimazaki would have aware off, add a couple of Kendō shinai to a Bachelor Chair and you're well on your way to Nychair X. And Panton's Bachelor Chair is very much a contemporary reimagining of Kaare Klint's 1930s collapsible canvas and wood Safari Chair, as arguably is Nychair X, albeit a re-imaging in Japanese, in context of Japan. And with thoughts of the folding director's chair. Additionally we'd throw in Børge Mogensen's 1958 daybed, a work relaunched at Stockholm 2020 by Carl Hansen & Søn as the BM0865 Daybed, a work unquestionably inspired by Japan and Japanese interiors and Japanese sandals, if, and assuming all the dates are right, developed before Makoto Shimazaki arrived in Copenhagen. And we'd throw in Katsuhei Toyoguchi's early 1960s Spoke Chair for Tendo, a low down Japanese Windsor, and while the Windsor chair, concept, framework, didn't originate in Scandinavia it is intimately associated with Scandinavia, not least with post-War Denmark; and a Toyoguchi with whom Nii also appears to have been in close contact. As he also apparently was with Isamu Kenmochi whose woven rattan seating wouldn't look out of place on the helix of design in Denmark. And thus as a work the Nychair X does provide an excellent impetus for, and access to, wider investigations on the post-War Danish-Japanese design dialogue.
While being a thoroughly satisfying and rewarding and engaging chair.
And a delicious, and very, very, moreish, curry rice.