2010 Designer Furniture World Cup: Finland 2-France 0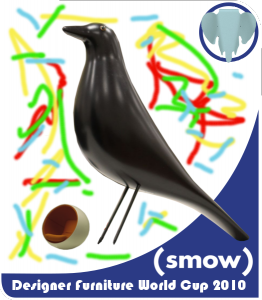 After the strenuous match against Alexander Girard, France decided to rest Ronan and Erwan Bouroullec for the match against Eero Saarinen.
Their replacement, the enfant terrible of contemporary French design Philippe Starck however failed to match the old Finnish master; too often Philippe Starck strove forward with fairly predictable and poorly considered approaches.
Eero Saarinen was able to make use of the gaps produced by Philippe Starck to good effect scoring with his Tulip Chair and a pedestal table for a thoroughly deserved 2:0 victory
The Group D table and all Group D results can be found here.