Orgatec Cologne 2016: Richard Lampert
Back in February we spoke with Richard Lampert and he told us he was planning exhibiting at Orgatec.
Had a few ideas he said.
Boy, did he have ideas………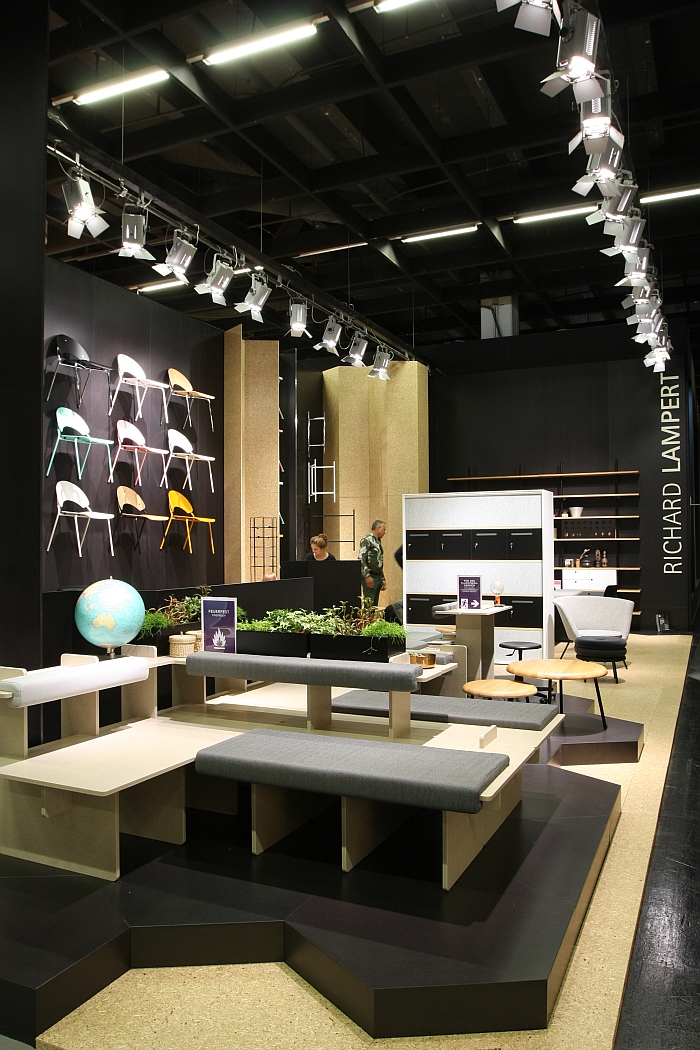 Orgatec Cologne 2016: Richard Lampert
Established in Stuttgart in 1993 the first product in the Richard Lampert portfolio was Eiermann table frame, and thus, in many respects, the company began as an "office furniture" manufacturer. If largely furniture for architects' offices. The great architect's table frame quickly establishing itself primarily with those who strove to follow in his footsteps.
Over the intervening decades the Eiermann frame has not only successfully established itself in the offices of non-architects, but also in homes; an evolution reflected in the general progression of Richard Lampert's portfolio from the office to the home, and with the 2012 Living Outdoor collection, the garden.
Albeit an evolution which has progressed without ever losing sight of the office. That said, Richard Lampert last exhibited at Europe's largest office furniture trade fair in 2008, thus a return was arguably long over due.
Amongst a presentation of objects new, established and re-worked three projects in particular caught our attention
Eiermann Acoustic Elements
Egon Eiermann's 1953 table frame is the most ridiculously simple piece of design. Yet exactly because as an object it is so simply conceived and so logical and considered in its realisation, it possesses an almost sublime versatility. Something Richard Lampert perfectly demonstrated at IMM Cologne 2016 with the launch of the Eiermann 3 Trestle by Alexander Seifried, an evolution of the concept and one every bit as logical, and logically simple, as Eiermann's original.
At Orgatec 2016 Richard Lampert continued this evolution with two equally ridiculously simple innovations.
While there is nothing particularly complicated in placing two Eiermann desks next to each other to create an island, there is also nothing particularly constructive in doing such. Or wasn't. For thanks to Richard Lampert's new connecting element Eiermann desk islands not only receive a new elegance, but through the thereby realised cable/charger/whatever storage space, increased functionality. Yes there is currently an Eiermann cable trough available, but for us the new connecting solution, slipping as it does over the top the frame legs and thus holding the tables at a fixed distance from one another and bringing a formal tension to the whole construction, is somehow not only more logical, but also a lot more satisfying. Shame we forgot to note what it is called.
In addition the trough also neatly allows for the positioning of Lampert's new acoustic panel as an inter-desk screen. Specially developed for and by Richard Lampert the acoustic elements are every bit as reduced and reserved as the table frames: and in the U-formed "hood" version completely change not only the optic of the Eiermann desk but also the character. It ceases to be the open, communicative object it was and instead is something private and reserved. Which is a variation on mood we all, and indeed, every office, needs. As presented at Orgatec 2016 the acoustic hood was still a work in progress, still a few steps short of being a product; but when it is finished it will be a very important addition to the Eiermann collection. Of that we are certain.
Frog Chair by Herbert Hirche
Herbert Hirche is unquestionably the great forgotten Bauhäusler. And would be even more so if Richard Lampert didn't invest such passion and energy in nurturing the legacy. Why that is important is perfectly demonstrated by the Frog Chair. Designed by Herbert Hirche in the 1950s, and briefly available for a couple of years in said decade, the obvious highlight of the Frog Chair is the backrest. Not only in that it formally distances itself from all other multi-purpose chairs, brings a new optic into public and/or domestic spaces, but that it does that with such a self-confident grace and in the most satisfyingly logical manner – providing as it does backrest where one needs it in such a chair, and not providing it where it would be superfluous. In addition, and we believe it is related to the backrest, but aren't certain, however there is something about the Frog Chair that makes us think it is a folding chair. It isn't. But we really like the fact that it makes us think it is. We like the deception, as it implies a transposing of forms. As if the original idea came from another typology of chair, Hirche translating it into the Frog. But for all, and beyond such idle postulation, with its pleasingly familiar unfamiliarity and untroubled aesthetic the Frog Chair is just another delightful reminder of what a talent Herbert Hirche was.
Pip by Daniel Kern
In our Orgatec Cologne 2016: High Five!! post we noted of Pip that "we really liked the variety of different surfaces that Daniel's intelligently conceived system makes available, and the wide variety of uses they allow"
And that remains for us the defining feature of the work: the ability to construct a seating/lobby system which allows for different forms of use, in parallel and without restricting or limiting the others. Everyone can have their space within the space.
Richard Lampert is obviously very keen to extol the fireproof nature of the product and thus its usability in areas designated as fire escapes, or elsewhere in public buildings where particularly strict fire regulations prevail: unquestionably important, but you can only use that which is functionally relevant.
And Pip is.
A plug'n'play system which unashamedly integrates its construction principle into its aesthetic, Pip's flexibility is ably supported by its very open character, its visual lightness and the intelligently considered cushions and backrests. While the fact that the gypsum fibreboard from which it is crafted can be painted, coated, printed or even veneered, allows it to be matched with any existing interior design and/or corporate identity concept.
HFBK Hamburg graduate Daniel Kern was until recently part of the Moormann Design Team before establishing his own studio in early 2016.
Pip is a most encouraging start.