Light + Building Frankfurt 2018: High Five!!
While it is generally the case that the development, evolution, of product design is dependent on the development, evolution, of technology, such is particularly the case in context of lighting design: ever since a burning stick was first employed to create a relaxing evening atmosphere in a neolithic cave, technological developments have been the driving force behind the development of lighting design, be that formally, functionally or technically.
The nature of Light + Building Frankfurt, the fact that it is much more of case of "Light in and around Buildings", means that the majority of the projects presented are about technical lighting in architectural contexts, and in terms of technical evolution most manufacturers are atop of the game: demonstrating technical competence being a key element in any lighting manufacturers' self-image. Does however by necessity mean that often the required functionality is largely pre-defined by the very specific nature of the usage, while the form is in many cases irrelevant.
A small section of Light + Building does however present objects of more freer nature, and there one does/could find a few design led projects which in addition to adopting technological innovation approach new formal and functional solutions and thus new understandings of what lighting can/should be. As ever we've not seen everything, have invariably missed one or the other gem, apologies all-round, but with that in mind, and in no particular order, our Light + Building Frankfurt 2018 High Five!!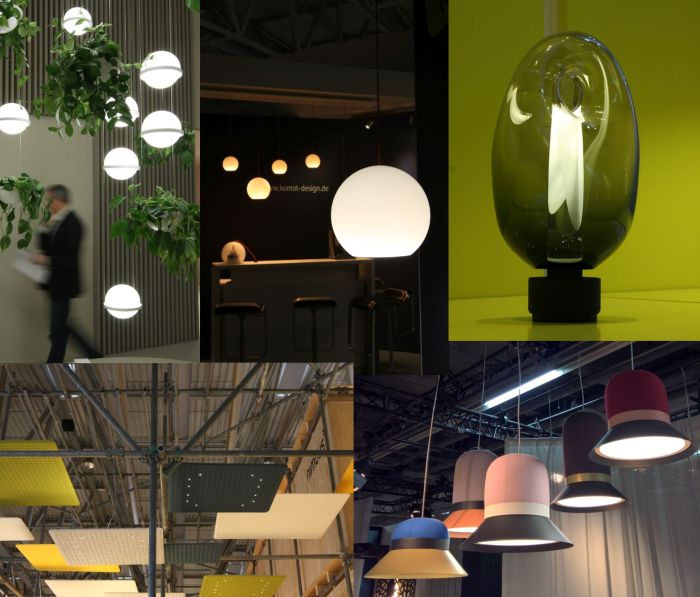 KOR Black by Martin Tony Häußler
We first saw KOR by Martin Tony Häußler at the Kunsthochschule Kassel Rundgang during our 2017 #campustour, and so yes, with KOR being presented in Frankfurt as a "Best of Best 2018" in Light + Building's Design Plus competition there is, yes, a certain inevitability about it appearing in this list; less because we're egoistic trumpet blowers who always want to prove how finitely ahead of the curve we are, and more because it is genuinely one of the most interesting, stimulating and rewarding pieces of lighting design we've seen in long time.
There is an awful lot of nonsense written about furniture or lighting objects being "sculptural": normally all the author means is that the work has an inherent form independent of its function, breaks with the functionalist mantra and thus is somehow considered more artistic. But would an Isamu Noguchi, a Harry Bertoia or a Finn Juhl recognise much of what is described as "sculptural", as "sculptural"? Arguably not. Because sculpture is a different process, a different approach, a different aura.
KOR is a very sculptural object. If we didn't know better we'd suggest that Martin had sculpted a confusingly simple glass object, and then one day a chum casually commented , "you could make a lamp out of that." Which Martin then did.
But we do however know a little bit better. We know, for example, it was created in context of the semester class Glasleuchte – Glass Lamp – at the Kunsthochschule Kassel. We know that its charm, grace and confusing simplicity arises from a very nice piece of very pleasingly realised craft manipulation coupled to some very logical design thinking. We know that the illumination is as quiet and uncomplicated as the glass body is complex and compelling. We know that unilluminated it is as charming and endearing as illuminated. We know that Martin has experimented with colours other than black. And we know that it currently producer-less. Why that is, we don't know.
Lighting Pad from Nimbus
While acoustic ceiling panels with integrated lighting aren't new, there is something particularly pleasing about the way Stuttgart based manufacturer Nimbus have realised their Lighting Pad. And about the fact that they have realised it.
Combing acoustic panels with lighting makes enormous sense, combing as it does two essentials of any contemporary room planning in one module, and thereby reducing the complexity of a given space down to a minimum, visually and operatively.
And in the case of the Lighting Pad combining the two areas of the Nimbus Group's areas of expertise in one module: Nimbus Lighting and Rosso Acoustic.
The Rosso Acoustic Pad system was released in 2015, the form of the acoustic pads realised so that they complimented existing Nimbus pendant lamp families, thus allowing for a logical, unobtrusive combination of lighting and acoustics.
Something that is even more satisfyingly achieved with the Lighting Pad, the LEDs sitting as they do in the recesses of the panel structure and therefore sitting logically and unobtrusive: as is the illumination, the lighting doesn't, as is so often the case with other such products, take over the lead role in the panel rather remains quietly busy in the background.
And being as they are part of a wider light/acoustic family the Lighting Pads can be integrated with either Nimbus lights or Rosso acoustic panels. Be that in context of a new project or added to an existing installation. And unobtrusively so.
In the necessarily fake atmosphere of a trade fair it wasn't possible to confirm or deny how well the Lighting Pads illuminate a given area, but we see no reason to doubt Nimbus's claim that the light supplied is focussed and perfectly sufficient for normal working, a version with lighting on the panel backs to allow indirect illumination is also planned.
Palma by Antoni Arola for Vibia
As we oft noted, the hanging plant pot is one of our favourite typologies of, we're going to say accessory design, delightfully disrupting as they do any given space.
Palma by Antoni Arola for Catalonian manufacturer Vibia adds a light to the plant pot. It is a stupidly simple trick, but a very satisfying one and one very, very pleasingly realised, technically and visually.
Particularly pleasing is the fact that although a dialogue unquestionably exists between the plant and light, they exist independently of one another, don't require one another, but sit very comfortably next to each other, each with its own validity and dignity. Much like two train passengers who may share the odd friendly word about the mounting delay, while diligently getting on with their own work.
Although arguably not for every occasion, often the hanging plant pot without lamp is more appropriate, Palma is certainly a consideration well worth making not only for all manner of office, hospitality and public space situations but we can well imagine it working just as elegantly in a great many domestic scenarios; the joy of disturbing a space in a variety of planes being as it is universal.
In addition to the pendant version Palma also exists as a ceiling version and a wall version, obvious and natural elements of a family of solutions, but for us lacking the necessity and logic of the pendant version.
BuzziHat by Alain Gilles for BuzziSpace
"I like to create works which have a very graphic character" Belgian designer Alain Gilles told us in our interview with him. With BuzziHat for BuzziSpace he has certainly achieved that. And achieved that in a most pleasingly irreverently accessible manner.
Based unquestionably on those ubiquitous, charmless oversized "factory" spotlights people like to place in a space to give an ooohhh so authentic "industrial" feeling in their spotless non-industrial reality, BuzziHat also looks a bit like Pharrell Williams' hat.
Featuring a powder coated metal brim and hat band, the band effectively and formally separates the lighting function from the acoustic: below an opaque diffuser for the 3000K LEDs, above the textile covered acoustic foam element, elements which, according to BuzziSpace, are suitable for absorption across low, mid or high tones. We see no reason to doubt that, cannot, obviously, confirm the efficiency, but acoustics is BuzziSpace's main business.
Available in four sizes the BuzziPharrell is a further fine example of playful, yet serious, acoustic element design by Alain Gilles and while not an object for every space does provide not only for a cheerful, light-hearted, while still reserved and formal, addition to any space, but also an alternative to those ubiquitous, charmless oversized……
COS from Komot
In German there is the idiom of the Eierlegende Wollmilchsau – the egg laying, lactating, wool bearing pig – a beast providing everything a farmer could want in one body.
COS from Munich based manufacturer Komot comes very close to being that. At least in terms of lighting design.
An inconspicuously simple glass ball suspended on a thin wire, COS is at first glance a run of the mill opaque glass pendant lamp; yet COS can, through, relatively more or less, intuitive actions, be raised and lowered, altered in its colour temperature from 2300 to 4000 kelvin, be turned on/off, be dimmed, be milked.
While the raising and lowering of COS functions via a technology developed by Komot founder Konrad Weinhuber and included elsewhere in the company's portfolio, everything else is a consequence of the thoughtful application of new possibilities, of new technology. Except the milking. We made that up.
In addition to what the lamp shade itself can do, the fact that all the technology is in said shade means that COS needs no ceiling mounting housing, and as such can be freely positioned, repositioned and rerepositioned along a track; and where several balls are on the one track they communicate, meaning that adjusting one adjusts all thereby allowing for an effortless application in any domestic or commercial location.
As a rule we're not into the overly complicated, like to keep it simple, we don't even consider a piece of fruit and/or veg in our G+T necessary: ice, gin, tonic, a splash more gin, drink, repeat; consequently a lamp such a COS should really, really annoy us.
However COS doesn't actively inform you of what it can do, doesn't come with whistles and bells, it is nothing more than a pleasingly proportioned, if otherwise, innocuous mouth blown glass lamp shade, and thereby that most basic, universal, analogue of all lamp forms. That COS is so much more is politely and elegantly reserved for the user.