5 New Architecture & Design Exhibitions for May 2019 – Bauhaus Special
More or less……
…..while 3 of the 5 have a direct connection to Bauhaus, 5 of the 5 are very much in the spirit of the attempts of inter-War architects and designers to reform architecture and design, to establish a new architecture and design for the new society, attempts in which Bauhaus played an important role.
And for those seeking escape from Dessau and Weimar, figuratively not physically, we refer you to our more general 5 New Architecture & Design Exhibitions for May 2019 recommendations….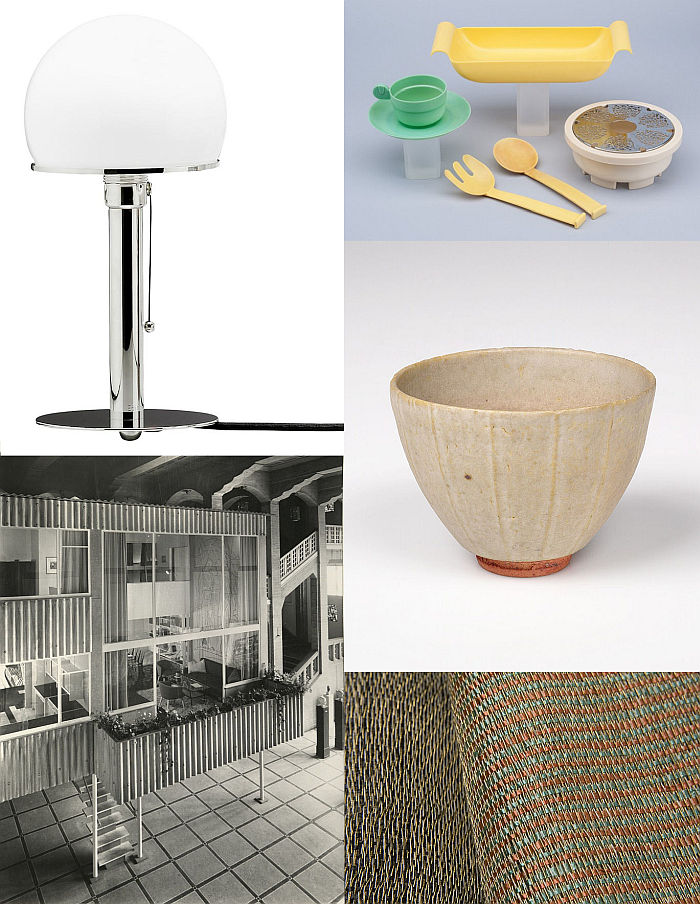 Developed in the metal workshop at Bauhaus Weimar in 1923/4 Wilhelm Wagenfeld's reduced, geometric lamp was christened the "Bauhaus Lamp" by Wilhelm Lotz in 1928. That it has only been produced and sold since the 1980s, always, for us, tending to underscore that in the immediate post-War decades Bauhaus wasn't afforded the same status, far less the same mythology, it is today. Indeed, in those years that Wagenfeld's most popularly known lighting design was being roundly ignored, other Wagenfeld lighting designs were being mass produced and installed in their thousands in the housing estates of West Germany; meaning that throughout the 1960s and 1970s thousands upon thousands of West Germans were living with Wagenfeld lamps, often without even knowing. Or caring. Which has got to be ironic.
With Wilhelm Wagenfeld: Lamps the Wilhelm Wagenfeld Haus Bremen promise a presentation of not only Wagenfeld's lighting design canon, from that first lamp in Weimar over further inter-War works for manufacturers such as Weimar Bau und Wohnungskunst and onto his post-War designs, including those for Bamberg based Lindner, but also a presentation of lighting designs by other designers through which they aim to explore how Wagenfeld's work informs and influences contemporary lighting designers.
Wilhelm Wagenfeld: Lamps opens at the Wilhelm Wagenfeld Haus, Am Wall 209, 28195 Bremen on Friday May 24th and runs until Sunday October 27th
"Women's Work" at Ditchling Museum of Art + Craft, Ditchling, England
As the 19th century ceded to the 20th craft production increasingly ceded to industrial production. Increasingly, but not completely, as the Ditchling Museum of Art + Craft aim to demonstrate. Focussing on female practitioners of the inter-War years such as, and amongst many others, Denise Wren, Katharine Pleydell-Bouverie and Catherine 'Casty' Cobb and craft disciplines such as stoneware, weaving, silversmithing or pottery, a central focus of Women's Work promises to be how the portrayed protagonists employed traditional craft processes, including vernacular processes of other cultures, in their pursuit of contemporary expressions and objects.
And thereby as an exhibition sounds like allowing for an insight into how those who promoted the primacy of craft over machine production in inter-War England understood the future they were contributing to. And, (hopefully also exploring) in how far they may have been correct.
Women's Work opened at Ditchling Museum of Art + Craft, Lodge Hill Lane, Ditchling, East Sussex, BN6 8SP on Saturday May 4th and runs until Sunday October 13th
"bauhaus in Hamburg. Artists, Works, Traces" at the Freie Akademie der Künste, Hamburg, Germany
A popular thread running through the official Bauhaus 100 programme is explorations by towns, cities and regions of their own links with Bauhaus; which yes, on the one hand does sound a little cheap, an all too obvious attempt to bathe oneself in Bauhaus's centennial glow. But does also allow for new perspectives on not only Bauhaus but the development of architecture and design in the post-War, post-Bauhaus decades, taking as it does Bauhaus out of its familiar contexts and biographies and exploring it in frameworks that often only have the most cursory of links with Bauhaus.
With bauhaus in Hamburg the Freie Akademie der Künste aim to explore both the post-War and inter-War connections between the city and the schools; the inter-War relationships as represented by those Bauhäusler who were active in the city, such as Alfred Ehrhardt, Fritz Schleifer, Naum Slutzky or Hedwig Arnheim, one of the few native Hamburgers to study at Bauhaus, but also the likes of Max Sauerlandt, who following his appointment in 1919 as Director of the Museum für Kunst und Gewerbe in Hamburg collected and exhibited works by Bauhäusler and associated progressives and thus helped disseminate the new ideas; and who thus in many regards provided continuation from his predecessor Justus Brinckmann who was a leading protagonist in the establishment of Art Nouveau. In Hamburg and beyond.
And the post-War Bauhaus in Hamburg as expressed through those ex-Bauhäusler who came to Hamburg to teach at the city's art school, including Otto Lindig, Gerhard Marcks or Gustav Hassenpflug; and which thereby, should, allow for an exploration of how the ideas and ideals of the Bauhauses were not only mediated in Hamburg, but enacted and interpreted. Which can only help deepen our understandings of the schools' legacy and relevance.
bauhaus in Hamburg. Artists, Works, Traces opens at the Freie Akademie der Künste, Klosterwall 23, 20095 Hamburg on Thursday May 9th and runs until Sunday June 30th
"Bauhaus& | Modern Textiles in The Netherlands" at the TextielMuseum, Tilburg, Netherlands
As we're noting a lot this year, for all its emancipation Bauhaus was a relatively conservative institution, one which although allowed women to enter, didn't necessarily treat them as equals. Something underscored by the so-called Frauenabteilung, Women's Department, that which was, and later became officially known as, the weaving workshop. Women didn't work with wood or metal, women wove. And while it may not (always) have been a preferred occupation, those who were employed in the Bauhaus weaving workshop not only helped develop weaving technically and aesthetically, but through their competence and dedication also helped make the weaving workshop one of the more commercially successful Bauhaus workshops.
With Bauhaus& | Modern Textiles in The Netherlands the TextielMuseum aim to explore the influence of the Bauhaus weaving workshops on the development of Dutch textile design, for all through four Bauhäusler, Kitty van der Mijll Dekker, Lisbeth Oestreicher, Otti Berger and Greten Neter-Kähler, who were, to varying degrees, active in Holland and/or cooperated with Dutch manufacturers. And thereby an exhibition which in addition to allowing for both an exploration on the developments of understandings of textiles in Holland and the influence of Bauhaus outwith its borders and direct field of influence, also allows for an introduction to four Bauhäusler who one doesn't normally encounter, and which, and as we are also noting a lot this year, is important.
Bauhaus& | Modern Textiles in The Netherlands opens at the TextielMuseum, Goirkestraat 96, 5046 GN Tilburg on Saturday May 25th and runs until Sunday November 3rd
"nützlich & schön. Product Design from 1920 to 1940" at the LVR_Industriemuseum, Peter-Behrens-Bau, Oberhausen, Germany
If Women's Work at Ditchling Museum of Art + Craft represents crafts' attempts to shape modern society, nützlich & schön is very much an alternative position: the rise and relevance of mass machine production in the inter-War decades.
Promising an exhibition of some 500 objects across a wide range of consumer good genres, including, and amongst others, kitchenware, tableware, toys, clothing or transportation, nützlich & schön aims to explore both the nature of the developments of the period, be they aesthetic, technical, economic or material, and how the designers of the period sought to develop not only new formal expressions, but new product genres, appropriate for both times and materials. And by extrapolation, the consequences of the new forms and new objects for the future development of society, in how far the inter-War architects and designers helped develop a society, and consumer goods, that were/are nützlich & schön: practical and attractive.
nützlich & schön. Product Design from 1920 to 1940 opens at the LVR_Industriemuseum, Peter-Behrens-Bau, Essener Straße 80, 46047 Oberhausen on Sunday May 19th and runs until Sunday February 23rd