5 New Architecture & Design Exhibitions for October 2019
While it is important, and relevant, that the centenary of the opening of Bauhaus Weimar is used to delve a little deeper into the (hi)story of both the institution and inter-War Modernism, design and architecture is more than Bauhaus.
Thus following on from our October Bauhaus/inter-War Modernism focussed new exhibition recommendations, five more general, if anything but humdrum, architecture and design exhibitions opening in October 2019 in Groningen, Frankfurt, New York, Stockholm and Weil am Rhein…..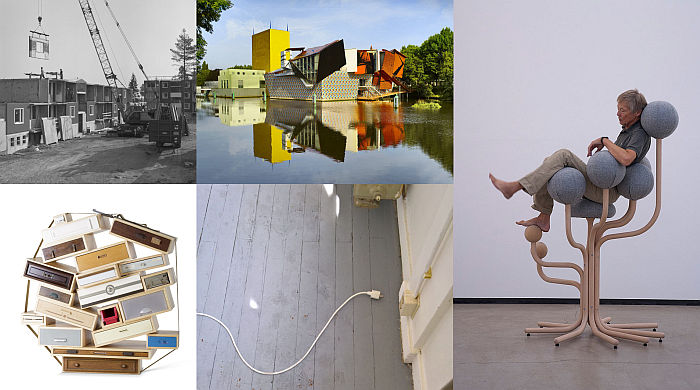 A leading protagonist of 1970s Italian Radical Design, and an important architect of the path to Postmodernism, in the course of his career Alessandro Mendini published numerous texts on architecture and design, co-founded the Domus Academy Milan, realised one-off and limited edition design works, some of which he occasionally set on fire, and also cooperated on commercial projects with manufacturers from Alessi to Zanotta, in addition to developing a wide variety of international architectural projects including the Torre Paradiso in Hiroshima, the Discoteca Diedron in Crema and the Groninger Museum: a work completed in 1994 and for which Mendini sub-commissioned sections to Coop Himmelb(l)au, Michele de Lucchi and Philippe Starck; thereby, in many regards, creating a work which spanned the numerous moments of his career through contributions from some of those moments' leading protagonists, and architects Mendini himself admired.
To celebrate the work's 25th anniversary the Groninger Museum approached Alessandro Mendini in 2017 and invited him to curate an exhibition of his work: an offer he accepted and which, much as the building commission, he choose to realise through a presentation of his own works alongside works by other creatives, by architects, artists and designers he himself admired and who had/have inspired his work, architects, artists and designers such as, and amongst many others Henri Matisse, Theo van Doesburg, Gaetano Pesce or Gio Ponti.
And then in February 2019 Alessandro Mendini passed away in his native Milan aged 87. And thus while Mondo Mendini should still allow for a singular and individual retrospective of Alessandro Mendini, an entertaining and informative approach to understanding the man and his work, it also stands as a very personal celebration of one of the most interesting and original designers and architects of the 20th century. The Groninger Museum talk of it being "a colourful, dazzling riot of fine art, design and architecture": a phrase that could be use equally to describe both Alessandro Mendini and his Groninger Museum.
Mondo Mendini. The World of Alessandro Mendini opens at the Groninger Museum, Museumeiland 1, 9711 ME Groningen on Saturday October 12th and runs until Tuesday May 5th
"House of Norway" at the Museum Angewandte Kunst, Frankfurt, Germany
Norway is guest nation at the 2019 Frankfurt Book Fair and the city's Museum Angewandte Kunst have taken the opportunity to reflect on creativity in Norway. And why not?
Promising a presentation that stretches not only over several decades but over genres as diverse as, and amongst others, fashion, theatre, art, the latter being represented by both contemporary Norwegian artists and also previously un-exhibited drawings by Edvard Munch; and also by design as exemplified by, and amongst others, Regine Juhls, Grete Prytz Kittelsen, Peter Opsvik and the architecture of the likes of Joar Nango or Sverre Fehn.
While such a wide and varied presentation, a presentation we'd argue sounds less a House of Norway as more a whole housing estate, can by necessity provide only an overview; that overview sounds very much as if it will represent and enable a probable and realistic snapshot of 20th century Norwegian creativity, one which (hopefully) moves beyond the lazy stereotypes and Instagram trash, and for all one which should allow inspiration for more research on your own.
House of Norway opens at Museum Angewandte Kunst, Schaumainkai 17, 60594 Frankfurt on Friday October 11th and runs until Sunday January 26th.
"Energy" at the Museum of Modern Art, MoMA, New York, New York, USA
As the first law of thermodynamics teaches us, energy cannot be created nor destroyed, it can only be transformed from one form to another. And while our ability to transform energy has played a key role in the development of contemporary society, the somewhat unconsidered, reckless, egoistic manner in which we've undertaken such, and continue to undertake such, for all the releasing of the potential energy in hydrocarbons, is also responsible for many of our contemporary problems, for all contemporary problems environmental and climate problems.
With Energy the Museum of Modern Art, MoMA, New York aim to explore contemporary propositions and proposals that allow for a more sustainable and responsible relationship to and with energy; not only how we generate, employ and consume energy but how we source energy, a question that is becoming ever more acute as our unconsidered, reckless, egoistic approach to existing energy sources threatens to deplete the resources with whose help contemporary society has been built. Unless we manage to destroy life on earth first.
Energy opens at the Museum of Modern Art, MoMA, 11 West 53 Street, Manhattan, New York on Monday October 21st and runs until Sunday January 26th
"Flying Panels. How Concrete Panels Changed the World" at ArkDes, Stockholm, Sweden
UFOs weren't the only things flying through 1950s and 1960s skies, also concrete panels could regularly be sighted in flight as the post-War decades embraced industrial construction, for all as the basis for high-rise apartment blocks.
And that globally. Something that Flying Panels should tend to underscore through a presentation of some 60 modular concrete panel systems from six continents – we're admittedly unsure which of the seven is missing, we'd assume Antarctica. But you never know.
Beyond an array of strictly architectural and engineering based exhibits, Flying Panels also promises a presentation of poster art, paintings, films and toys related to prefabricated construction, and through which the wider social and cultural context of concrete pre-fab construction should be elucidated; and thereby an exhibition which promises not only to allow for much wider perspectives and understandings of modular prefabricated concrete construction, as both technical and cultural phenomenons, but also help focus attention on the current building industry, and contemporary, and future, industrial construction.
Flying Panels. How Concrete Panels Changed the World opens at ArkDes, Exercisplan 4, Skeppsholmen, 111 49 Stockholm on Friday October 18th and runs until Sunday March 1st
November 1989 in Weil am Rhein may not have been quite as dramatic as November 1989 in Berlin, but it was still a momentous month whose reverberations can still be felt: on November 3rd 1989 the Vitra Design Museum opened. And by way of celebrating their 30th the Vitra Museum Schaudepot explores, well, Design since 1989.
And thereby a year that although involuntarily selected, is also a deliciously fascinating starting point to explore design: the late 1980s seeing as they did the death throes of Postmodernism and the 1990s ushering in both more reflective understandings of design and also much more conceptual design, the latter perhaps most popularly exemplified by developments in Holland, for all the rise of Droog Design.
Promising a presentation of works by designers such as Tejoy Remy, Philippe Starck or Hella Jongerius, After the Wall promises to not only provide for an overview of the development of design since 1989, but also allow for an overview of aesthetic, material and technological developments since 1989, and evolutions in understandings of design's role and function in society and industry, the extension and broadening of the term "design" since 1989. And possibly provide an answer to question if there has been a design "-ism" since the flame of Potsmodernism waned…….?
And that, as we always note in context of the Schaudepot, in a space populated by over a century of furniture design history, thus allowing for ready, and times surprising juxtapositions and comparisons.
After the Wall. Design since 1989 opens at the Vitra Design Museum Schaudepot, Charles-Eames-Str. 2, 79576 Weil am Rhein on Saturday October 26th and runs until Sunday February 23rd.