5 New Architecture & Design Exhibitions for November 2020
Back in May we were faced with the decision as to whether to remain with the online exhibition recommendations we'd been carrying throughout the spring, or, given that ever more museums were re-opening, move back offline for our June recommendations.
And decided to move back offline, not least because "viewing an exhibition in a museum is the more satisfying experience, the more rewarding experience, the more enduring experience. And an important experience."
Ahead of our November recommendations we faced a similar choice. Travel, certainly international travel, is not only becoming increasingly difficult and of questionable responsibility, but in many regions the official advice is not to travel unless absolutely necessary; meaning while most museums are open, they are, in a purely practical sense, inaccessible for many. And so is compiling a list of offline exhibitions a meaningful undertaking? Is such a list sensible? Should we move back to online recommendations?
Yes. Yes. No.
And not just because museums are important cultural spaces, but primarily because most all museums are open……
…..or were while we were writing this. However, the rapidly developing nature of contemporary society meant that just before publishing this post it became clear that two of our five November openings will not be opening in November.
We've kept them in the list. Not because we couldn't change the list, not that we couldn't have substituted them for two others. We could. We're smow: quick, uncomplicated solutions is what we do, flexibility and spontaneity are our best friends, there is never a Plan B but always alternative options, no job is too big, no pup is too …. no, hang on, that's Paw Patrol.
We could have substituted them.
But didn't see why we should. Every month we scan hundreds of museums and galleries around the globe looking for interesting, relevant, recommendable architecture and design exhibitions, the five we present are those we consider to be the most interesting, relevant, recommendable. And no temporary lockdown closure changes that. And all going well, come December, all five will be open.
And now, returning to where our ready-for-posting text was on Friday morning……
……and also with the reminder that such a recommendations list shouldn't be understood solely as suggestions of locations to physically visit, but also as an impetus for your own study and research, for voyages of cultural discovery from your own sofa and/or desk. Most museum websites have in-depth descriptions of their exhibitions and the themes therein, often components of the exhibition are available online, and there will, almost always, be a catalogue that goes into more depth and detail than the exhibition; and so if an exhibition interests you, and you physically can't get to the respective museum, why not use the long autumn and winter evenings to explore on your own.
Our five recommendations for new exhibitions opening in November 2020, and five recommendations for a meaningful use of the long autumn and winter evenings, can be found in Frankfurt, Zürich, Jyväskylä, Oslo and Hamburg.
And as ever in these times, if you do feel comfortable visiting any museum, please familiarise yourself in advance with the current ticketing, entry, safety, hygiene, cloakroom, etc rules and systems. And during your visit please stay safe, stay responsible, and above all, stay curious….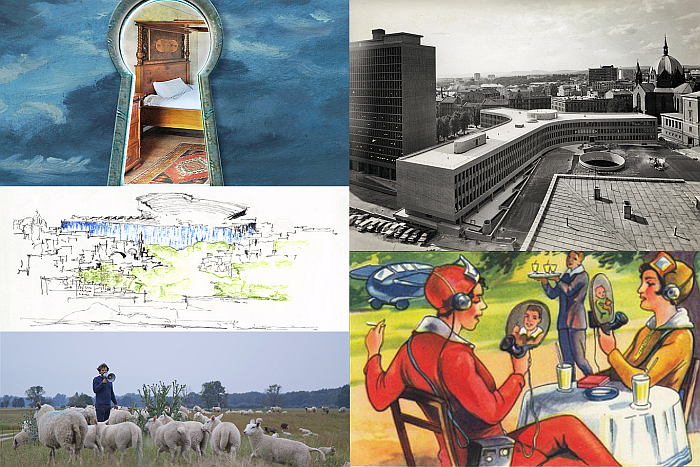 Flying cars, video telephones, augmented reality headsets… when one looks back through history our forbearers had some odd ideas…..
With a focus very much on the domains of communication and mobility that are the heart of the Museum für Kommunikation's understanding of itself, Back to Future – Technical visions between fiction and reality promises to take just such a look back at the ideas, understandings, hopes?, of and for future society developed in and by society past.
Exploring its subject in four chapters: Human optimisation, Limitless communication, Yearning for another world and Overcoming space and time…. and thus four very contemporary chapters, Back to Future should allow not only for reflections on how generations past understood how society should, must, develop, where developing technology could, should, take us; nor only provide a platform for reflection on how those understandings have matured, have become reality, or not, and the whats, whys and wherefores associated with that maturation; nor nor only only help us understand that human imagination is more often that not the driving force behind technological advance. But should also allow for more informed, more probable, reflection on our ideas, understandings, hopes?, visions, for the future.
And in doing so would tend to pose the question as to what are the ideas, understandings, hopes?, unique to our age, what visions are we, from the combined imagination of our contemporary society, offering future society…..? And is offering them flying cars really a pleasant, friendly, responsible action…..? Really…….?
Back to Future – Technical visions between fiction and reality was scheduled to open at the Museum für Kommunikation, Schaumainkai 53, 60596 Frankfurt am Main on Wednesday November 18th….Now will, in all probability, open in December. Once the new dates have been confirmed, we will update.
"Bed Stories" at the Landesmuseum Zürich, Zürich, Switzerland
…..oh stop it!! Honestly, what are yous like…..
In recent years, and for all as digital technology has become ever smaller and more mobile, ever more of us have, at least occasionally, worked from bed, a development that has lead some to argue is an indicator of a problem, an imbalance, in our contemporary society.
Whereby, one must remember that in centuries past the bedroom was, certainly amongst the upper and ruling echelons of society, very often not only an office but one of the primary reception rooms. And that across cultures and geography.
And so are we maybe not returning to a more natural use of the bedroom……?
Oh! for goodness sake! ….. will yous please grow up….
Promising a (hi)story of the bedroom since the 17th century as told through not only the evolutions and developments of the furniture to be found in bedrooms, but also through the clothing, both human clothing and bed clothing, and also the function of the bedroom in the home, in the family, in society, Bed Stories should not only provide for fresh, or least long popularly forgotten, insights into a rarely considered social as well as private space, a rarely considered cultural space, but also allow for more informed reflections on our own bedroom habits……
……yeah, yeah very funny….there is no point talking to some people…..!!
Bed Stories isn't opening at the Landesmuseum Zürich. Or at least not in November 2020. After publication of this post it was pulled from the museum schedule. We decided to leave it in…and it may reappear at some stage….
"The Dream of a Museum. Alvar Aalto's Museum Designs" at the Alvar Aalto Museum, Jyväskylä, Finland
Alvar Aalto developed his first musem project in 1928 for a local museum in Perniö, a project that remains unrealised. His last museum project was that for his own musem in Jyväskylä, a project completed in 1973. Between the two standing a further 11 museum projects, both realised and unrealised, and thus an ongoing occupation with museum planning and design that spans all periods of his career, all periods in the development of his formal, structural, material, aesthetic understandings, and thus his museum designs would appear to offer a concise yet comprehensive conduit via which to approach a better understanding of Alvar Aalto.
So, or similar, is how we like to think the exhibition The Dream of a Museum arose.
And if so, we very much like the thinking.
Promising a presentation of all 13 Aalto museum projects, and thus works both within Finland and also in locations, and contexts, as varied as Tallinn, Aalborg and Baghdad, The Dream of a Museum and its very specific focus should allow for an approach to an understanding of Aalto outwith the normal popular projects, terms of reference, in which Alvar Aalto his work, influence and legacy are discussed and approached and thus, hopefully, allow for a differentiated understanding of that work, influence and legacy.
The Dream of a Museum. Alvar Aalto's Museum Designs opens at the Alvar Aalto Museum, Alvar Aallon katu 7, 40600 Jyväskylä on Friday November 11th and runs until Sunday March 21st
"Concrete in Transition. The architect Erling Viksjø and his artist collaborators" at The National Museum, Oslo, Norway
As previously noted, in context of the 1958 exhibition Formes Scandinaves hosted by the Museum des Arts Décoratifs Paris each of the five Nordic nations presented a room scenario, and whereas Denmark presented with "la chambre d'hôtel moderne" a representation of Arne Jacobsen's (almost completed) SAS Royal in Copenhagen, Norway presented the "vestibule of a high mountain hotel". The inherent symbolism of the two presentations being all too obvious. That in Norway in 1958 differing understandings of architecture, of materials, of contemporary society existed, and were being practised, that Norway could have presented something every bit as modern as Denmark did, can be understood in the person of Erling Viksjø.
Born in Trondheim in 1910 Erling Viksjø's career began in the late 1930s, was a career that saw him become one of Norway's most important, influential, 20th century architects, a career whose importance and influence would arguably have been even greater had it not been for his untimely death in 1971 aged just 61. And for all is a career defined by Viksjø's use of concrete. And so not something easily associated with romanticised visions of Nordic society.
As the National Museum's exhibition title neatly implies, Concrete in Transition is however less about Erling Viksjø's career per se as his innumerable collaborations with artists, including, and amongst many others Hannah Ryggen, Odd Tandberg or Pablo Picasso and Carl Nesjar, a mural by the latter two adorning Viksjø's so-called Y-building in downtown Oslo. So-called, because it is.
And although Concrete in Transition promises to focus on, well… concrete, examples of Viksjø's collaborations with artists as embodied by projects such as, and amongst others, Bakkehaugen Church, the Norsk Hydro administration building or the Government Quarter in Oslo, it should also allow not only for insights into the wider nature, and importance, of collaborations between artists and architects, but for all allow for an introduction to an architect who for all his relevance to the development of 20th century architecture, is largely unknown outwith Norway.
Concrete in Transition. The architect Erling Viksjø and his artist collaborators opens at The National Museum – Architecture, Bankplassen 3, 0151 Oslo on Friday November 20th and runs until Sunday April 4th
Actions have consequences.
Which is of course why our world is in the state it is. Or perhaps better put, because as a species we tend to prefer to forget that actions have consequences, and then deny the consequences have anything to do with the action when they inevitably arise, and rather blame something else, thereby initiating a whole new string of unnecessary, avoidable, consequences, is of course why our world is in the state it is.
Is a world without consequences perhaps therefore not a better place for human society?
And, how would such a world be organised, how would it function, what would it mean for us all, individually and collectively?
Originating from a project organised by Friedrich von Borries at the Hamburg's Hochschule für bildende Künste, the School of No Consequences promises to initiate visitors into such considerations via a triumvirate of presentations: a Selbstlernraum, a space of exploration in which visitors are invited to employ and reflect on various forms of consequenceless action; a Schaudepot presenting objects from the museum's collection, objects which for the curators indicate how a consequenceless future could be formed; and a series of interventions in the museum's permanent exhibition which similarly aim to point towards how a consequenceless future could, possibly, be achieved.
And if it could be achieved, would we feel comfortable there? Possibly. Possibly not. However, given not only the state our world is in, but the direction we seem intent on taking it, all alternatives appear worthy of our consideration and assessment…..
School of No Consequences. Exercises for a New Life was scheduled to open at the Museum für Kunst und Gewerbe Hamburg, Steintorplatz, 20099 Hamburg on Friday November 6th…. in how far its delayed opening can be considered in context of its theoretical basis and the therefrom arising positions, in how far its delayed opening is perhaps meta, is something that can be explored once it is open. Once the new dates have been confirmed, we will update.