5 New Architecture & Design Exhibitions for June 2020
We thought long and hard as to if we should continue our online exhibition recommendations series, or go back to offline exhibitions…… and decided for a return to offline.
We fully appreciate that in a lot of countries museums are still closed, as indeed are the international borders that you would normally and naturally criss-cross for a short city break to visit those that are open; however, many museums are open, many more are planned/planning to open in the course of June, and interesting and informative as online presentations can be, viewing an exhibition in a museum is the more satisfying experience, the more rewarding experience, the more enduring experience. And an important experience.
As we oft opine, museums aren't just about collecting and preserving the past, nor just additions, adornments, to cafés and gift shops; rather they are locations for discourse, contemplation and reflection. Locations in which not only subjects which, in the overhyped, overheated marketplace of contemporary media may never find an audience, can be allowed to tell their story, can in many cases be allowed to reclaim their place in our (hi)story, but locations where subjects can be approached not only from a multitude of perspectives simultaneously, but from new, contradictory and often otherwise unachievable perspectives, and that without prejudice, bias or a commercial necessity to conform to some preconceived narrative.
Admittedly not every exhibition manages that, many do succumb to an egoistic desire to be a "blockbuster" and thus present an accepted, tourist gaze, presentation of their subject; but there is no reason why every exhibition cannot discuss lesser illuminated subjects without fear or favour.
And when museums do such, and do such well, do such with honesty and impartiality, they become locations which invite, encourage and enable you to extrapolate on that which is presented and to carry your thoughts and arguments over into other arenas and areas, and thereby helping us all approach better understandings of ourselves, individually and collectively, and of the world around us, the innate natural and that which human society has created. While also improving our knowledge of the subject at hand. Clarifying that you may not have understood a subject as completely as you believed you did.
And that's not an experience and opportunity that one should ever undervalue or neglect. And certainly never stop searching for.
While specifically in context of design exhibitions; for all that online exhibitions can and do offer, there is simply no substitute to being in the presence of a physical object, nor can we imagine there ever will be.
And so while all museums remain virtually open 24/7, and we'd encourage each and everyone of you to use museums' online services as tools and resources; the fact that many are physically open is much more important. And something to be treasured and made use of.
If made use of with appropriate awareness and sensibility at this moment. Therefore, if you feel comfortable visiting a museum, please before doing so (a) check in advance to ensure that it is actually open, short-term changes can occur and (b) familiarise yourself in advance with ticketing, entry, safety, hygiene, etc rules and systems. And during your visit stay safe and responsible. And receptive for new ideas, new opinions, new names, new perspectives, new connections, new understandings……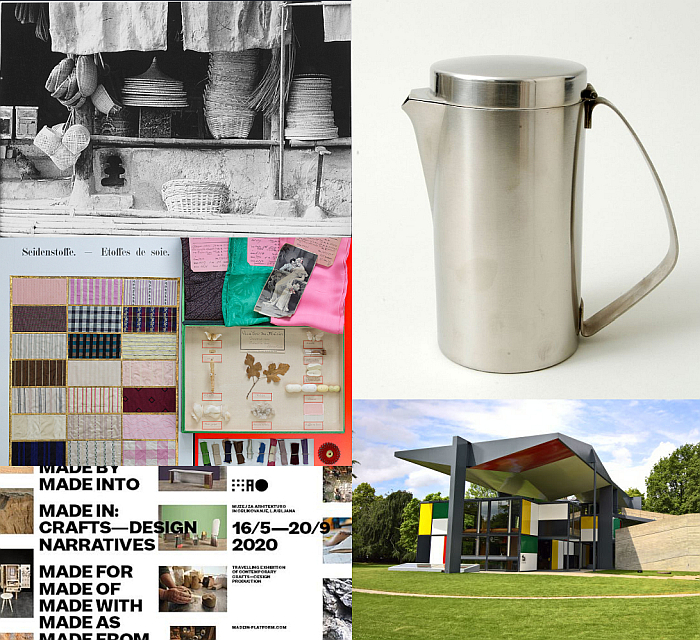 Discussions on post-War design in Germany tend to focus on institutes such as the HfG Ulm, the Deutsche Werkbund and the minimalist functionality of gute Form. Or put another way post-War design in West Germany. Post-War design in East Germany tending to be lumped together in that odious, unpalatable, stew that is "Ostalgie"; yet as the exhibition Shaping everyday life! Bauhaus modernism in the GDR at the Dokumentationszentrum Alltagskultur der DDR, Eisenhüttenstadt, neatly documented, post-War design in East Germany was so much more.
And Christa Petroff-Bohne a leading protagonist, both as a designer and as an educator: the former through cooperations with manufacturers such as VEB Steingutwerk Torgau or VEB Auer Besteck und Silberwarenwerke, the latter through her 30+ years on the teaching staff at the Kunsthochschule Berlin, the contemporary Kunsthochschule Berlin-Weissensee, the greater part of that time as Professor.
With the exhibition Beauty of Form the Kunstgewerbemuseum Dresden promise a presentation of both aspects of Christa Petroff-Bohne's career as conduits by which to explore not only her contribution to design, to design understandings and positions, in East Germany, but the nature and reality of product and industrial design in East Germany. And which in doing so should help allow for the development of more probable and sustainable understandings of design in East Germany. And that the history of design in the contemporary Germany has two post-War paths.
Beauty of Form. The Designer Christa Petroff-Bohne opens at Kunstgewerbemuseum, Schloss Pillnitz, August-Böckstiegel-Straße 2, 01326 Dresden on Saturday June 27th and runs until Sunday November 1st.
When, in 1960, the Zürich gallery owner Heidi Weber asked Le Corbusier if he would accept a commission to build a museum in the city's Zürichhornpark, he paused, then replied, "Please understand, I'm not prepared to do anything more for the Swiss; they have never been particularly nice to me".
He however let himself be persuaded and realised a work based on his modular 226 x 226 x 226 construction system, a colourful, playful, untroubled addition to the reserved calm of the Zürichhornpark, his only steel and glass construction (with a little bit of Béton brut) and his last building. One which today serves less as a Le Corbusier museum and more as a location for explorations of and reflections on Le Corbusier. Including that he may have been a bit harsh on his fellow Swiss. And for all on Zürich. And the Zürcher. That throughout his career not only institutes in Zürich supported him but individuals in Zürich, be that the publisher Hans Girsberger, architecture critic Sigfried Giedion, or the gallerist Heidi Weber who in 1959 began producing the 1920s steel tube furniture by Le Corbusier (Pierre Jeanneret and Charlotte Perriand). Producing in Zürich. Selling globally.
Promising a presentation of architecture models, furniture, art and documents Le Corbusier and Zürich should not only allow for new reflections on Le Corbusier, on the development of his career, and his relationship to his native Switzerland, but also of Zürich's role in the dissemination and propagation of new ideas in art, architecture and design in the first half of the 20th century.
Le Corbusier and Zürich opens at Pavillon Le Corbusier, Höschgasse 8, 8008 Zürich on Tuesday June 9th and runs until Sunday November 29th
"Travel as a Tool" at Designmuseo, Helsinki, Finland
While travel is currently an admittedly somewhat awkward subject, it is also currently important; or perhaps better put, it is currently important that we all remember there is a world out there and that travel can not only enrich our lives but broaden our outlook.
As it enriched and broadened the lives and outlooks of Alvar Aalto, Yrjö Kukkapuro, Vivianna Torun Bülow-Hübe and the rest of the 40+ Nordic creatives featured in Travel as a Tool.
Presenting an exhibition concept based on the selected creatives' diaries, correspondence, films and photographs Travel as a Tool promises not only to explore the consequences of the featured creatives travels, how the experiences and inputs received on their respective journeys fed back into and influenced their creativity, but in many regards to question what travel is. To underscore that travel is more than just a holiday. That, for example, travel needn't be voluntary or a leisure activity, as the biographies of the likes of Grete Prytz Kittelsen, Jørn Utzon or Arne Jacobsen testify, who all fled to Sweden following the Nazi occupations of Norway and Denmark. Nor that travel must necessarily be far, it can also involve viewing the familiar through new eyes. And by extrapolation travel needn't be physical, it can also be an inner process. That one can travel long distances and experience the new, the stimulating and the inspiring without ever leaving the one spot. Which is important to remember today. When travel is an awkward but important subject.
Travel as a Tool opens at Designmuseo Korkeavuorenkatu 23, 00130 Helsinki on Monday June 1st and runs until Sunday March 7th
"Material Matters. From Fibre to Fashion" at the Textilmuseum, St. Gallen, Switzerland
The development of new goods and services, and the associated development of society, is intimately linked to the availability of new materials. Something very neatly underscored by the progression of human civilisation over the stone age, bronze age, iron age, plastic age etc.
With Material Matters the Textilmuseum St. Gallen aim to trace and explore not only the influence and impact of new materials on clothing from 1800 to today, but also the interplay between developments in materials and materials technology and developments in social, cultural, economic, political et al realities on the development of clothing. And in doing so promise not only to allow for new perspectives on our clothing but, hopefully, also illuminate the difference between clothing and fashion, and why the former is important and the latter dangerous.
Beyond the materials and the clothing themselves Material Matters also promises introductions to and demonstrations of the production of numerous materials, a presentation which not only neatly links back to one of the original functions of museums, explaining the unseen, but which in doing so should, hopefully, allow for better understandings of the value of the materials from which your clothing/fashion is produced, be that the social value, economic value or environmental value. And why understanding those values is important.
Material Matters. From Fibre to Fashion opens at the Textilmuseum, Vadianstrasse 2, 9000 St. Gallen on Saturday June 6th and runs until Sunday February 21st
"Made In: Craft – Design Narratives" at the Museum of Architecture and Design, Ljubljana, Slovenia
Our contemporary product design industry arose not only from traditional craft but in many regards as an attempt to replace traditional craft, as a direct assault on craft with the aim of extinguishing it. An assault which was only partially successful. And which in recent years has increasingly been understood as one of those errors of judgment we humans repeatedly make through a belief in our infallibility.
With the exhibition Made In: Craft – Design Narratives the Museum of Architecture and Design Ljubljana promise an exploration of the contemporary dialogue between craft and design as explored through the work of 30+ craftsfolk and 40+ designers from Croatia, Slovenia, Serbia and Austria, and through 8 chapters which pose questions such as, for example, "Can social design stimulate local production in order to build a stronger community?", "Can design reconnect with raw materials through craft?" or "How can design and new technologies change our relationship towards preservation of crafts?"
The latter of which also links into the so-called Crafts Archive which aims through a detailed documentation of numerous craft processes to not only allow for a discussion on the future role of traditional crafts, but also to reflect on the possible consequences of their extinction.
And thus an old subject, but one which we with our contemporary understandings should, must, urgently reflect on.
Made In: Craft – Design Narratives opened at the Museum of Architecture and Design, Grad Fužine, Rusjanov trg 7, 1000 Ljubljana on Saturday May 16th and runs until Sunday September 20th